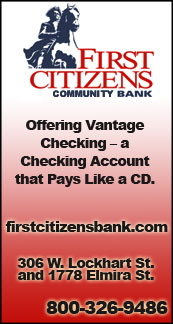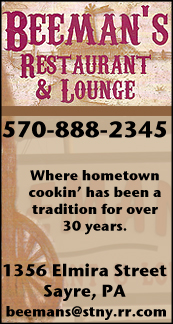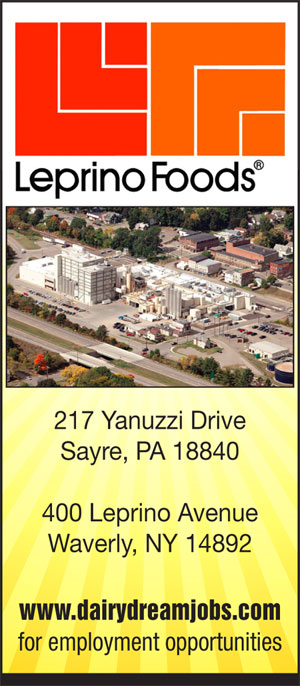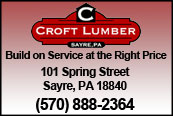 FROM THE PRESS BOX: A LOOK INTO THE CRYSTAL BALL AT THE 2016-17 WRESTLING SEASON (2016-03-26)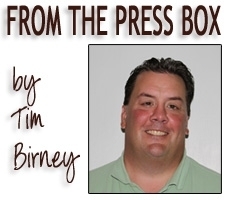 To say the 2015-16 season was a good year for Valley wrestlers may be a bit of an understatement, with five advancing to their respective state tournaments and three bringing home hardware, including a gold medal for "Wrestler of the Year" Brian Courtney.

Looking into the crystal ball, the 2016-17 season could be even better, considering all five wrestlers who went to States were underclassmen and several other underclassmen narrowly missed States this year.

The crystal ball is a bit murky with the start of the wrestling season still eight months away, but it appears as many nine Valley wrestlers could see their names in the programs at Albany or Hershey next year.

Athens Wildcats: The Wildcats lose six starters to graduation in the upper weight classes, including Roger Horton (36-6 at 220 pounds), Zach Sheppeck (23-15 at 160), Jordan Alliger (19-15 at 195) and Gabe Sporn (13-19 at 182), but the lower weights will be stacked once again.

Courtney (41-2) will return along with PIAA qualifiers Gage Cannavino (38-9) and Nate Bradley (22-11), as well as Kaidon Winters (31-12), Chris Horton (30-9), Brock Horton (27-10), and David Galasso (15-7).

Gavin Corino (2-0), Kaden Rude (5-7), Cody Sindoni (1-1), Jon Vough (3-1) and John Nickson (7-8) saw limited action this season, but will likely be needed to step into the line-up next season and produce if Athens is to continue with the same dual meet success it's had in the last few seasons.

The Wildcats may also get some help from a junior high program that saw its numbers increase dramatically this season under coach Jeremiah Serfas.

Prediction: As far as the dual-meet season is concerned, Athens will challenge Wyalusing again for the NTL title, but will be hard-pressed to beat them with the inexperience it will feature in the upper weights.

The Wildcats could, however, see as many as six wrestlers advance to States, but it's more likely to be four or five. Courtney is a lock to see bright lights in Hershey again, while Cannavino and Bradley are likely to return. Kaidon Winters has been one win shy of States in each of the last two years and should break through next year, while Chris Horton stands a very good chance as well. Brock Horton is the wild card in the group.



—————



Sayre Redskins: For the time being, it's all about increasing the numbers for Sayre coach Mark Twigg and his staff.

On the mats, the Redskins will graduate four seniors, including a pair of long-timers in Gavin McCutcheon and Damon Whipple, but return an interesting core of wrestlers.

Nate Nordin (4-2) returned for the tail end of the season, but did manage to win the North Section Tournament title, while Matt Ingrassia (18-13), Nate Garrity (9-12), Colby Sindoni (9-12) had solid seasons and will return.

Sayre will need wrestlers with a bit of varsity experience like Tyler Harbst, Dominic Red and Zaine Patnode to step up an produce.

Prediction: Again, at this point it's about increasing the numbers in the wrestling room. With a short line-up, the Redskins can't expect much success in the dual season.

In the postseason, Nordin and Ingrassia are poised for solid results, and Garrity and Sindoni could surprise. In the end, Nordin could make a run at States.



—————



Tioga Tigers: Tioga looks to be a team on the verge of returning to prominence in Section IV. It's stacked with good very young light weights and next year's team features a few good wrestlers in the upper weights.

State runner-up John Worthing (35-5) and Austin Lamb (29-11) both will be sophomores and the oldest wrestlers in a mix of lightweights that could be dominant if they can find their way into the line-up. Brady Worthing was 16-8 before a broken arm ended his 2015-16 season, while David MacWhinnie was 12-12 and Jacob Welch was 13-14. All three will be freshmen and will vie for time between 99 and 120.

Zacceri Warner (17-15 at 138 pounds), Zach Blayda (15-5 at 160), Trey Floyd (17-16 at 170), and Max Johnson (12-13 at 132) have "break out" potential, meaning they could up with 25 or more wins next season and place at the Section IV Championships.

A pair of wrestlers to keep your eyes on in 2016-17 are Quintin Yaple (10-22 at 195) and Stephen Taylor (11-20 at 285). Both took their share of lumps this season, but both kept coming back for more and showed steady improvement.

Prediction: Tioga nearly beat Newark Valley in their dual and at the IAC Championships, so I wouldn't be a bit surprised to see the Tigers re-claim the top spot in the league in 2016-17.

As far as the postseason is concerned, John Worthing is a virtual lock and Austin Lamb has an outstanding shot of making the trip to Albany. If John Worthing moves up to 106, then one of the younger light weights, possibly Brady Worthing, could make a run at a Section IV title and a trip to States as well. Of the upper weights, Blayda has the best possibility of a run to States if he can stay healthy.



—————



Waverly Wolverines: Like their neighbor to the South, it's all about the numbers for the Wolverines and coach Devan Witman, who had just six wrestlers at the end of the season.

Waverly will feature three dynamic wrestlers in the lowest weights in former state champ A.J. Burkhart (36-6 at 106), Ethan Stotler (23-9 at 99) and Jalen McCarty (15-7 at 99), but none of the other returning wrestlers had more than eight wins on the season.

Mike LaRock (8-14 at 113) and Kamren Curtis (8-19 at 170) will also return and a number of wrestlers from the modified team, which featured 16 grapplers under coach Jerry Wed Jr. this season, will likely be pressed into service for the Wolverines.

Prediction: Again it's about the number for the Wolverines in the short term. It's unlikely they'll fill their line-up in 2016-17, unless Witman is able to recruit some bodies into the wrestling room. If they are able to fill it, dual meet success is unlikely due to a lack of experience.

As far as the postseason goes, Burkhart is a lock to return to Albany and will be even more determined to wrestle for gold. Ethan Stotler, who will be a freshman, should also make a strong run, especially if he's able to remain at 99. If McCarty ends up at 99, he could also make some noise at the Section IV Championship.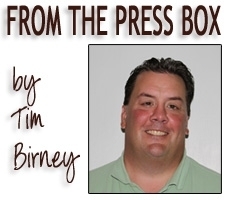 Print Friendly Version
You've asked about helping ...
here's your chance. Click HERE