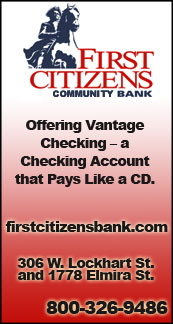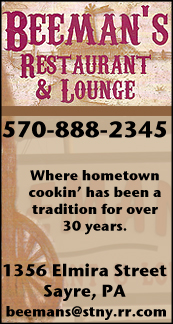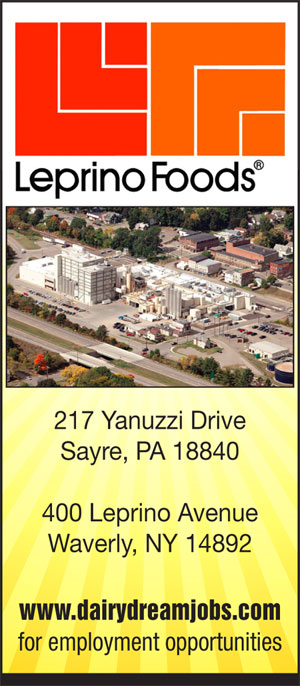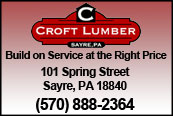 FROM THE PRESS BOX: PUTTING A BOW ON THE 2016 FALL SEASON (2016-11-19)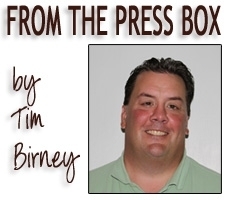 The end of the 2016 fall season brings to a close the stellar careers of several senior standouts in an array of sports.

First and foremost is Sayre's Chloe Tracy, who graduates as one of the most accomplished players to ever put on a soccer uniform in District 4. She finished her career with 105 goals and 129 assists.

Athens' Shane Colegrove and Tioga's Robert Argetsinger walk away from their careers as major contributors in their programs' march to new heights. Colegrove led the Wildcats to its first-ever district title, while Argetsinger helped the Tigers to their third straight winning season and third in program history.

Athens' Kalen Keathley, one of the most exciting players to ever lace up football cleats in the Valley, will take his skills to the next level next fall, but won't be forgotten here anytime soon.

Sayre's Tylor Belles, a contributor as a sophomore and junior, saw his star shine brightly during a record-setting senior season, helping the Redskins back to the District 4 elite for the first time in nearly four decades.

Tioga's Olivia Howland, who sat out her sophomore season with a knee injury, played on her fourth Section IV championship team. She and classmate Kellie Wainwright formed a dynamic duo, likely as good as any the program has produced.

Sayre's Molly Ball and Andi Noldy played on a couple of not-so-good teams early in their careers, but finished up with dynamic senior seasons and a trip to the District 4 finals — the program's first-ever.

There are other seniors like Athens' Matt Collins, Reagan Lynch and Ben Vosburg, Waverly's Braydon Rice, Conner Joseph, and Grant Caplan, Sayre's Matt Ingrassia, Brandon Paris, and Kaitlynn McCarter, and Tioga's Tyler Whitmore, Justice Pahlman, and Jonny Polo Rankin, and many, many more who will be missed.

As many careers came to an end, this fall was just the beginning of many more we'll be reminiscing about in a few short years.

Sayre freshman Madeleine Dutra was a key part in the Sayre volleyball success, while freshman Cora Smith and 8th-grader Gabby Picco played key roles in Waverly's run to a first-ever Section IV, Class B title game.

Athens freshman Abby Sindoni and Sayre freshman Abby Moliski showed they'll be making headlines on the soccer fields for the next three years, and Tioga 8th-grader Olivia Ayres made a big impact on the field hockey program for Lady Tigers.

The Athens boys soccer program is in good hands with a quintet of freshmen — David Scheftic, Aaron Lane, Jesse Sumner, Luke Arnold, and Doug Vosburg — set to take the baton from Colegrove, while Waverly sophomore Gavin Judson and Athens sophomore Kaden Rude exploded onto the scene on the gridiron.

It wasn't all about seniors and newcomers either.

Sayre junior Ryan Murrelle won a District 4 golf title to advance to the state tournament for the third time in three tries.

Waverly's Melina Ortiz, Kayla Kromelbein, Zoe Mennig and Elle Nittinger, and Athens' Emily Lunger, Rachel Hutchison, and Breana Gambrell continued to make their mark on the girl soccer fields, leading teams that could do something special next year.

A young Waverly girls cross country team, led by 8th-grader Sidney Tomasso and freshman Sheridan Talada is another team to keep an eye on next year.

Sophomores Camden Allen of Athens was the lone cross country runner in the Valley to qualify for States, while Tioga freshman Ezra Steele and sophomore Louis Levesque enjoyed strong seasons.

Waverly sophomore Kennedy Wheeler continued adding her name to the girls swimming record book, and she leads a very young team that could make a big mark in the next two years.

There were others like Tioga's Emily Polo Rankin, Martha and Anna Schumacher, and Connor Hutchinson, Waverly's Starr Harford, Dalton Loper, and Julianne Lee, Sayre's Jordan Rockwell, Kirsten Covey, Camryn Brown, and Gage Carnrike, and Athens Zach Jayne, Ethan Lane, and Morgan Ferguson who continued to add to their resumes.

More than individual accomplishments, the fall of 2016 was about team accomplishments, most of them firsts.

Longtime coach Jake Lezak led the Athens boys to their first-ever District 4 title, Sayre football coach Steve Satterly and volleyball coach Tom Shay lead their respective Redskin teams to first-ever District 4 championships games. Both those Sayre programs also won their first NTL titles.

Tara Hogan directed the Waverly girls to its first-ever Section IV, Class B title game, where it lost 1-0 to eventual state champion Chenango Forks.

Longtime coach Des Ford led the Tioga volleyball team to its fourth Section IV title in five years and the seventh in her career.

While it may not seem like much, Waverly football went 5-5 against one of the most rugged schedules in New York state, despite an 0-3 start.

The Wavily boys soccer team didn't improve on its 2015 record, which was the best in school history, but did win its first-ever postseason game.

However, fall '16 wasn't all "peaches and cream."

Fresh off the program's first-ever state title in 2015, Tioga football suffered lopsided losses in its first two games to Chenango Forks and Newark Valley, which eventually reached the Class B and Class C state title games, respectively.

Later in the season, the Tigers suffered crushing divisional defeats at Notre Dame and Groton in the final minute, then were knocked out of the Class D playoffs in the quarterfinals with another loss in the final minute at Groton.

Coming off an NTL title in 2015, Athens suffered back-to-back losses to divisional foes in Weeks 2 and 3 and never recovered, reaching the Class AAAA playoffs, but losing to Jersey Shore in the opening round. Injuries took a toll on the Wildcats, including a season-ending injury to three-time All-Valley standout Luke Newman in Week 3.

The Athens girls soccer team cruised through the regular season with a 17-1 record, then dropped a 4-0 decision to Central Columbia in the District 4, Class AA quarterfinals.

The Tioga girls entered the season with a senior-laden team and division title hopes, but finished at 1-11-1.

All in all, however, the 2016 fall season is one that will be remembered fondly by a large segment of Valley sports fans.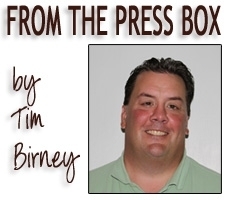 Print Friendly Version
You've asked about helping ...
here's your chance. Click HERE