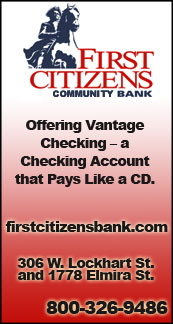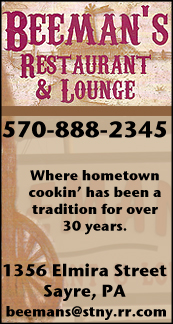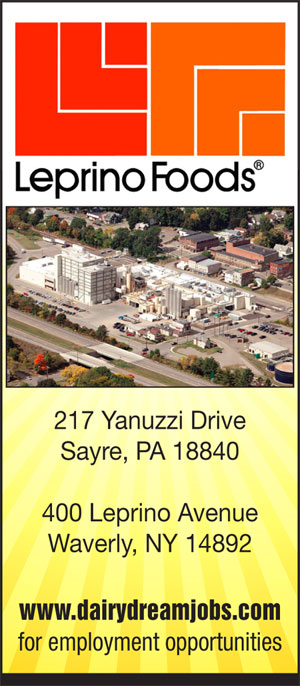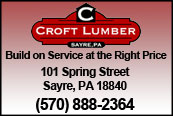 NTL GOLF: SAYRE'S MURRELLE, BLAIR, AND ATHENS' PETERSON FINISH IN TOP 10 AT TOWANDA COUNTRY CLUB (2017-09-12)


Valley Sports Report
TOWANDA — Sayre senior Ryan Murrelle finished second, and Athens senior Anthony Peterson placed seventh here Tuesday afternoon in NTL golf action at the Towanda Country Club.

Sayre sophomore Gavin Blair was 10th on the day, while Athens junior Nate Kennedy was 13th, his classmate Dylan Krise was 16th, and Sayre senior Nate Sweet finished 18th.

Cowanesque Valley remained unbeaten on the season, placing first with a four-man aggregate of 346, three shots better than runner-up Wellsboro. Towanda edged Sayre for third place via the fifth-man tie-breaker — both shot 378, and Athens was fifth with a 394.

Cowanesque Valley's Tanner Adriance earned low-medal honors with a 75, while Murrelle and Wellsboro junior Brandon Tuttle tied for second with rounds of 83.

Peterson shot a season-best round of 90 to tie for seventh, while Blair fired a 90, Kennedy shot a 96, and Sweet carded a 101.

Senior Ben Harding was Sayre's fourth with a round of 103, while senior Nick Allis had a non-scoring round of 109, and senior Garrett Osman tacked on a 111.

Sophomore Chase Minnick was Athens' fourth with a 108, while junior Michael Cook shot a non-scoring round of 111, and sophomore Brady Smith tacked on a 113.

The NTL returns to action Monday at the Tioga Golf Club in Nichols.

STANDINGS: 1. CV 20-0; 2. Wellsboro 16-4; 3. Sayre 11-9; 4. Towanda 7-13; 5. Mansfield 4-16; 6. Athens 2-18.

——————

IN PHOTO 1: Sayre's Ryan Murrelle. IN PHOTO 2: Athens' Nate Kennedy. … PHOTOS COURTESY OF PETER KENT.





Print Friendly Version
You've asked about helping ...
here's your chance. Click HERE