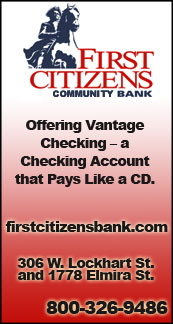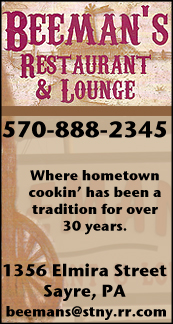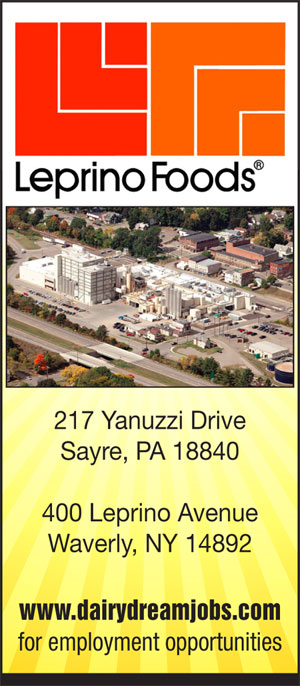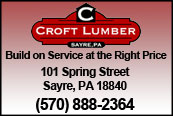 NTL WRESTLING: BRADLEY BELIEVES ATHENS WILL BE WELL-REPRESENTED AT STATES AGAIN THIS YEAR (2017-12-09)


By TIM BIRNEY
Valley Sports Report
ATHENS — Athens sent four wrestlers to States last year, and coach Shawn Bradley believes the Wildcats could send the same number to Hershey this March.

Two-time state Brian Courtney and fifth-place finisher Kaidon Winters are now wrestling collegiately, but two-time state qualifier senior Nate Bradley, and senior A.J. Burkhart, a former New York State champion, return in search of another trip to Hershey.

Bradley believes senior Chris Horton, and junior David Galasso will also make the trip to States.

"These guys have all been wrestling in the same room since they were in fifth- or sixth-grade," said Bradley.

"Brian (Courtney), Kaidon (Winters), Gage (Cannavino), and Brock (Horton), plus you throw in Nate (Bradley), A.J. (Burkhart), Chris (Horton), David (Galasso), Jon Vough — they've all been in the same room beating the tar out of each other for six or seven years.

"It rubbed off both ways," notes Bradley. "Those four kids are as good as they are because of the kids who are still here, and vice versa. We still have is a good group kids here for the same reason."

Bradley has the highest expectations for Burkhart, Bradley, and Horton.

"All three of those kids expect to win State titles this year," he said.

"And, I fully expect Dave Galasso to make States, too," Bradley added,

Bradley, who has coached in the program for nearly two decades, returns to head coaching chores after several years as an assistant, and is pleased with the state of the program.

"The numbers aren't bad," he said. "We have 18 on the roster — four seniors, four juniors, five sophomores, and five freshmen.

"We'd like to have more, but the kids we have are working hard.

"Our modified numbers are very good," added Bradley. "We have some studs down there. We should be in pretty good shape."

Bradley says the Wildcats have some good young wrestlers surrounding their established veterans.

Freshman Kyler Setzer and Bailey Poarch will compete for time at 106 pounds.

"Kyler (Setzer) has been wrestling for a long time, and was on the modified team last year," said Bradley.

"Bailey (Poarch) moved in from Tioga, and has been working hard.

"They are both quality kids," said Bradley. "We're looking for big things out of both of them."

Sophomore David Nickson will wrestle at 113 pounds.

Bradley notes the Wildcats will have open weights at 120 and 126 pounds early in the season.

Horton will start the season at 132 pounds, then drop to 126 pounds after Christmas.

"He should have made States last year," said Bradley. "His goal this year is to get there, and win the whole thing."

Burkhart will start the season at 138 pounds, but drop to 132 after Christmas.

"He missed a medal at States by two seconds," said Bradley. "It's haunted him all summer, and he's been itching to get back at it."

Collin Martin will also see time at 138 pounds this season.

Freshman Zach Stafursky, junior Devin Sweat, and junior Eddie Solomon will vie for time at 145 pounds.

"Devin and Eddie are kids who have been in the program awhile. They're going to get a chance to start and contribute right away," said Bradley, who notes one of the 145-pounders will move up to 152 pounds.

The 160-pound weight is open now, while Galasso will man 170, and Bradley will wrestle at 182. Both will move down a weight class after Christmas.

"David (Galasso) had a tough end to his season last year with a broken hand," said Bradley. "He had beaten some kids who were on the verge of qualifying for States. He just missed out on his chance to do it.

"Nate (Bradley) was another one of our guys who had a tough loss at States last year, losing by a point, in his last match. He should have placed, but he didn't," noted Bradley.

"He's been working his butt off to get back to States," added Bradley.

Senior Jon Vough will wrestle at 195 pounds.

"Jon (Vough) has been in the program for a long time," said Bradley. "We need him to contribute this year, and we think he can."

Sophomore Dan Hill, at 220 pounds, and sophomore Keegan Braund, at 285 pounds, will complete the line-up.

Bradley says his state title contenders are not the only Wildcats to keep an eye on.

"Devin Sweat should contribute," he said. "He wrestled some tough matches last year against kids who went to Regionals.

"Bailey Poarch is going to surprise some people," added Bradley. "He's a big, strong 106-pounder … he worked his butt off this summer, I think he'll surprise people in District 4."

Bradley said his Wildcats will be competitive in duals, but may not have the depth to compete with the top teams in District 4.

"It's tough for people to see from the outside, but that was our team last year, too.

"Last year, we had six studs," said Bradley. "We tried to figure out how to score 36 points, and give up less than that.

"We came up short in a couple of matches," he noted. "We should have gone to State Duals, but we dropped a couple of matches against Line Mountain.

"This year, it's going to be very similar," he added. "We're going to have five or six studs … we're going to try to figure out how to score as many points as possible, and minimize how many points the other team scores."

For the record, Bradley says duals are not a priority for his program.

"Duals are good preparation to put kids in the spotlight … it's nice to win Duals, but it doesn't mean much," he said. "I've been coaching here for 20 years and we've won one or two league titles."

Assistant coach Jay White echoes Bradley's sentiments.

"We have a wall (in the wrestling room) with state medalists," said White. "Our goal is to get our kids on that wall. If it costs us a dual meet to move a kid to get a better bout, we're going to get the kid the better bout.

"It's all about getting that state medal, and getting the kid's name on the wall," reiterated White. "We put our kids in the best situations to get the best possible bouts for themselves.

"It may not be the best for the team, but only one kids walks on the mat at a time," he added.

Athens opens its 2017-18 campaign today as it hosts the annual Jarvis Tournament.

——————

IN PHOTO: Athens' A.J. Burkhart.




Print Friendly Version
You've asked about helping ...
here's your chance. Click HERE