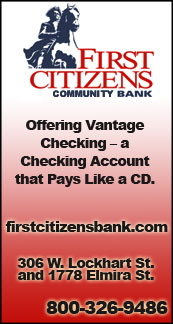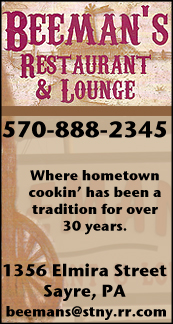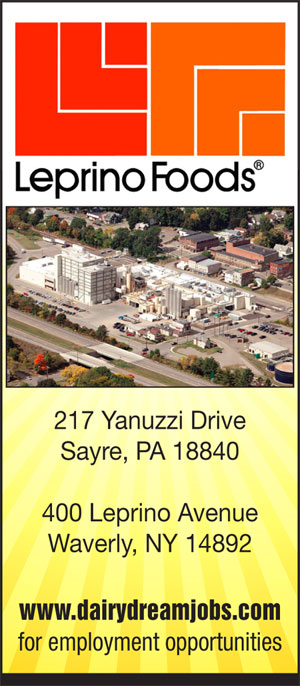 FROM THE PRESS BOX: THOUGHTS ON THE FOOTBALL WEEKEND — EATING A BIT OF CROW (2018-10-09)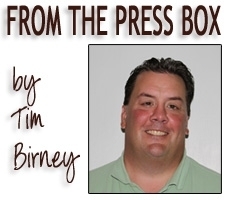 When you do what I do for as long as I've been doing it, you occasionally put your foot in it, and have to eat a little crow.

Last week, I had to eat a small plate when I picked Wellsboro to beat Athens by 39, and the Green Hornets needed to rally in the fourth quarter to win by a touchdown.

This week, I have a heaping plate full of crow in front of me after picking the O-M / Watkins Glen contingent to knock off Tioga by five points, only to have the Tigers win 42-0.

Tioga simply dominated the bigger Seneca Indians, shutting down their often-potent double-wing ground game, and winning the time-of-possession battle by a landslide.

Offensively, the Tigers pounded out 412 yards on the ground, led by freshman Emmett Wood, who had a career-high 208 yards, and junior QB Brady Worthing who rushed for 97 yards and three TDs, with almost all of his damage coming in the first half.

Worthing also complete 4 of 6 pass attempts for 80 yards as the Tigers aerial attack continues to improve.

I said last week, the Tigers were beginning a brutal three-week portion of their schedule. They passed Week 1 with flying colors. Now it's on to an interesting game against a Waverly team riding a five-game win streak, and then a battle against Greene for the division title.

It will be difficult to pick against Tioga after last week.

——————

Of course, it will be difficult to pick against Waverly as well.

The Wolverines gave up an early TD, then reeled off 30 consecutive points in a division-clinching 30-14 win over Dryden.

Aside from a special teams hiccup that set the table for the Purple Lions' first-quarter score, Waverly was dominant in all facets of the game.

The Wolverines spread the ball around on offense, stifled Dryden's physical ground game with a smothering defense, and came up with several key special-teams plays, including a second-quarter onside kick that changed the momentum in the contest.

Waverly has a three-headed monster in the backfield, and all three backs bring a different style to defend. The passing game isn't what it use to be, but it's shown it's capable of the big play downfield, so defenses still have to defend against it.

The Wolverines are already locked into a Week 9 match-up against Newark Valley in the Class B semifinals. They will use the next two weeks to prepare for what should be an interesting match-up.

——————

Athens suffered its second tough loss in a row Friday.

A week after letting a 14-point fourth-quarter lead slip away in a 35-28 loss to unbeaten Wellsboro, the Wildcats dropped an 18-16 decision to Towanda.

Athens did everything it needed to do to win, except take advantage of scoring opportunities. Towanda, on the other hand, put points on the board when it had the chance.

The loss was a blow to the Wildcats' postseason hopes. They sit in seventh place (four advance) in Class AAA playoff points standings with three games to play, but only on of their remaining games is against a school of similar size or bigger, and that's this week at Midd-West.

If Athens can win its final three games, which is definitely possible, they have a chance to qualify for the Class AAA playoffs, but they will need some help.

——————

Sayre sits in fifth place in Class A (again four qualify), but Montgomery's win over Muncy Friday could end up propelling the Red Raiders, who currently sit in fourth, into the postseason.

The Redskins' season has broken down into two categories. They've beaten the teams they were suppose to beat, and they've struggled against the top teams in the league, including Canton Friday in a 39-7 loss.

Sayre probably needs to win all three of its remaining games, too, to qualify for the Class A playoffs. Muncy will be the toughest test in those three, especially considering how difficult that road trip always is for this program.

——————

Rookie Athens volleyball coach Heather Hanson entered the scene vowing to end the program's NTL title drought, which dates back more than two decades.

The first step was to improve on last year's 5-12 record. She hasn't quite reached that goal, but the Lady Wildcats equaled that win total Monday night with a sweep at Troy to improve to 5-4. That win came just five days after losing a 3-1 decision to Troy at home.

If you've watched Athens volleyball at all over the last few years, you can see a marked improvement this season. The Lady Wildcats are playing much better defense, and the mental lapses are fewer and farther between.

Don't be surprised if this team ends up at .500 or better, and in the upcoming District 4 playoffs.

——————

Speaking of volleyball, Tioga travels to Candor later this week looking to spoil the Lady Indians' unbeaten season, and get back in the chase for the Small School title.

Unfortunately, the match is going head-to-head with "Football Friday," which is a no-win situation for the sport.

I've said it before, a well-played volleyball match is as exciting as any football game, but choosing to go head-to-head with football is foolish, and takes away from a chance to grow support for the sport. Play this game on Thursday or Saturday, and the gym will be packed.

——————

The Final Word returns later this week.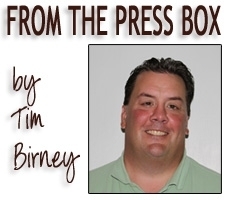 Print Friendly Version
You've asked about helping ...
here's your chance. Click HERE