FROM THE PRESS BOX: WEEK 8 PICKS — WAVERLY-TIOGA A MUST-SEE (2018-10-12)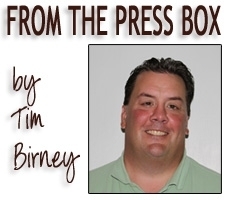 It's Week 8 of the high school football season and that means it's time for the highly-anticipated match-up between state-ranked teams —Waverly and Tioga — at Memorial Stadium.

The Wolverines, ranked 20th in Class C, are on a five-game win streak and exceeding expectations this season, while the Tigers, ranked 5th in Class D, have won three in a row, including an impressive shellacking of O-M / Watkins Glen last week.

Athens, after a long trek to Midd-West, is the only other game Friday night, while Sayre hosts Cowanesque Valley Saturday night for Homecoming. SVEC will be on the road against Whitney Point in a game that has been moved to Chenango Valley H.S. due to unsafe field conditions at Whitney Point.

Last week, both "The Mick" and I posted a 4-1 record, both missing mightily on Tioga's win over O-M/WG.

Week 7 Record: Birney 4-1. The Mick 4-1. 2018 RECORD: Birney 28-4, The Mick 23-9.

FRIDAY
Tioga (4-2) at Waverly (5-1), 7 p.m. @ Memorial Stadium: The Wolverines are coming off a 30-14 division-clinching win over Dryden, while the Tigers rolled to an impressive 42-0 rout of O-M / Watkins Glen.

Both teams enter this game outscoring their opponents by 20-plus points per game, and both have been very effective on the ground — Tioga averages 320.8 rushing yards per game to Waverly's 248.7 yards per game.

While establishing the ground game will be vital for both teams, the difference could be which team is more effective throwing the ball — especially when it comes to the big play.

Another key in the outcome will be special teams play, a facet where I would have to give Waverly the edge.

These two coaches — Waverly's Jason Miller and Tioga's Nick Aiello — have nine Section IV titles between them, but have only squared off twice since Aiello took the job at Tioga in 2010. Miller is 2-0.

Prediction: Both teams have impressive ground games, but I'd have to give Tioga the edge. That said, Waverly has the big-play advantage in the passing game. Both defenses are a bit overlooked, but have both been effective. … Both teams have had problems with their punt game, and I have a suspicion that might be the difference tonight. … TIOGA 20, WAVERLY 17 — MICK'S PICK: Tioga 28, Waverly 27, OT.

Athens (3-4) at Midd-West (3-3), 7 p.m.: The Wildcats are coming off a 20-18 loss to Towanda, while the Mustangs dropped a 9-8 decision to Nativity BVM.

Two of Midd-West's three wins have come against winless teams, but the Mustangs also own an overtime win over 4-3 Penns Valley Area, which owns a win over 5-2 Bellefonte — a 17-14 winner over Jersey Shore in Week 1.

To be fair, two of Athens' wins come against teams with one win between them, and third against a 3-4 Hanover Area team.

Prediction: The Wildcats have struggled on the road in recent years. This season, their lone win an 18-16 decision over 1-6 Wyalusing. The Mustangs appear to be improving as the season progresses. … ATHENS 17, MIDD-WEST 15. — MICK'S PICK: Athens 16, Midd-West 14.

SATURDAY
Cowanesque Valley (0-7 overall, 0-3 NTL Small) at Sayre (3-4, 2-1), 7 p.m. @ Lockhart Street Bowl: The Redskins are coming off a 39-7 loss to unbeaten Canton, while the Indians dropped an 18-13 decision at Bucktail Area.

Sayre has dominated teams it should beat, beating Bucktail (36-0) and CMVT (40-6), while CV has lost to both of those teams.

Prediction: Sayre should dominate this game up front, which should allow them to run the ball effectively, and open up the passing game. I expect the Indians to hit on a big play or two, but they will struggle to keep it close. … SAYRE 47, CV 12 — MICK'S PICK: Sayre 36, CV 6.

SVEC (2-4 overall, 1-2 Div. IV) vs. Whitney Point (4-2, 1-1), 1:30 p.m. @ Chenango Valley H.S.: The Eagles are coming off a 43-6 win over Harpursville / Afton, while Whitney Point knocked off Delhi, 42-34.

SVEC may be the best 2-4 team in Section IV, with three of its losses by a combined 20 points to Newark Valley, Tioga, and Dryden.

Whitney Point's four wins come against teams with three wins between them. The Golden Eagles allowed 77 points in their two losses to state-ranked Newark Valley (21st in Class C) and Herkimer (5th in Class D), and allowed 34 points to a winless Delhi team that has averaged only 14.5 points in its other games.

Prediction: SVEC has weapons and has scored 20-plus points in four of its six games, while Whitney Point has averaged 30 points per game this season. SVEC has played a much tougher schedule this season, and that should play dividends. This should be the highest-scoring game of the weekend. SVEC 36, WHITNEY POINT 27. — MICK'S PICK: SVEC 24, Whitney Point 12.

BONUS PICKS: Owego 36, Johnson City 18. … Newark Valley 30, Oneonta 7.


CHECK BACK LATER TODAY FOR "FROM THE PRESS BOX."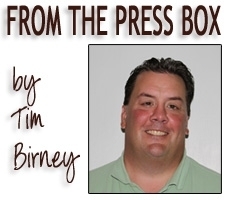 Print Friendly Version