(UPDATED) FROM THE PRESS BOX: VALLEY HOOP FANS WILL SEE IMPROVEMENT IN BOYS TEAMS IN 2015-16
(2015-03-10)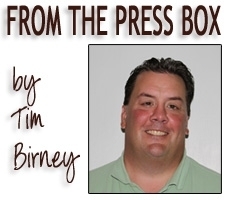 The 2014-15 season saw three of the Valley's four boys basketball teams qualify for the postseason, but two of them did so with a sub-.500 record.
A look into the crystal ball shows that 2015-16 will feature a slight improvement.
Gazing into the crystal ball, I see:
Athens Wildcats:
Athens loses three starters, including a 1,000-point scorer in Brandon Fauver, from a 10-12 team, but will see an influx of young talent from the junior varsity team.
At times this season, Austin Lister was a dominant scorer and rebounder, and 6-6 Joe Moyer was a force on the boards and defensively in the low post. When you factor in the "senior thing" — a term I've always used to describe an athlete's improvement just because it's his / her senior year — I expect more consistency from the duo and a solid cornerstone for the Wildcats to build their youth around.
Daniel Joyce saw more playing time as the season went on for the Wildcats and showed he'll help on the boards (and as a shot blocker) and will score — from inside and outside. Aaron Barry should also contribute in the low post.
Freshmen Gavin Stein and Ethan Lane, along with sophomore Kalen Keathley, will have to step up in the backcourt next year. Stein and Lane are young, but have basketball savvy and IQ, so should be up to the task.
The NTL's Large School Division will be hit hard by graduation, especially Towanda, which loses Noah Huff, and Wellsboro (Mike Pietropola and Kieran Smethers).
Mansfield also graduates a couple of key seniors, but have a strong group of young players who should step in and keep the Tigers in title contention.
Prediction for 2015-16:
Athens should be near the top of the division and shouldn't need to depend on District 4 allowing sub.-500 teams into the postseason to fill out an eight-team bracket.
Record: 16-6.Sayre Redskins:
Coming off an injury-plagued 10-12 season, Sayre loses more to graduation than any other Valley team — six seniors.
Due to injuries to all-stars Nate Williams and Marshall Higley, several underclassmen saw a great deal more playing time than they would have otherwise.
The Redskins will be very young in 2015-16 with senior-to-be Marshall Felt and junior-to-be Matt Williams the only upperclassmen returning with any experience.
Sophomores-to-be Jordan Rockwell, Nate Sweet and Jalen Powers saw valuable varsity playing time and should contribute immediately.
The NTL Small School division should be solid again next year, but Sayre won't be outclassed by any of the contenders.

Prediction for 2015-16:
The Redskins will be dangerous, but not very deep, unless a couple JV players step up and contribute. They're probably a year away from being a 16-win team or better.
Record: 11-11.Tioga Tigers:
Coming off a 5-13 season, the Tigers will graduate four seniors who saw a great deal of playing time, including three low-post players who accounted for the majority of their rebounding.
Tioga will return four talented players in seniors-to-be Adam Zwierlein and Zach Hutchinson, who played very well at the end of the season, sophomore-to-be point guard Nick Klossner and junior-to-be Parker Hendershot.
The JV team won just three games, so how much help is on the horizon is a big question.
IAC South Small School power Newfield will be hit hard by graduation, but has an outstanding JV team to draw from next year. S-VE is a team to watch as it's varsity team finished strong and its JV team won an overall Small School championship. O-M should be improved as well.
Prediction for 2015-16:
The Tigers are thin in varsity experience returning and will need help from the JV team to have any hopes of improvement on 2014-15.
Record: 4-15.
Waverly Wolverines:
Waverly will lose little from a 13-7 team, but replacing Kyle Kinsley's rebounding and defense in the low-post will be critical in 2015-16.
Scoring shouldn't be a problem for a team that will be loaded in the backcourt with junior-to-be Hunter Bodine and Garrett Sutryk and seniors-to-be Peyton Miller and Jeff Mitchell forming what will be one of the best quartet of guards in Section IV.
Junior-to-be Zach Van Houten and his brother sophomore-to-be Matt VanHouten can both swing between the backcourt and frontcourt and will likely see time on the court together with the three guards to form a very athletic quintet.
Senior-to-be Matt McFarland showed glimpses of being a rebounding and defensive presence in the low post and his development could help Waverly take the next step toward an IAC title and making some noise in the Class B playoffs.
The JV team won an overall Large School title and Jon Ward, along with the younger VanHouten, should, contribute valuable minutes in 2015-16.
IAC Large School champ Watkins Glen will take a step backward next year after big graduation losses and Notre Dame also takes a big hit with the loss of Darius Garvin, although you never know who could end up in a Crusaders' jersey next year.
Prediction:
The Wolverines are on the upswing, while other perennial Large School contenders are trying to re-tool. With Whitney Point graduating a number of talented seniors, the early nod for an overall IAC Large School title match-up is Waverly and Dryden, which returns a very talented and big team. …
Record: 18-2.
(New York State will increase maximum number of regular-season games to 20 in 2015-16).
Print Friendly Version