FROM THE PRESS BOX: A LOOK AHEAD TO THE 2016 BASEBALL SEASON (2015-06-27)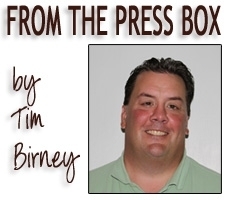 It was quite a season for Valley baseball teams with all four qualifying for postseason and three of them winning at least one game in the playoffs.

Tioga ended its season in the New York State Class C semifinals, while Athens and Sayre both played in District 4 semi-final tilts.

The crystal ball is locked in on the 2016 season and allows us a brief look ahead:

Athens Wildcats: Athens loses several key seniors to graduation, but none will be harder to replace than Tyler Forbes atop the rotation.

The Wildcats will return a strong group of juniors next season. Slugger Luke Newman will look to lead the offense, while Cody Jennings and Matt Collins will lead the rotation.

Despite the losses, Athens will be in the mix for a division title and should make another run at a District 4 title, but Montoursville and Jersey Shore will be strong again.

Sayre Redskins: With 10 players returning in 2016, Sayre appears to be the team to beat in the NTLís Small School Division.

Jordan Rockwell and Nate Sweet return to lead the Redskin rotation, while Matt Williams should be a force at the plate once again to lead an offense that should be better next season.

The biggest question will be if the junior varsity or junior high program can provide any depth for next yearís team. Regardless, Sayre should make a run at a District 4 title in 2016.

Tioga Tigers: The Tigers will miss several key seniors, led by four-year ace Peter Simmons, but the cupboard is hardly bare.

Jesse Manuel and Parker Hendershot will return to lead the Tioga rotation, while Hendershot will be joined in the infield on a full-time basis by his younger brother, Pierce. Tanner Folk, who missed his entire junior season due to a foot injury, will also return to add to what will already be a formidable offense.

Tioga is poised for another run at a Section IV Class C title, but Thomas A. Edisonís rumored return to Class C would make things a bit more interesting.

Waverly Wolverines: Waverly loses several key seniors, including their top two pitchers in Collin Traub and Zak Gingerich, as well as their top hitters in Kyle Kinsley and Zac Saxon.

The Wolverines have a proud baseball tradition, but they could take a step back next year in terms of chasing an IAC Large School title.

Brendyn Stillman and Peyton Miller will return to lead an offense that should still score runs, but question marks surround the pitching staff.

I would expect Waverly will still be good enough to play .500 and qualify for the postseason, but how much better they may be depends on how many kids exceed expectations.