YOUTH FOOTBALL: JUNIOR WILDCAT REGISTRATION CLOSING JULY 31 (2017-07-21)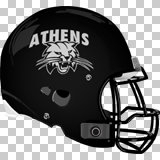 Valley Sports Report
ATHENS — The Athens Junior Wildcats Football Association 2017 registration remains underway, and is open to youths in kindergarten through sixth grade. Registration will close July 31.

Registration is open daily by visiting www.athensjrwildcatsfootball.com, or by stopping at Williams Toyota to see Jim Lister.

The cost for the program is as follows:

• Flag: kindergarten ($30 per player);

• Tackle: "C" Division — 1st- & 2nd-grade ($50 per player);

• Tackle: "B" Division — 3rd- & 4th-grade ($50 per player);

• Tackle: "A" Division — 5th- & 6th-grade ($50 per player).

Additionally, each player is asked to sell one $50 raffle ticket fundraiser. (Or, there is a $90 registration fee per player to opt out of the fundraiser.)

Registration for the Junior Wildcats cheerleading program is also underway through the same methods as the football program. Cost is $40 per cheerleader.