FROM THE PRESS BOX: EIGHTH ANNIVERSARY OF SITE IS A BITTERSWEET MILESTONE (2017-08-10)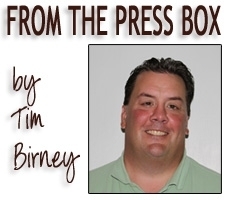 Today marks the eighth anniversary of Valley Sports Report.

With the passing of my father on Wednesday, it's a bittersweet anniversary. My father, Jim Birney, and my mother — his wife of nearly 64 years, Liz Birney were instrumental in making Valley Sports Report a reality. For that, I will always be grateful.

I will also forever be indebted to my father for the work ethic he instilled in me. More importantly, he taught me — through his actions — if you provided a service or product, people are going to count on you, and to be successful you had better provide the highest quality product possible.

When I started VSR, I realized why my father put in those countless hours, whether it was in the blazing heat of the summer, or the cold early-morning hours of the spring and fall. He put in those hours not only to support his family, but because his name was on the business, as well as the building where he sold his produce.

Anyone who frequented Birney's Produce Stand over the years will tell you, there was no better corn or potatoes, or tomatoes than what Jim Birney grew.

In my own way, I strive for the same thing my father was able to accomplish. For more than 60 years, Birney's was the go-to place for the highest-quality produce in the Valley. I have tried to make Valley Sports Report the go-to for the needs of the Valley sports fans.

And, if anyone had a work ethic to rival my father, it was my mother, who never took a day off from the time the greenhouses opened in the spring until the produce stand closed in the fall. Hour upon hour in the heat and the cold, she tended to customers and kept the counters stocked.

Words cannot express my gratitude for every opportunity my parents have afforded me throughout my life.

All I can do is say "thank you," and try to carry on the family name in a way that would make my father (and mother) proud.

And then there's my wife Nikki. She is my muse, my harshest critic and my biggest fan. She pushes me to be the best writer, man, and most importantly, father I can be.

Without her, Valley Sports Report would be a shell of what is has grown into.

Speaking of growth, VSR is experiencing a second consecutive year of tremendous growth in terms of viewership.

In 2016, unique viewers per day increased by 43.1 percent over the previous year. Through the first six months of the 2017, daily unique viewership has increased by 46.4 percent.

I offer up a hearty "thank you" to each and every reader in the Valley, the region, and the country.

When I decided to start VSR, I made one vow to myself — that I would never charge the reader for content. To make that possible, I needed to sell advertising.

One of the first ads I sold in July of 2009 was to Greg Joseph at the Valley Bowling Center. Shortly after that, Paul Baird at John H. Murray & Son took a flier on me, then Williams Auto Group jumped on board, followed by Tom's Hardware. All four are still on the site today.

I'd also like to thank our other major advertisers: Oral and Implant Surgery of the Southern Tier, Huckle's Body Shop, Foote's Tire & Auto Service, B's Tavern, Gannon Associates Insurance, Coaches Pizza, Tioga State Bank, Tioga Downs, Reagan Steele Jewelers, Jay Carpet One & Furniture Co., Croft Lumber, Owen Insurance, Camco Manufacturing, Beeman's Restaurant & Lounge, PS Bank, Elderwood, and First Citizens Community Bank.

Much thanks also to Dad's Dips & Dogs, Kinsley Chiropractic, CrossFit 29:11, Ad Graphics Printing, Skerpon Beverage, Jennings Law, Tomasso's Golf Course & Restaurant, Big Foote's Sporting Goods, Sutryk & Son, Inc, Moore's Automotive, Thomas Cremation & Funeral Services, Nocchi's Restaurant, Waverly Liquor & Wine, At Your Door Mobile Dog Grooming, Austin's Excavating & Paving, Valley Eye Care Associates, The Club at Shepard Hills, Tioga Country Club, Leprino Foods, Guthrie Federal Credit Union, I-R Federal Credit Union, Grand Victorian Inn, and WJ Graphics & Sporting Goods.

I'd also like to thank our newest advertisers: Haefele TV and Laurel Properties, our first two advertisers from our newest coverage area — S-VE and the S-VE / Candor merged sports programs. Coverage of the Panthers and Eagles will begin Monday.

A group I always fail to recognize are the coaches and athletic directors at Athens, Sayre, Waverly, and Tioga. Without your cooperation and time, what I do would be nearly impossible, and VSR would not be what it is today.

Last, but certainly not least, I would like to thank several volunteer photographers for their contributions over the last year: Mike Lubertowicz, Cristina Rossi, Christina Kreykenbohm, Heather Burgess, Chela Bubniak, Pat Dutchess, Lori Vascoe, Teresa Kingston, Karen Hayford, both Lisa Hortons, and my daughter Emily Birney.

Again, thanks to everyone I've mentioned and just as importantly, those I forgot to mention, who deserve it.