NTL FOOTBALL: BROWN, FIRESTINE LEAD SAYRE TO FIRST WIN OF SEASON (2017-10-06)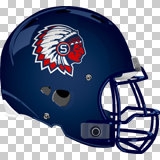 Valley Sports Report
RENOVO, Pa. — Sophomore QB Corbin Brown threw a pair of TDs, and sophomore Isaiah Firestine ran for two scores to lead Sayre to a wild, 28-14, win over Bucktail here Friday night in a game that was stopped by officials midway through the third quarter.

Officials called the game after several Bucktail players were ejected with 5:47 remaining in the third quarter, and the team was left with too few participants to continue the game under PIAA rules.

The Bucks got off to a good start when Tanner Riggle busted loose on a 57-yard TD run on the second play from scrimmage. Rich Perry's toss to Liam Dwyer for the conversion made it 8-0 just 65 seconds into the game.

After an exchange of punts, Sayre put together a 58-yard scoring drive culminating with a 29-yard TD pass from Brown to junior Gage Carnrike. Firestine cashed in the conversion run to tie the game at 8-8 with 6:02 left in the first quarter.

Bucktail coughed the ball up on the first play following the ensuing kickoff and Sayre pounced on it.

Four plays later, Firestine scampered in on a 4-yard TD run. James Esposito's PAT kick gave Sayre a 15-8 lead.

After forcing a Bucktail punt on its next possession, Sayre drove 52 yards on six plays to increase its lead. Firestine capped the drive with a 13-yard TD run to make it 21-8 in the opening minute of the second quarter.

After another Bucktail punt, Brown and Carnrike hooked up on a 27-yard TD strike with 8:01 remaining in the half. Esposito's second PAT kick made it 28-8.

Bucktail capped the scoring with a 16-play, 80-yard drive, aided by 45 yards in penalties by the Redskins, to trim the deficit to 28-14.

Sayre, now, 1-6, hosts Canton Saturday night in its annual Homecoming Game.