THE FINAL WORD: THOUGHTS ON THE FOOTBALL WEEKEND ... AND MUCH MORE (2017-10-10)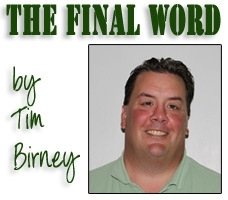 It's the time of the year when you naturally start thinking about the postseason.

On the gridiron, Tioga, Athens, and Waverly are in line for postseason appearances, while Sayre and SVEC need a lot of help.

Tioga turned in an impressive performance Friday in a 36-6 win over previously-unbeaten Notre Dame.

The Tiger once again established its ground game early and piled 331 rushing yards. The passing game was limited due to the success of ground game, but did hit on a long TD.

Defensively, Tioga came up with a big goal-line stop early, then smothered Notre Dame's potent offense until late in the game.

With a win Friday at Moravia, Tioga wins the Division VII title and locks up at least one home playoff game. A loss would likely result in a three-way tie atop the division standings.

The Class D playoff field in Section IV will be loaded. Sidney is 6-0 and ranked No. 1 in New York State, while Deposit-Hancock, which lost to Unatego Friday, is 4-2 at ranked 12th, Tioga (4-1) is 14th, and Notre Dame, 4-1 after loss to Tioga Friday, is 18th.

Unatego (5-1), Bainbridge-Guilford (4-1), and Greene (4-2) all won in Week 6 and received honorable mention in last week's state rankings, and could all be ranked this week.

The Tigers are back in the conversation for a Section IV title, but it's not going to be easy, and they may have to go on the road in the semifinals.

——————

At 5-2, Athens is tied for the second-best record in Class AAAA in District 4, but its schedule, which is comprised mainly of Class A and AA schools, leaves it in third place in the playoff points race, and will likely result in a road game in the opening week of postseason.

The Wildcats do have a chance to move up, but they'll need help, and a lot of it. They trail Shikellamy by 170 playoff points, and Selinsgrove by 220 points

Athens plays three Class A teams (Wyalusing, Canton, and Sayre) to end the season, so they'll need Shik or Selinsgrove to lose two or three of their final three games.

Shikellamy's remaining schedule is favorable with Mifflinburg (2-5), Loyalsock (4-3), and Milton (0-7) owning a combined record of 6-15.

Selinsgrove does close out the season with Mount Carmel (4-3), and powerhouse Southern Columbia (7-0), but plays 1-6 Central Mountain this week.

——————

Waverly will qualify for the postseason by default as all eight teams in Division III advance to the Section IV, Class B playoffs.

The Wolverines have a big game Friday night when they host winless Chenango Valley. A win would likely lock up the sixth seed in the playoffs, while a loss could sink them to the eighth seed.

The difference is an opening-round match-up against Norwich, Susquehanna Valley, or Maine-Endwell with a win, and a possible rematch with powerhouse and top seed Chenango Forks with a loss.

——————

Sayre kept its slim playoff hopes alive with a win at Bucktail Friday, but to qualify they'll need to win their three remaining games, including a Week 10 match-up against Athens, and Wyalusing and Canton will need to lose

Wyalusing is currently in the fourth and final playoff spot, but closes out the regular season with Athens, Wellsboro and Towanda.

Canton is in the fifth spot, and finishes off with Athens and Troy, after playing Sayre this Saturday.

The Redskins could make things interesting with wins over Canton and CMVT, but Week 10's meeting with Athens is a major obstacle.

——————

SVEC's postseason hopes are also on life support.

The top four teams in Division IV will qualify for the upcoming Section IV, Class C playoffs. The Eagles are currently sixth after consecutive losses of 7-6 to Lansing, and 8-6 to Dryden, and need wins in their final two games to make the postseason.

SVEC hosts third-place Oneonta Friday, and could pull the upset if they can revive their running game, but it closes the regular season against defending state champion Newark Valley, which is riding a state-best 19-game win streak, and has outscored its divisional foes 222-71 in five games this season.

——————

The postseason on the soccer pitch could be a very interesting one.

The Waverly and Athens girls are the premier teams in the area, but face big challenges in the postseason.

Waverly is unbeaten and closes out the regular season today at Chenango Valley.

Awaiting the Lady Wolverines in the Class B playoffs is the defending state champ and top-ranked Chenango Forks, which beat Waverly in a 1-0 classic in the Section IV championship game last year.

Don't overlook Seton Catholic, however. The Lady Saints are down a bit this year, but will nonetheless provide a worthy obstacle.

Athens has beefed up its non-league schedule and has looked better and better in each outing, but the Class AA field is loaded, led by state-ranked Midd-West, ranked 7th in the Coach's Small School poll, Montoursville, ranked eight, Loyalsock, which is an honorable mention, and Troy.

Both Waverly and Athens have the talent to win their respective Section / District 4 titles. If they are successful, it will be a major accomplishment.

——————

Of course, the Athens boys soccer team has to be in the discussion for premier program in the area.

The defendiing Class AAA champs will likely need to get past Selinsgrove in a slim postseason field to repeat as District 4 champs.

At this point, Athens and Selinsgrove are the only two teams to have qualified in Class AAA.

——————

The Sayre and SVEC boys are already in post-season mode, needing to win to qualify for the upcoming playoffs.

SVEC has already notched big wins over O-M and Newfield, and needs a win over Watkins Glen, which it beat earlier this season, tonight to qualify for the Section IV, Class C playoffs.

Sayre, on the other hand, lost a 6-2 decision Monday at Galeton, which drops them to 7-9 on the season. In order to reach .500, the Redskins will have to win at NEB Wednesday, then beat Athens at home Monday — not an easy task.

——————

The SVEC girls, who square off with Groton Saturday in the IAC Small School Championship game, are in the Class C playoffs, but will face a loaded field, led by Notre Dame, ranked 7th in the state, Trumansburg, ranked 13th, Lansing, ranked 16th, Unatego (honorable) mention, and Groton.

——————

The Final Word returns later this week.