FROM THE PRESS BOX: WEEK 4 PICKS — THREE MORE HOME GAMES IN VALLEY
(2019-09-13)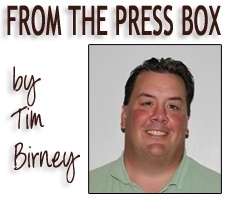 Week 4 of the high school football season is a football fan's delight here in the Valley with home games on Thursday, Friday and Saturday.
The weekend started out with a wild game at Alumni Stadium last night as Wyalusing outgunned Athens, 36-29.
WEEK 4 RECORD:
Birney 0-1, The Mick 0-1.
WEEK 3 RECORD:
Birney 2-2, The Mick 3-1.
2019 RECORD:
Birney 5-4, The Mick 5-4.
TEAM VSR
: 8-6 record and 68 points;
TEAM EVIL:
10-4 and 84 points.
As you can see I'm off to my worst start ever in my weekly prognostication, and it doesn't get much easier with three more tough games this weekend.

FRIDAY
Johnson City (0-1) at Waverly (1-0) 7 p.m. @ Memorial Stadium:
The Wolverines are coming off a 23-22 win at Union-Endicott, while the Wildcats dropped a 32-22 decision to Ithaca.
Waverly struggled to move the ball on the ground against a big U-E defensive line, but 8th-grader Joey Tomasso threw for 220 yards and two TDs — most of it coming in the second half.
Johnson City gave up 32 points to an Ithaca team that scored just one TD in its last four games of 2018, and was outscored 197-7 in those games.
Prediction:
If Waverly can establish a ground game, it should open up the passing game even more. Defensively, the Wolverines will need to contain JC's athletic QB. … WAVERLY 28, JC 20.
The Mick's Pick:
Waverly, 24, JC 21. …
Country Bob:
Waverly 28, JC 16. …
Little Red:
Waverly 26, JC 12.
Newark Valley (0-1) at Tioga (1-0), 7 p.m. @ Haggerty Field:
The Tigers are coming off a 23-20 win over Walton, while the Cardinals dropped a 44-29 decision at home to Windsor.
Tioga's usually-potent offense was held in check for the majority of its win over Walton, but did put together a game-winning 87-yard, five-play drive in the final minutes. The Tigers won the game thanks to special teams and a bend-don't-beak defense.
Newark Valley's defense allowed nearly 500 yards in total offense, including more than 300 yards on the ground. Offensively, the Cardinals rushed for nearly 200 yards and threw for 124 more.
Prediction:
Tioga has not beaten Newark Valley since 2014, even losing at home to the Cardinals (35-32) during their state title run in 2015. … You can throw the records, and last week's performances out the window when these two teams meet. …
TIOGA 27, NEWARK VALLEY 22.
The Mick's Pick:
Tioga, 14, NV 13. …
Country Bob:
Tioga 18, NV 16. …
Little Red:
Tioga 38, NV 12.
SATURDAY
Montgomery (0-3 NTL, 0-0 NTL Small) at Sayre (2-1, 1-0), 7 p.m. Lockhart Street Bowl (Homecoming):
The Redskins are coming off a 36-14 loss at home to Troy, while the Red Raiders were throttled 70-28 by Wellsboro at home.
The high-octane Sayre offense, which scored 105 points in its first two games, was held in check by a powerful Troy team, but will look to get healthy this week against a Montgomery defense that has allowed 166 points in its three losses.
Montgomery has averaged 24 points per game, but many of them have been in garbage time.
Prediction:
Sayre should be able to move the ball on the ground, and through the air — look for a big offensive night for the Redskins. …
SAYRE 55, MONTGOMERY 20.The Mick's Pick:
Sayre, 30, Montgomery 28. …
Country Bob:
Sayre 35, Montgomery 14. …
Little Red:
Sayre 33, Montgomery 8.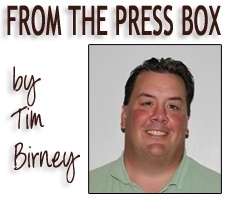 Print Friendly Version