THE FINAL WORD: ANOTHER 'GAME OF THE YEAR' CANDIDATE ... AND MUCH, MUCH MORE
(2019-09-16)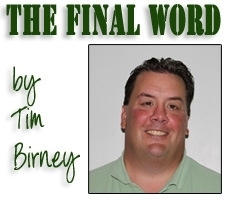 We are two weeks into the New York high school football season, and Tioga has two "Game of the Year" candidates under their belt.
On the heels of a 23-20 win over Walton in Week 1, the Tigers pulled out a 24-20 win over arch-rival Newark Valley Friday night at Haggerty Field.
The game was a back-and-forth affair, and the final minute was a roller-coaster of emotion. With 52 seconds remaining, senior QB Brady Worthing scored on a 9-yard TD run, then tacked on the extra point to give the Tigers a 24-20 lead.
Newark Valley speedster Caden Bennett nearly turned the tables on the ensuing kickoff, but Worthing tracked him down at the Tioga 14.
A 1-yard gain, and two incomplete passes later, the Cardinals faced a fourth-and-9 at the Tioga 13. Once again, Worthing came up big with a pass break-up to secure the Tioga win.
Sophomore Emmett Wood was the workhorse on offense for the Tigers, rushing for 191 yards and two TDs, and Worthing added 69 rushing yards and one TD. Tioga won't see another defense the quality of Walton or Newark Valley until the postseason.
The Tioga defense was solid once again against a very good, and balanced, Newark Valley offense.
The Tigers have given up 20 points in each of their first two games against what I believe will be prolific offenses before the season is over. This could be a very special unit before the season is over.
Another factor for the Tigers is its kicking game. Worthing is 2-for-2 in field goal attempts and appears to have the leg to connect from 35 yards out.
Don't be surprised it Tioga doesn't have another close game until Week 10.
——————
In the preseason, many Section IV pundits had Greene pegged as the team to unseat Tioga atop the Division IV standings.
For what it's worth, homesteading Walton thumped Greene, 38-14 Friday night.
——————
Sayre's offense was nearly nonexistent in the first half Saturday night, but the defense kept the Redskins in the ball game.
Once the offense got rolling in the second half, it was thanks in large part to the defense, and, surprisingly, its power run game.
After the defense forced a three-and-out early in the second half, Sayre's offense surged to life behind it power run game, including a bruising 14-yard run by senior Pat Casterline, and several runs between the tackles by senior Isaiah Firestine, which set up a play-action 26-yard TD pass from sophomore QB Brayden Horton to a wide-open senior Corbin Brown for the go-ahead score.
Two of Montgomery's next three possessions ended with interceptions — the second a pretty over-the-shoulder pick by senior Zach Watkins, who then had an electrifying 64-yard return to the Montgomery 1.
In between, there was another three-and-out, and a short Sayre scoring drive, set up again by the Sayre power running game.
The Sayre offense has a wealth of athletes, and can score from anywhere on the field, but this time will go as far as its defense can carry it. If Saturday night is any indication, the Redskin defense may be coming together just in time for their unprecedented five-game road trip.
———————
The Athens defense gave up three TD passes of 67 or more yards in the first 18 1/2 minutes of the game Thursday, but each time the Wildcats answered with a score of their own, and led 29-22 at the half.
Senior Damian Hudson carried the ball five times on the opening Athens scoring drive, then was injured on the second possession.
Sophomore Shayne Reid picked up the slack after Hudson's injury, running for a 12-yard TD, and then returning a kickoff 76 yards for a score. He capped the first-half scoring with a 38-yard TD run, but he was injured early in the third quarter, and missed the majority of the second half.
The running chores fell on the shoulders of freshman Caleb Nichols, and he responded with 48 yards on eight carries, but a pair of fumbles — one on a botched QB-center exchange and another on a scramble by freshman QB Mason Lister, who was under heavy pressure, put Wyalusing in position to rally.
The offensive line has received its fair share of criticism in the first three weeks, but it did a good job of run blocking Thursday night.
The Wildcats' undoing this season has been turnovers. They face a tough two-game stretch against Canton and Wellsboro, and need to keep a tight hold on the ball if they have any chance of winning those games.
———————
After a one-point win at U-E in Week 1, Waverly was dominant Friday night in a 41-6 rout of Johnson City.
The Wolverines' defense was dominant, shutting down the JC run game, and creating four turnovers, including an athletic interception and scintillating TD return by senior Jalen McCarty.
Senior Ethan Stotler also had a pick six when Caden Wheeler had a perfectly-timed hit on a JC receiver, resulting in a deflection that Stotler hauled in just 10 yards from paydirt.
The Waverly ground game was much-improved in Week 2, and 8th-grade QB Joey Tomasso was very efficient in the passing game.
Two things that were cemented in my mind in this game: 1. David Hallett is a force on both sides of the ball. 2. Jalen McCarty is electric with the ball in his hand.
A player to keep your eyes on is junior Gaven Anthony, who showed the ability to make tacklers miss and get up field quickly. He could become a much bigger factor in the Waverly offense.
Another player to keep your eyes on is junior Aidan Westbrook, who is replacing 6-8 wide receiver Scott Woodring, who will likely miss the remainder of the season. Westbrook made a nice catch, and was able to make a tackler miss to gain extra yardage, and coach Jason Miller is high on him.
It gets much tougher for the Wolverines in Week 3 with a road trip to Maine-Endwell. We should have a pretty good idea about where they stand in the Class B hierarchy by the end of Friday night.
——————
Candor volleyball repeated as Tioga Tournament champions Saturday, beating Tioga in the finals, just a few days after sweeping the Lady Tigers in their first regular-season match-up.
The Lady Indians are strong favorites to win a Class D title this season, and Tioga remains their biggest obstacle.
The biggest surprise of the day was Newark Valley's third-place finish. They have emerged as Waverly's biggest competition in the Large School Division. The two meet tonight at Newark Valley.
——————
Waverly senior Sheridan Talada and junior Collin Wright both qualified for the New York State Cross Country Championships last year, and both have picked up right where they left off.
Both finished in the top 5 at the rugged Owego Invitational Saturday, and should make a strong run at a return trip to States this season.
——————
And finally, the Athens girls turned in a dominant 2-0 soccer win over Waverly Friday night.
The Lady Wildcats dominated play, with the vast majority of action taking place in the Waverly defensive end.
Junior Emma Roe was a force in the middle of the field for Athens, which outshot Waverly 20-1.
It appears Athens' league title hopes will come down to an Oct. 9 showdown at Troy. The two teams battled to a 1-1 draw at Athens two weeks ago.
Waverly hosts Notre Dame Wednesday night in a game that will go a long way in determining the IAC South Large School Division title.
The Lady Crusaders are young, talented, and playing very well. Waverly will have its hands full.
——————
The Final Word returns later this week.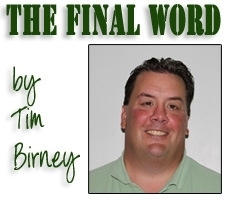 Print Friendly Version