THE FINAL WORD: TOUGH WEEKEND FOR THREE OF FOUR VALLEY TEAMS ... AND MORE
(2019-10-08)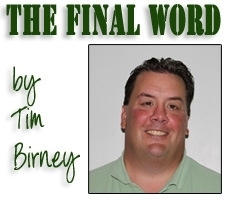 It was a rough weekend on the gridiron for three-quarters of the Valley teams.
Sayre missed out on a chance to push Canton for the top spot in the upcoming District 4, Class A playoffs, while Waverly's postseason aspirations came to an end with a loss to Owego — it's third straight within its division.
Athens dropped a 33-21 decision at previously-winless Towanda, and is mired in what could be its worst season since a 2-8 mark in 2000.
Meanwhile, the New York state's top-ranked Class D Tioga rolled to a 55-14 win over Groton, and are taking aim on their third straight Section IV title, and eighth in nine years.
——————
The one drawback to Sayre's high-powered offense is if it's out-of-synch, in a worse-case scenario, it can crash-and-burn, and that's what happened Friday.
Sayre's defense has been good enough the last 1 1/2 years under coach Kevin Gorman to make up for the offensive three-and-outs, and the occasional turnover, and keep the Redskins in the game until the offense finally begins to click, which at some point it has in nearly every game.
Friday night, the Sayre offense never found its groove.
The Redskins will have a chance to re-group this week at Cowanesque Valley, then travel to Muncy for a chance to win the NTL Small School Division. They close out the season at home in the Rusty Rail Game against Athens.
While winning the next three games, including two divisional games, would make Sayre the Small School champs, it would, more importantly, make them the No. 2 seed in the Class A playoffs, and give them another home game in the semifinals.
——————
In its last three losses, Waverly trailed by six points or less in the third quarter.
Big plays by Maine-Endwell and Chenango Valley proved to be the difference in the first two games. Friday night, the defense was spectacular, but the offense couldn't sustain a drive against the stingy Owego defense.
Despite the 2-3 record, this is a much better football team than I expected it to be.
Eighth-grade QB Joey Tomasso hit a bump in the road Friday night, but for the most part has been very good.
Senior Jalen McCarty has developed into a game-breaker at wide receiver, and junior Aidan Westbrook isn't far behind.
Junior David Hallett is a workhorse running back, and juniors Austin Kimble and Gaven Anthony have displayed big-play potential.
With a number of talented underclassmen, and a drop to Class C in store in 2020 (along with Chenango Forks, Chenango Valley, and Oneonta), prospects are bright for the future.
——————
Athens' struggles have been plentiful — on both sides of the ball.
The Wildcats have shown they can run the ball with sophomore Shayne Reid and freshman Caleb Nichols, and freshman QB Mason Lister has been very good at times, and can definitely throw the deep ball.
The defense is young and athletic, but has given up a bunch of big plays this season, although they've tightened that up in recent weeks.
The main problem has been inconsistent play on the offensive and defensive lines, but it's con completely on them.
The offense as a whole has been too inconsistent, and has committed too many turnovers, and the defense has also been too inconsistent. If they can put it together for four quarters, watch out.
This team has a ton of young underclassmen contributing this season, and should be much improved over the next few years.
——————
Meanwhile, Tioga continues to roll.
The Tigers are athletic and deep. Their ground game is prolific as always, and the passing game has shown promise the last three weeks, especially Friday in its win over Groton.
Sophomore Emmett Wood is the rare combination of speed and power, and has the ability to score each and every time he has the ball, while senior Brady Worthing is adept and dangerous with the QB keeper on the option.
Senior Mason Booser is getting a few more touches offensively, and has produced some big plays. He, like Wood and Worthing, is also a big-play producer on defense and special teams.
Defensively, the Tigers have swarmed to the ball, and senior Dom Wood has become a monster on the line.
Tioga has won seven of the last eight Section IV, Class D titles. Since needing a late field goal by Carter Jackson in the 2011 title win over Walton, the Tigers have been utterly dominant.
This year, may be a little different. Tioga will be tested by Division VI rival Greene Friday, and it also slipped past Walton 24-20 in Week 1. Walton will likely win the Division V crown, and face the loser of the Tioga-Greene game in the Class D semifinals.
——————
The Waverly girls soccer team clinched its third straight IAC South Large School title Monday with a 6-1 win over Newark Valley.
The Lady Wolverines have won seven in a row since heir only loss of the season — a 2-0 home defeat at the hands of Athens. They have outscored their opponents 53-4 in those seven games, and have pitched three shutouts.
While upper classmen junior Gabby Picco and seniors Melina Ortiz and Cora Smith drive the machine, newcomers 8th-grader Lea VanAllen and freshman Kennedy Westbrook have benefitted in the high-octane offense.
VanAllen has scored 20 goals, including eight in the last three games, while Westbrook has 12 goals, to go along with 10 assists. PIcco, who leads the team with 13 assists, has 14 goals.
The Lady Wolverines are ranked fifth in Class B in New York State, but will face stiff competition in Section IV from Oneonta, Chenango Forks, and Dryden in their attempt to make the finals for the fourth consecutive year.
——————
Candor, which ended Tioga's lengthy regular-season win streak last season and unseated the Lady Tigers from the top of the IAC South Small School volleyball hierarchy, clinched their second straight division title Monday night with a sweep at Tioga.
The Lady Indians were impressive as usual. They have a number of powerful hitters, pass the ball very well, and have an uncanny ability to keep the ball off the floor.
However, Tioga proved it can play with Candor. The first two sets were 25-23, and were battles from start to finish.
Last year, Candor won every meeting with Tioga until a one-game playoff in the Class D semifinals, which earned the Lady Tigers a meeting with eventual state champion Bainbridge-Guilford in the finals.
Candor returned nearly in tact this season, so I'm sure they will remember well how last year's postseason unraveled.
———————
The Final Word
returns later this week.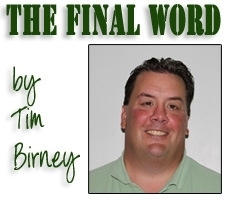 Print Friendly Version