NTL GIRLS BASKETBALL: ATHENS SHUTS DOWN WYALUSING IN 42-20 WIN
(2022-01-10)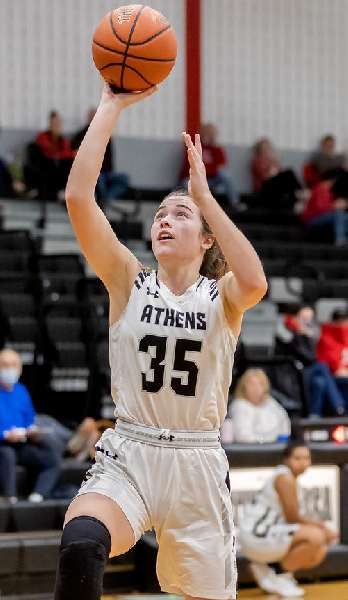 Valley Sports Report
WYALUSING — The Athens defense limited Wyalusing to just two first-half field goals, and built a 19-point halftime lead on its way to a 42-20 win here Monday night in NTL girls basketball action.
"We scored well off our pressure," said Athens coach Brian Miller. "Our defense created some nice fast breaks.
"We played well," added Miller.
Senior Caydence Macik led the Lady Wildcats with a double-double, scoring 16 points and pulling down 10 rebounds.
Junior Karlee Bartlow had 11 points, five rebounds, three steals, and one blocked shot in the win, while senior Olivia Bartlow had six points, six boards, and two blocked shots, junior Emma Bronson aded five points and two assists, and freshman Addy Wheeler chipped in with four points, four rebounds, four assists, and six steals.
Macik scored seven points in the opening stanza, including a 3-pointer late in the first eight minutes, to help Athens to an 11-2 lead.
Karlee Barlow scored seven points in the second quarter to fuel a 13-3 burt that gave the Lady Wildcats a 24-5 lead at the break.
Athens added a point to its lead in the third quarter, taking a 32-12 advantage into the final eight minutes, then made 4 of 7 free throws down the stretch to seal the victory.
Laci Norton led Wyalusing with six points, and Layla Botts and Olivia Spencer added four points apiece.
Athens, now 6-2, travels to Troy Thursday.
——————
IN PHOTO 1: Athens senior Caydence Macik. … VSR STOCK PHOTO.