WOMEN'S COLLEGE BASKETBALL: ATHENS GRAD MILLER SCORES CAREER-HIGH IN PENN COLLEGE LOSS AT PS-ABINGTON
(2022-01-12)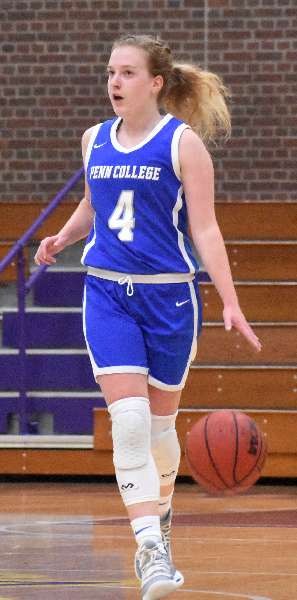 Valley Sports Report
ABINGTON, Pa. — Athens grad
Kayleigh Miller
, a freshman on the Penn College women's basketball team, scored a career-high 15 points in 69-60 loss to Penn State-Abington.
Miller knocked down 6 of her 8 shots from the field in 24 minutes, including a career-high 3 of 4 from behind the three-point arc. She also had one rebound, one assist, and one steal.
It's the second time Miller has scored in double-figures in her 11 games.
On Saturday, Miller scored nine points in 17 minutes. She connected on 3 of 6 shots from the field, including a 2-for-4 effort from behind the arc. She also had three rebounds and one steal.
On the season, Miller is averaging 5.3 points, 2 rebounds, and 1.2 assists per game in 24 minutes per game. She has 11 3-pointers and is shooting 35.5 percent from behind the arc.
Penn College returns to action Friday when it hosts Penn State-Harrisburg.
——————
IN PHOTO: Kayleigh Miller. … PHOTO BY BRIAN FEES.