YOUTH BASKETBALL: FOUR CROWNED CHAMPS AT DAN MANWARING MEMORIAL FREE THROW CHAMPIONSHIPS
(2022-01-13)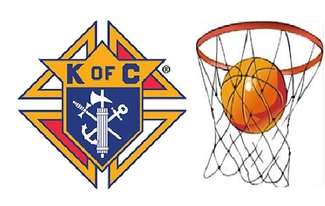 Valley Sports Report
TIOGA CENTER — Four youngsters were crowned champions recently at the 7th Annual Knights of Columbus / Dan Manwaring Memorial free throw shooting championships here at Tioga Central High School.
The four boys and girls from Tioga and surrounding areas, ages 9 to13, achieved council level champion status in the competition, sponsored by the Blessed Trinity Council #251 of Tioga County.
Crowned champions were:
GIRLS
12-year-old: Ali Hollett, made 5 of 15;
13-year-old:
Lillian Mezzatesta, 8 of 15.
BOYS
9-year old:
Kolbe Cole, made 7 of 15;
12-year old:
Joshua Rought, made 5 of 15.
Each of the winners will advance to the chapter level at McQuaid Jesuit in Rochester in early March. with an eye on moving to the regional level at Bishop Ludden in Syracuse in late March, and ultimately to the state championship at West Point in April.
—————
In photo, from left: Community Youth Director David Prugh, Grand Knight Joseph Phillips, Kolbe Cole, Ali Hollett, Reese Sullivan, Reagen Foley, Lily Mezzatesta, Josh Rought, and Bill Beauchamp. … PHOTO SUBMITTED.