THE FINAL WORD: THOUGHTS ON THE WINTER SEASON AS IT WINDS DOWN - PART II
(2019-02-07)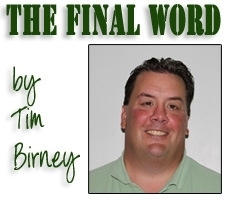 With the end of the high school basketball season in sight, five of the eight Valley teams have qualified for the playoffs. The remaining three (Waverly and Sayre boys, and Tioga girls) still have a chance.
The story of winter season on the hardwoods has definitely been the Waverly Lady Wolverines.
I don't put much stock in the state rankings, especially early in the season, but the fact Waverly was unranked until the end of January gives you an idea of how meaningless they really are. However, if you're into the rankings, Waverly, ranked 24th this week in Class B, should make a big jump next week after its 20-point win at Hornell (ranked 16th) Monday.
Waverly's two closest games of the season came in its opener - a three-point win at Newark Valley - and again in its third game - a 12-point win at Watkins Glen. The second time around, the Lady Wolverines beat their divisional rivals at home by 23 and 26 points, respectively.
After rolling through the IAC, the Lady Wolverines flexed their muscles with a 91-71 win over state-ranked Hornell to improve to 17-0. They finish the regular season with games against Ithaca and Johnson City, then will play in the overall IAC Large School title game, likely against Whitney Point.
The recipe for success hasn't changed for Bob Kelly's team this season - in-your-face defense which creates a lot of easy offense, but they've also been pretty good in the half-court set as well.
Senior Alex Tomasso has taken the reigns as the go-to gal on the offensive end, but she's getting a lot of help from her sister, sophomore Sidney Tomasso, and senior Wendi Hammond. The Lady Wolverines have consistently knocked down 3-pointers this season, which has loosened things up in the paint and allowed more penetrations and more trips to the free-throw line.
They will be in the mix in the Class B playoffs, but will likely be the third seed - even if they finish the season unbeaten, which means a trip to either Norwich or Owego in the semifinals. (Class B is the only division that does not have neutral sites in the semifinals, but that's a different column in its own right.)
To beat Owego or Norwich, Waverly will need more scoring from its bigs, and senior Lauren Newman, and juniors Paige Lewis and Morgan Adams have shown flashes on the offensive end this season.
------
After a 32-point loss to Waverly in the opening game of the Valley Christmas Tournament, the Sayre Lady Redskins have reeled off 13 wins in 14 games. They can clinch their fifth straight division title with a home win over NEB Friday night.
Seniors Camry Lane and Stephanie Klovekorn, and junior Emily Sutryk have done the heavy lifting for Sayre, especially in the scoring column.
Sophomore Gabbi Randall has stepped up her play on the defensive end and on the boards, while senior Amber Merrill, junior Maddie Wilson, and sophomore Courtney Sindoni have also contributed quality minutes.
The Lady Redskins play very good defense, and the trio of Lane, Klovekorn, and Sutryk can do a lot of damage offensively, but as the team progress into the postseason, they will need some help.
Sayre is currently second in the District, Class AA postseason power rankings, and will get a good tune-up game or two in the NTL showdown.
------
Athens Lady Wildcats coach Brian Miller has done a pretty good job in his first year on the sidelines at his alma mater.
Athens is 11-7, in the hunt for a berth for the NTL Showdown, and currently fifth in the District 4, Class AAAA postseason power rankings.
Considering the Lady Wildcats have just one senior (Sophie Adams), and one starter (sophomore Kayleigh Miller) returning from last year, an 11-7 record is more than acceptable.
Kayleigh Miller has been a consistent scorer from the perimeter, and freshman Caydence Macik is a "Newcomer of the Year" candidate in the low post. Junior Haley Barry and sophomore Megan Collins have gotten better and better as the season progresses, and junior Avery Priester has done a solid job at point guard.
Athens has had a nice season, but battling the likes of Danville or Mifflinburg in the postseason may be a bit much to ask of this young squad.
------
The Athens boys entered the season needing to replace two 1,000-point scorers from last year, and junior Aaron Lane and sophomore Benny Gambrell - likely the two "most improved" players in the area - along with senior Aric Westbrook and junior Keegan Rude have a done a nice job replacing that scoring punch with a more team-oriented approach.
The Wildcats are long and athletic, and very dangerous in transition, and hey create a lot of offense with their defense.
Their struggles have come when opposing teams have kept them off the offensive boards, and / or have slowed them down and forced them into a half-court game.
Athens is currently fifth in the District 4, Class AAAA postseason power rankings with five games remaining - all on the road. The Wildcats will get a good indication where they stand Monday with a road trip to Danville, which is 18-2 and ranked No. 1 in the district.
------
The Tioga boys finished the regular season Tuesday with an 11-9 record, thanks to a win over a good Marathon team.
Considering the fact the Tigers graduated three very good post players, and an all-league point guard from a team that went to its first Section IV, Class C title game in 30 years, 11 wins is a pretty respectable season.
Senior Pierce Hendershot became a dominant force going to the bucket this season, while senior Lucas Klossner re-wrote the school record book behind the 3-point arc, and junior Sam Taylor became a solid third scorer.
Senior Derrick Barto picked up his play as the season progressed, and senior Alex Bloss and junior Thomas Cook, though both being under-sized in the low post, did a decent job on the board.
Defense was the key for the Tigers this season. When they played 32 minutes of defense, they were tough to beat.
There is no clear-cut favorite in Class C this year, but there are at least nine teams with winning records, so it's going to be very difficult - but not impossible - for Tioga to repeat last year's run to the title game.
------
In 30 years of covering high school sports in the NTL and IAC, I don't think I've ever felt worse for an athlete than I do for Waverly junior Scott Woodring, who suffered a season-ending knee injury in practice just seven games into the season. He was averaging an incredible 32.7 points and 16.9 rebounds per game.
His injury sent the Waverly team into an understandable tailspin, considering Woodring and senior Dylan Ward, who has put up "Player of the Year" numbers in his own right this season, were the only players returning to the team with even 1 minute of varsity experience.
The old sports axiom most often used in these cases is "they'll be better next year because of this." And, honestly, in this case, it's probably true.
Junior Jalen McCarty has gotten better and better, freshman Caden Hollywood has had a solid freshman season, sophomore Peyton Bowen has shined since being promoted to the varsity following Woodring's injury, and sophomore Ryan Lambert has shown significant improvement as the season has progressed. They should all be even better next season.
Don't get me wrong, Waverly's success next year will hinge on Woodring's return to health, but he will have players around more capable of contributing consistently.
As for this year, the Wolverines could still qualify for the postseason with a road win over Chenango Forks tonight. A postseason game would be another added bonus for this young team.
------
The Tioga girls have played much better of late, improving to 6-11 Tuesday night with a win at Marathon.
Eight wins is the magic number to qualify for the postseason, and with games remaining against Deposit-Hancock, Towanda, and O-M, it is within reach for the Lady Tigers. Keep in mind, however, Tioga lost earlier this season to Deposit-Hancock and O-M.
The uptick in play has coincided with the increase in offensive production from sophomores Eve Wood and Taylor Ayres, and with the play of junior Giovanna Rossi in the low post, especially on the boards.
Junior Chloe Bellis can create havoc defensively, and senior Rebekah Richter has provided solid minutes as well.
Consistency, especially on the offensive end, has been Tioga's biggest Achilles' Heel, but they've put themselves in position to qualify for the postseason, and a month ago I wouldn't have believed it.
------
To paraphrase Winston Churchill: The Sayre boys "are a riddle, wrapped in a mystery, inside an enigma."
So athletic, the Redskins never quite put it together. And late disciplinary problems may have put an end to their postseason hopes. They are currently 5-13 on the season and ranked 11th in the Class AA postseason power rankings.
The top eight teams in Class AA quality for the playoffs, and a win streak to end the season could propel them into the postseason, but the Redskins would need to knock off three would-be playoff teams to accomplish that.
Looking ahead to next year, the Redskins could return a strong core of players, but by the sounds of the buzz around the program, nothing is certain.
-------
Waverly's indoor track & field teams are on a rather lengthy four-week hiatus, while they await the Section IV postseason. Once the second season rolls around, however, there is plenty of reason for hope.
Sophomore standout Isaac Chandler is Waverly's best bet for a trip to the state meet, and could go in both the pole vault and the 55-meter hurdles. He is an incredible athlete.
Juniors Melina Ortiz (300-meter dash) and Sheridan Talada (1,500-meter run) are the Lady Wolverines' best hopes on the individual front. They also team with junior Elizabeth Fritzen and senior Stephanie Hyland on a 1,600-meter relay team that has an outside shot at States.
------

The Final Word
returns early next week with a look back at the weekend's action.