YOUTH WRESTLING: TIOGA PLACES 11 AT NYWAY STATE CHAMPIONSHIPS
(2019-03-11)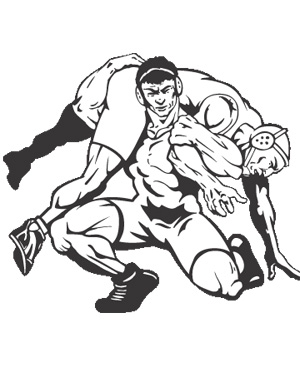 Valley Sports Report
BROCKPORT, N.Y. - The Tioga Tigers 3-Style wrestling club sent 11 grapplers to the podium at the 2019 NYWAY State Championships held at The College at Brockport this past weekend.
In the Open tournament, Zachary Kotsubka, competing in Division 9 at 91 pounds, was the team's top finisher, placing fourth. He dropped his opener to eventual champ Michael Syposs of the Bison Wrestling Club by fall, then won his next two. Kotsubka edged Karen Stock of Mexico Wrestling, 4-3, then rolled to an 11-0 major decision over Ryan Parton of Penfield. In the third-place match, he fell to Ken Schmitz of the Bison Wrestling Club, 7-0.
The Tigers had a trio of fifth-place finishers.
In Division 1, 38 pounds Maddox Hall lost to unaffiliated Mason Phillips by fall in 1:42, pinned Lillie Sweeney of NWAA in 22 seconds, then fell to Arcangel Lopez of the Geneva Jr. Panthers by fall in 2:38. Hall decked Daphne Twoguns of Seneca Chiefs in 51 seconds in the fifth-place bout.
Parker Jackson (Division 3, 50 pounds) won his opening match with a 59-second fall over Baldwinsville's Aiden LaDue, then dropped a 10-2 verdict to eventual champ Hunter Phillips of the B2 Wrestling Academy. He won his next two, 5-2 over Cub Romero of Law Wrestling Academy and 4-3 against Keller Spence of Maryville. Following an 11-4 setback against Angel Lopez of the Geneva Jr. Panthers, he scored a 5-0 decision over Timmy Ferrand of Journeyman Wrestling Club in the fifth-place match.
Austin Babcock (Division 8, 170) started the tournament off with a fall over unaffiliated Zachary Hammond in 3:45, the lost by fall in 26 seconds against Beaver River's Dominic Roes. He dropped a 7-0 decision to Thomas Bonin of Cattaragus, then met Hammond for a second time in the fifth-place bout. He would win by pin again, this time in 1:17.
Two Tioga wrestlers took sixth.
Levi Bellis (Division 8, 99) pinned Matan Greenfield of the Long Beach Gladiators in 4:19, then dropped his next bout to Mike Giugliano of B2 Wrestling Academy by fall in 3:57. He came back to beat Long Beach's Gregory Milone, 4-3, and Journeyman Wrestling's Benjamin Taylor, 6-3. Bellis would fall to unaffiliated Richie Degon by pin in 24 seconds, then fall, 5-0, to Tyler Simons of the Hilton Junior Cadets in the fifth-place match.
Hunter Nornhold (Division 1, 41) won a high-scoring battle against Hudson Valley's Shade Kellner, 16-10, then lost to Nathan Smithers of the Webster Jr. Titans, 16-1, and Nolan McGibbon of Malone by pin in 1:31. In the fifth place match, he lost to Nicklas Goodwin of the General Brown Mighty Lions, 6-3.
In the Girls tournament, Tioga had five place-winners.
In G1, 65-76 pounds, Sophia Young placed third. She lost to Delanie Smith of Canisteo Wrestling by fall in 1:39 and to Lexi Doxstader Holland Youth Wrestling by pin in 50 seconds.
Serenity Babcock (82-86) and Amelia Toomey (89-96) both took fourth in G2.
Babcock lost by pins to Kiara Davidson of Club Anarchy Wrestling in 50 seconds, RaeAnn Craft from Bombsquad Wrestling in 19 seconds and Jourdyn Cobb of Falconer Wrestling in 31 seconds.
Toomey lost by falls to unaffiliated Alivia Cartwright in 2:21, Contessa Vanskiver in 39 seconds and Baylee Williams of AWC in 30 seconds.
In G1, 46-50, Taylor Sindoni dropped her opener to Kaydence Golding from Colonie Wrestling, 7-2, then fell to Zoie Cullinan of Slingshot Wrestling, 9-4. She pulled out a 4-3 decision over Mackenzie Carkeek Gowanda Youth Wrestling in the fifth-place bout.
Natalie Young (95-103) finished sixth in G3. She lost by pin to Madeleine Wadsworth of Falconer Wrestling in 25 seconds, to Bryanna Moultrup from the Wolverine Den by fall in 20 seconds, and by pin to Brooke Tarshis from Venom Girls Wrestling in 57 seconds.