THE FINAL WORD: PUTTING A BOW ON THE 2018-19 WINTER SEASON
(2019-03-24)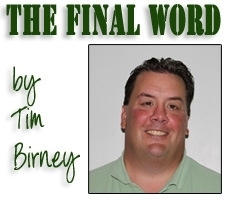 What a winter season.
The Valley sent 13 athletes to their respective state championships, and nine brought home state medals. On the team front, there were three Section IV champs, four division champs, two overall league champions, and one state qualifier.
Wrestling dominated the headline this winter, in particularly Tioga. It was another banner season for the Tigers, who crowned multiple state champs - senior John and junior Brady Worthing - for the second time in school history.
The Tigers also won their third straight Section IV, Division II team title, and won the Section IV Duals title. The Worthings, along with seniors Austin Lamb and Stephen Taylor, who both finished fourth at States, accumulated enough points to win the Tigers the team title, too.
John Worthing and Lamb are on my short list of favorite wrestlers to watch over the last 10 years. Very different in their approaches, they were a pleasure to watch and will be missed. Interestingly enough, both enjoyed six-year varsity careers and both finished up with 206 career wins.
Brady Worthing is another wrestler on that list, but he'll be around next year to defend his state title. He'll look to become just the second two-time champ in Tioga program history.
After Tioga went 4-for-4 at the NYS Championships, the Athens duo of senior David Galasso and freshman Gavin Bradley both medaled at the PIAA Championships to make it a perfect 6-for-6 season.
Galasso, a state qualifier last year, took his game to the next level this year, reaching the 100-win plateau with his last win in Hershey. His coaches said he is a tireless worker, and the proof was in his performance - a 38-7 record and a fourth-place finish at States.
Bradley may have been the most inspirational story of the winter season. The Athens freshman lost his mother at the beginning of the school year, but was able to channel his energy into his passion on the mats. He put together one of the best freshman seasons in program history, posting a 34-12 record and a sixth-place finish at States.
He is good on his feet, and a hammer on top. I look forward to watching this young man the next three years.
On the team front, the Wildcats earned their first share of the NTL title in 15 years.
The swimming pool (and diving board) was also a big source of headlines this winter.
Sprint aces Josh McClelland, a senior at Sayre, and Mike Atanasoff, a junior at Waverly, both enjoyed banner seasons that culminated with podium finishes and school records at States.
McClelland won a bronze medal at the PIAA Championships and set a school record in the 50-yard freestyle. Atanasoff finished seventh in the 50 free and 12th in the 100 free at the NYS Championships, setting school records in both events.
McClelland left an indelible mark on the Sayre swim program, and his accomplishment won't be matched anytime soon, while Atanasoff is primed for a historic senior season and could go down as one of the best to ever hit the water in the storied history of the Waverly swim program.
Athens freshman Taylor Walker made a big splash, figuratively speaking that is, on the diving board this winter, qualifying for States just 74 days after her first varsity competition.
For someone to improve as much as she did this season, there must have been a lot of hard work involved. I look forward to see what she can do next year with a full offseason of hard work under her belt.
Sayre junior Jillian Shay also turned in a pair of memorable performances in the pool at the District 4 Championships.
On Day 1, Shay was seeded 14th in the 200-yard freestyle, but shaved 11 seconds off her seed time to earn a fifth-place medal. The next day was even more impressive as Shay, the 13th seed in the 500 free, trimmed more than 29 seconds off her seed time to win a fourth-place medal. Both performance were simply jaw-dropping.
There's only one indoor track & field team in the Valley, but for the second year in a row, Waverly sent three athletes to the NYS Championships, including return trips for juniors Isaac Chandler and Melina Ortiz.
Junior Sheridan Talada also qualified with a school-record gold-medal performance in the 3,000-meter run at the State Qualifier. Talada broke her own school record at States, and finished 27th.
Chandler, who went in the 55-meter hurdles as a sophomore, returned to States in the hurdles, and also in his specialty - the pole vault. He cleared the bar at a school record 14-feet, 6-inches to win a fifth-place medal.
Chandler is going to be fun to watch this spring in the outdoor season. I think it's reasonable to believe he'll improve on last year's seventh-place finish at States in the pole vault.
The Tioga boys bowling team won its third consecutive division title, thanks in large part to sophomore Kolton Pond, who went on to qualify for the New York State Championships. Pond finished 41st this year, but there's a good possibility he'll have a couple opportunities to improve on that finish.
On the down side, the Waverly girls saw their 15-year stranglehold on the Large School division title come to an end, and the Waverly boys' eight-year run atop the division also ended.
For the first time in quite a while, the basketball hardwoods probably generated the fewest headlines of the winter.
The biggest headline of the basketball season wasn't a positive one.
Waverly's 6-8 junior Scotty Woodring suffered a non-contact season-ending knee injury in practice just a fw days after the Valley Christmas Tournament. He played in just seven games, and averaged 32.7 points and 16.9 rebounds per game.
I have to admit, this injury bothered me more than most. I wish we could have seen what kind of numbers Woodring would have put up over a full season. He was off to an amazing start.
The Sayre girls exceeded expectations - at least mine anyway - winning 20 games, finishing second in the District 4, Class AA playoffs and making their third trip to States in coach Eileen Sparduti's six years on the sidelines at her alma mater. They also won their fourth division title in a row.
The Waverly girls won their first 18 games, and finished the season at 20-2, losing in the Section IV, Class B semifinals for the sixth consecutive season. Five of those six losses came to the eventual Section IV champ, and three of those teams went on to win New York State titles. The Lady Wolverines also won another division title, and their third straight overall IAC Large School title.
On a side note, Waverly beat Watkins Glen twice during the regular season - by 12 and 26 points. The Lady Senecas won the Section IV, Class C title and ended up losing in the state championship game.
The Athens boys and girls, and the Tioga boys all made the postseason, but were all one-and-done.
So, while basketball fans may not take a lot away from the 2018-19 season, the remainder of sports fans will long remember this year.