FROM THE PRES BOX: THE CRYSTAL BALL, PART II — WEEK 3 PICKS
(2019-09-06)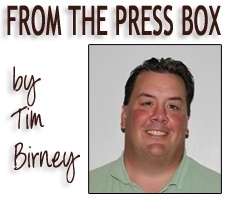 The high school football season South of the Border kicks off tonight, with Tioga seeking its eighth Section IV title in nine years, and Waverly moving up to the rugged Class B wars.
The crystal ball has come into focus, so let's take a look at what may lie in story for the Tigers and Wolverines in 2019:
Tioga Tigers:
Coming off a 9-3 season that saw them advanced to the Class D state semifinals, the Tigers return just four starters on both sides of the ball.
Two of those returning starters are senior QB Brady Worthing and sophomore tailback Emmett Wood. Don't be surprised if Worthing is a much bigger factor in the running game, while Wood could challenge the 2,000-yard plateau if Tioga advances deep into the playoffs.
The obvious question is: how good will Tioga be in the trenches with just one starter (senior Dom Wood) returning? Well, coach Nick Aiello and staff have a history of turning young lines into productive lines as evidenced by their incredible run of success.
Prediction:
The Tigers may be a bit inexperienced, but this is a very athletic group. Don't be surprised if Tioga gets off to another slow start (1-2 last year) with their first two games against Walton and Newark Valley. When it counts, Tioga will have it figured out.
2019 regular-season record: 8-2
and Class D champion.
Waverly Wolverines:
Coming off an 8-2 season that featured an eight-game win streak, and a loss to eventual state champion Susquehanna Valley in the Section IV, Class C championship game, Waverly moves up to Class B for 2019 (but will drop back to Class C in 2020).
The Wolverines return a wealth of skill-position players, led by running backs junior David Hallett and senior Thomas Price, and wide receiver Scott Woodring, and a number of linemen with experience.
The obvious question is: What kind of growing pains will 8th-grader QB Joey Tomasso go through this season? Longtime coach Jason Miller has said he'll look to establish the running game to keep Tomasso from having to make too many plays to win games. And, Miller has done a masterful job of grooming QBs during his tenure at Waverly.
Prediction:
The difference between Class B and Class C in Section IV cannot be overstated. The Wolverines will be competitive in most of their games this season, but probably need four wins in its division to qualify for the playoffs, and that is going to be a tall task.
2019 regular-season record: 4-6
(after picking up wins in a pair of crossover games in Week 9 and 10).
——————
Week 3 of the high school football season is upon us with a full slate of action tonight, including home games for Tioga and Sayre.
WEEK 2 RECORD: Birney 2-0, The Mick 1-1. 2019 RECORD: Birney 3-1, The Mick 2-2.

The tag-team match between Team VSR (Birney and The Mick) and Team Evil (Country Bob and Little Red) will be a little different. Each picker will get five points four a correct prediction and then each pick will earn points based on who is closest to the actual score with the closest pick earning 5 points, second 3 points, then 2 and 1. Wrong picks earn no bonus points.
TEAM VSR:
3-1 record and 25 points;
TEAM EVIL
: 4-0 and 31 points.

Troy (1-1) at Sayre (2-0), 7 p.m. @ Lockhart Street Bowl:
The Redskins are coming off a come-from-behind 38-34 win at Towanda in Week 2, while the Trojans ran wild in a 42-28 win over Wellsboro, which was not as close as the final score indicates.
Troy is big and physical up front, and its power run game produced more than 300 yards against Wellsboro, while Sayre struggled to stop Towanda's shifty QB Tanner Kunkle.
Offensively, the Redskins are very dangerous, scoring more than 50 points per game in its first two wins, while Troy is allowing 35 points per game, albeit against two very good opponents in Bald Eagle-Nittany and Wellsboro.
Prediction:
Troy is by far the best team Sayre has seen to this point, while the Trojans have already played two very good teams. … The Redskins must be better against the run tonight or it will be a long night for the home faithful. …
TROY 34, SAYRE 18.The Mick's Pick:
Troy 44, Sayre 16. …
Country Bob:
Troy 34, Sayre 18. …
Little Red:
Sayre 47, Troy 28.
Walton at Tioga, 7 p.m. @ Haggerty Field:
The Tigers blanked Walton 35-0 in the Class D semifinals last year on its way to a seventh Section IV title in eight years, but the Warriors return 10 starters to Tioga's four in 2019.
Walton's experience should allow them to get into a groove quicker than most teams, including Tioga, which will likely take a few works to work out the kinks, especially on the defensive side of the ball.
Prediction:
Most Section IV pundits have Walton as the team to beat. While I don't agree with that, I do think the Tigers will have their hands full tonight. I'll buy into the Walton hype in Week 1. …
WALTON 26, TIOGA 20.
The Mick's Pick:
Tioga 24, Walton 21. …
Country Bob:
Tioga 32, Walton 6. …
Little Red
: Tioga 35, Walton 0.
Waverly at Union-Endicott, 7 p.m. @ Ty Cobb Stadium:
The Wolverines reached the Class C championship game last year, but have been bumped up to Class B in 2019. The Tigers reached the Class A title game last year despite a 2-7 record.
Union-Endicott graduated a big senior class, but returns a large and athletic junior class, while Waverly also returns an athletic bunch of skill-position players.
Prediction:
Week 1 picks are always the toughest picks, and these teams are both unknown quantities. …
U-E 20, WAVERLY 14.The Mick's Pick:
U-E 28, Waverly 6. …
Country Bob:
U-E 28, Waverly 6. …
Little Red:
U-E 33, Waverly 13.
Athens (0-2) at Cowanesque Valley (0-2), 7 p.m.:
The Wildcats are coming off a big home loss to North Penn, while the Indians were thumped by Muncy.
Athens has shown flashes off being an offense that can score, but has turned the ball over five times in the first quarter of the first two games, which has forced them away from their game plan.
Cowanesque Valley has some weapons on offense, but hasn't been able to stop anybody defensively.
Prediction:
The Athens offense should get healthy tonight — both on the ground and through the air. …
ATHENS 38, CV 12.The Mick's Pick:
Athens 21, CV 12. …
Country Bob:
Athens 18, CV 6. …
Little Red:
Athens 48, CV 6.