THE FINAL WORD: THOUGHTS ON THE FOOTBALL WEEKEND ... VOLLEYBALL AND SOCCER
(2019-09-09)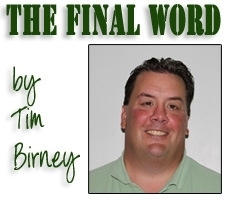 The first weekend of the high school football in New York state produced a pair of "Game of the Year" candidates as Waverly and Tioga both rallied, then held on for wins.
At Ty Cobb Stadium in Endicott, Waverly jumped out to an early 9-0 lead, but Union-Endicott rallied to take a 16-13 lead. In the fourth quarter. Eighth-grader Joey Tomasso threw a pair of TDs to senior Jalen McCarthy to put the Wolverines on top 23-16.
The Tigers scored late to trim the deficit to 23-22, but Thomas Price and Hunter Rando led a gang-tackle in the backfield to snuff out the two-point conversion to preserve the lead, and ultimately the win.
It's a big win for a young team that's heard nothing but how they were in for a long season against one of the toughest schedules the program has ever faced.
It's also a big performance for Tomasso. How many people, aside from coach Jason Miller rally believed an 8th-grader was ready to take on the Class B schedule? I have to admit I had my doubts. It's only one game, but it's a pretty good indication that he's ready.
Tomasso also has the benefit of a good supporting cast, led by 6-8 senior sure-handed wideout Scott Woodring, and speedster Jalen McCarty, who showed Friday he is a threat to score anytime he touches the ball.
The Waverly offensive line struggled in the run game against U-E's size up front, but protected Tomasso, who was not sacked in 27 pass attempts. I expect you'll see a better run game as the season progresses.
Miller and his coaching staff have always excelled at coaching their kids up during a season, so I expect the Wolverines will only keep getting better.
——————
At Haggerty Field, Walton did just about everything it needed to do to win a football game. It dominated time of possession, and ran 69 plays to Tioga's 32.
However, a fourth-down stop, and a subsequent 87-yard, five-play drive catapulted Tioga into a 23-20 lead with 2 minutes left in the game.
Walton moved the ball into Tioga territory again on its ensuing possession, but senior Mason Booser's second athletic interception of the fourth quarter sealed the win with 4.6 seconds remaining.
Tioga's defense Friday night was the definition of "bend, but don't break." Walton racked up 399 yards in total offense, including 322 on the ground, and did not punt once, but turned the ball over three times — all in Tioga territory.
The Tiger defense also stopped Walton on downs twice inside their 15, and Booser returned his first interceptions 65 yards to set up a Tioga field goal.
Tioga may have discovered a pair of defensive gems in junior linebacker Sloan Manuel and sophomore Gavin Godfrey, who both turned in standout performances in their first varsity games.
Offensively, Tioga struggled at times, and were forced to punt three times. The Tigers did show flashes of a dynamic offense with QB Brady Worthing and tailback Emmett Wood doing the majority of damage, and Manuel showing potential for big plays at fullback.
The big difference in the game was special teams. Emmett Wood's dazzling 87-yard kick return accounted for Tioga's first TD, and Worthing's 26-yard field goal turned out to be the difference in the game.
On the flip side, Tioga failed to cover an onside kick, and also had an errant punt snap, and a bad snap on an extra point.
All three phases of the game showed promise for the Tigers, but also showed flaws, and much room for improvement. Yet, Tioga still came out on top against a team many Section IV pundits predict will unseat them atop the Class D hierarchy.
Like Miller and his Waverly coaching staff, coach Nick Aiello and his coaching staff have a history of coaching up their team. There's no doubt, Tioga in Week 9 will look a lot different than the team that beat Walton Friday night.
——————
Athens got healthy at Cowanesque Valley, picking up its first win of the season in convincing 55-21 fashion.
Damian Hudson proved his big-play potential with a 78-yard TD run, and a 56-yard scamper in the Wildcats' first two possession. He finished with 224 yards and two TDs on 15 carries. In all, Athens amassed 385 yards on the ground.
Freshman QB Mason Lister took a step forward as well, hitting on 6 of 8 pass attempts for 92 yards and one TD. He also had a pair of long hook-ups with 6-4 senior wideout erased by penalties.
Most importantly, Athens did not turn the ball over. In its first two losses, it had five turnovers — all in the first quarter.
The Wildcat defense is still a work in progress. They struggled a bit against CV's pass game, which is better than you might think, but made more than enough plays in the end to win.
Bottom line is Athens has to get better on both sides of the ball to compete against their NTL Large School counterparts on a weekly basis.
——————
Sayre was able to survive and beat Towanda in Week 2 despite losing the time-of-possession battle, but couldn't duplicate that success Friday night against a much bigger and more physical Troy team in a 36-14 loss.
The good news is Sayre won't see a team with Troy's size any time soon.
The bad news is, after Saturday's Homecoming game against divisional rival Montgomery, the Redskins play five consecutive games on the road, culminating with a trip to Muncy in Week 9 that will likely be for the division title.
Sayre has the potential to do a lot of damage offensively, and could potentially win six of its final seven games, but the Redskin defense has to improve, especially on third downs.
——————
The Athens volleyball team is off to a good start, notching a five-set win at Troy Thursday, then winning the Williamson Tournament on Saturday.
The Lady Wildcats are a gritty group and play hard, doing everything possible to keep the ball off the floor.
Leah Liechty has the potential to be a dominant force in the middle, and her running mate in the middle, Kylie Jayne, is a solid compliment. Taylor Walker could also become a big factor there.
Cassidy Stackpole, Taylor Field, Haley Barry and Kayleigh Miller have stepped up their games, and freshman Jenny Ryan has made an immediate impact.
I don't see Athens challenging powerhouse North Penn-Liberty for the Large School title, but I think an improvement on last year's 9-9 record is a distinct possibility.
——————
I got my first look at Tioga volleyball Thursday night in their come-from-behind, 3-1, win over Thomas A. Edison.
Senior Giovanna Rossi is a powerhouse hitter, and I think the Lady Tigers will go as she goes, but she is not a one-woman team.
Fellow seniors Bri Rossi and Chloe Bellis are good all-around players, sophomore Emme Hall has a chance to be dominant at the net, junior Ari Manwaring is a presence in the middle, and Katelyn Perry, along with Bellis, does a nice job setting.
The difference between this year's team and last year's could be depth. Sophomore Julia Bellis brings a solid all-around game to the floor, and sophomore hitter Molly Bombard brings an energetic presence off the bench that seems to lift the entire team.
Tioga's biggest obstacle to another IAC Small School title, as well as another Section IV, Class D title is Candor. The two teams square off for the first time this season Wednesday at Candor.
——————
The Sayre boys soccer team may be 0-3-1 this season, but you can already see an improvement.
The Redskins dropped a 5-1 decision at Galeton on Aug. 31. Just one week later, they lost a 3-2 heartbreaker in overtime at home.
First-year coach Greg Hughey and assistant coach Rich Post have done a nice job of getting a young team ready to compete. I think it's a good bet, the Redskins will improve on their one-win total from 2018.
——————
Last, but certainly not least, the Athens boys soccer team took immediate control of the NTL soccer title chase with a 3-1 win over Wellsboro on Wednesday.
The Wildcats move the ball with ease, and set up scoring chances by the dozens during games.
Seniors Jesse Sumner and Luke Arnold are tremendous talents, and senior Aaron Lane has become the latest prodigious Wildcat scorer up front.
Defensively, senior David Scheftic and keeper Joel Maslin anchor a stifling Wildcat defense that has allowed two goals in two games — one coming on a penalty kick.
I doubt Athens will be tested in the NTL, but it does have several tough non-league tests on its schedule, beginning tonight with a trip to Maine-Endwell.
——————
The Final Word
returns Thursday.