THE FINAL WORD: THOUGHTS ON THE FOOTBALL WEEKEND, TRIO OF YOUNG QUARTERBACKS
(2019-10-01)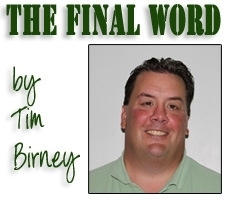 It was an interesting weekend of football for the Valley teams with Sayre and Tioga registering big wins, Waverly faltering in the second half again, and Athens getting steamrolled in Wellsboro.
Sayre flashed its big-play offense, scoring on all five of its offensive possession in the first half of a 42-0 win over CMVT.
Senior tailback Isaiah Firestine ripped off big chunks of yardage — running for 89 yards on just nine carries, and sophomore QB Brayden Horton did the same — running for 67 yards on three carries, including a scintillating 47-yard TD run. Sophomore Jake Bennett was also impressive, rushing for 42 yards on four carries.
The Redskins have the backs to run the ball more if they chose to, but with the wide receivers they have it's hard to argue with their desire to throw.
Horton only put the ball in the air eight times, but completed six for 112 yards and two TDs. The first TD pass saw senior Corbin Brown go up in the air over a CMVT defender and haul in the ball at the 5, and scamper into the end zone.
The second TD pass was a simple toss into the flats and senior Zach Watkins did the rest, breaking a pair of tackles immediately after the catch, and racing 25 yards for a score. Watkins turned another short pass into the flats into a 35-yard gain later in the game.
Brown and fellow senior wideout Ethan Miller are long and lanky with good speed. Ditto for freshman receiver Lucas Horton, while Watkins is a speed merchant. All four are very dangerous after the catch, especially in the open field.
The Sayre defense shut down the CMVT run game, and forced it to the air. And when you make a run-oriented team throw, bad things happen. The Redskins got interceptions from sophomore Dylan Watkins and freshman Zack Garrity.
It gets much tougher for Sayre this week with a trip to face unbeaten Canton. The Warriors sit atop the Power Points rankings, which is used to determine seedings in the District 4 playoffs, in Class A at 0.678, while Sayre is second at .577.
A win would go a long way in guaranteeing Sayre at least one home game in the Class A playoffs (barring a late-season meltdown), while a loss would put them neck-and-neck with South Williamsport for the second seed.
——————
Tioga's ground game was solid against top-notch competition in the first two weeks, and averaged more than 9 yards per carry in a win over B-G.
On Friday night, the Tigers pounded out 366 yards, and sophomore Emmett Wood led the way with 177 yards and four TDs on just 17 carries. QB Brady Worthing added 48 yards and a TD on four carries.
I mentioned it last week, but Tioga has a wealth of talent in the backfield behind Wood in sophomores Isaac Peterson and Gavin Godfrey, and 8th-grader Ethan Perry, but perhaps the most dangerous player in the open field is senior wideout Mason Booser, who scored on a 23-yard TD run in the game.
The Tioga defense flies to the football, and usually gets a lot of "hats" to the ball. It's a unit that has improved with each game.
The Tigers open divisional play at home against Groton Friday, then travel to Greene the following Friday for a key Division VI match-up.
Walton took a huge step toward a Division V title with a come-from-behind, 38-35, win over Delhi Saturday afternoon. The Tigers trailed 28-14 at the half. T
he Delhi-Deposit/Hancock game will likely determine the second playoff spot in Division V.
——————
Waverly rallied from an early 20-7 deficit to tie the game at 20-all heading into the halftime locker room, and the game stayed that way into the fourth quarter.
Midway through the fourth quarter, Chenango Valley junior Rory Thompson ripped off a pair of long TD runs in a four-minute span for a 34-20 lead.
Eighth-grade QB Joey Tomasso quickly drove the Wolverines down the field to cut the deficit to 34-26, but CV recovered an onside kick with 15 seconds remaining to seal the win.
With the way Waverly likes to throw the ball, coach Jason Miller has said 150 yards is a target for the rushing game, and Wolverines were in the ballpark with 126 yards, led by junior David Hallett, who had 72 yards.
Tomasso continues to blossom. He threw for a career-high 268 yard and four TDs, with senior Jalen McCarty hauling in a career-high 10 receptions for 112 yards.
McCarty is fast and extremely dangerous after the catch, but he's not Tomasso's only dangerous receiver. Junior Aidan Westbrook, who had two catches for 52 yards, including a 42-yard TD reception, is fast and elusive after the catch.
Senior Ethan Stotler had five catches for 88 yards and two TDs Friday, and is developing into another reliable weapon for Tomasso. He's quick and tough with good hands.
As Jason Miller said in his Monday Morning Quarterback interview, the Wolverine defense has been pretty good, except for a few plays each game. When you're playing teams like CV and M-E, three or four plays can beat you.
Waverly hosts Owego in what amounts to a must-win Division II match-up Friday night. The top four advance to the Class B playoffs, and the Wolverines currently sit in fifth at 1-2, with M-E, Chenango Valley, and Owego all 2-1. Chenango Forks is 4-0.
——————
The Athens defense is allowing nearly 35 points per game after its 57-13 loss at Wellsboro Friday.
For the Wildcats it's been a combination of getting beat in the trenches, which puts a lot of pressure on a young linebacking corps and secondary.
Offensively, there are a lot of bright spots that offer hope for the future, led by sophomore tailback Shayne Reid, and freshman QB Mason Lister. Freshman running back Caleb Nichols and sophomore wideout J.J. Babcock are two more to keep your eyes on in the future.
Senior Keegan Rude has been Lister's most dangerous weapon in the passing game. He has 18 receptions for 340 yards and two TDs in five games this season.
The Wildcats have winnable games at Towanda Friday, and at home against Midd-West the following Friday.
——————
You make take this as hyperbole, but I can see the young QBs at Sayre, Waverly and Athens graduating among the best ever to wear their school colors at that position.
Sophomore QB Brayden Horton is a dual-threat QB, capable of beating you with his arm and his feet.
He has completed 52 percent of his passes (63 of 122) for 1,029 yards with 14 TDs and seven interceptions in six games.
He is especially dangerous running the ball, with 253 rushing yards and seven TDs on 45 carries. He is big, fast, and elusive.
Waverly's Joey Tomasso is an amazing story. Only an 8th-grader, he is completing 54 percent of his passes (57 of 105) and has thrown for 750 yards and seven TDs, with just three interceptions in four games.
Coach Jason Miller raves about his football IQ, and coach-ability. He gets rid of the ball quickly, and is accurate with this throws.
Athens freshman Mason Lister doesn't have quite the same eye-popping numbers of the other two, but he also plays on the weakest of the three teams, and doesn't have the same kind of line in front of him
Lister is completing 48 percent (40 of 83) of his passes for 608 yards and six TDs, while being picked off three times in six games. HIs best game was a 268-yard, three-TD performance against unbeaten Canton, so you can see the potential.
Lister has a cannon of an arm, and throws a beautiful deep ball. He can also pick you apart with the short passing game when give adequate time.
All three of these young QBs have flaws, but are improving.
The next few years are going to be very entertaining for Valley football fans.
——————
The Final Word returns later this week.