FROM THE PRESS BOX: CRYSTAL BALL LOOK AHEAD TO THE 2020-21 GIRLS BASKETBALL SEASON
(2020-03-18)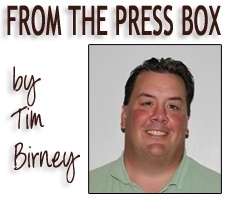 The 2019-20 girls basketball season was fairly successful with three of the four Valley teams qualifying for the postseason, and the Athens Lady Wildcats advancing to States.
I've fired up the crystal ball, but with the 2020-21 season still eight-plus months away, it's still a bit murky. I can, however, see that it will be a season much like this one.

Athens Lady Wildcats:
Coach Brian Miller's crew exceeded all expectations with a 22-6 record that included an NTL Large School title, an NTL Showdown title, a runner-up finish in the District IV, Class AAAA playoffs, and a trip to the PIAA playoffs.
The Lady Wildcats return three starters in juniors Kayleigh Miller and Rachel Stephens, and sophomore Caydence Macik, as well as "sixth man" Megan Collins, but will need to replace point guard Avery Priester, who was the most improved player in the area this season, and the scoring of Haley Barry.
Finding a replacement for Priester at point guard is coach Miller's most pressing matter.
Miller and Macik are already among the best players in the NTL, and I expect Stephens and Collins to become even bigger contributors. Sophomore Olivia Bartlow struggled with injuries all season, but could become a factor in the low-post next season.
Coach Miller will also have freshmen Karlee Bartlow and Emma Bronson up from the JVs, and Mya Thompson up from the junior high ranks at his disposal next year. All three could make an impact.
Prediction: The Lady Wildcats shouldn't lack for scoring, rebounding or depth; if they find a point guard, they should be very good again next year. …
2020-21 regular-season record: 19-3.Sayre Lady Redskins:
After a string of division titles and successful postseason runs, Sayre's fortunes soured in 2019-20. Heavy graduation losses, coupled with an untimely injury, and a couple of expected returners not coming out for the team resulted in a 5-16 campaign.
Coach Eileen Sparduti will return junior Gabbi Randall, along with sophomores Jazz Dekay and Hayli VanDyke, and freshman Gabby Shaw, who all saw a great deal of valuable playing time this season.
Perhaps the most important returner is junior point guard Carrie Claypool, who played in a handful of games at the end of the season after a pair of knee injuries and two knee surgeries took away all of her sophomore season, and the majority of this season. She should bring much-needed stability at a critical position.
The Lady Redskins should also get some help from the junior high ranks, led by 8th-grader Caprice Haney, who should make an immediate impact. Haney's presence could also entice her older sister Roz Haney back into the fold, and that would make them that much better.
Prediction: With the number of variables to consider, the 2020-21 season is a tough one to call for the Lady Redskins. Despite posting a 5-16 record this year, I think coach Eileen Sparduti exceeded expectations, and she'll have more to work with next year. If everything comes together, Sayre could be pretty good. If not, they'll still win more games than this year. …
2020-21 regular-season record: 8-14.Tioga Lady Tigers:
Tioga returns four of its top six players from a 9-12 squad, including its top two scorers in juniors Olivia Ayres and Eve Wood, but will need to replace its top two rebounders in seniors Giovanna Rossi and Chloe Bellis, who was also the Lady Tigers' top defender.
Returning junior Ari Manwaring, and sophomore newcomer Mariah Nichols will likely see a lot of time in the low post. Sophomore Julia Bellis and freshman newcomer Reese Howey will likely to see time at the 3-guard / forward spot, but both can get on the boards.
Longtime coach Joe Robinson could have a bit more depth up from the JV ranks on his bench than he's had the last few years as well.
Ayres and Wood should form one of the best 1-2 punches in the IAC next year. Ayres was on fire at the end of this season, and they'll need that all season from her next year. Likewise, Wood will need to score consistently next season.
Look for Julia Bellis to be one of "break-out" players of the 2020-21 season.
Prediction:
Tioga was playing as well as any team in the area at the end of the season, and returns quite a bit in 2020-21, but replacing the intangibles Rossi and Chloe Bellis bring to the floor won't be easy. … If the newcomers can make an immediate impact, Tioga can challenge the .500 mark. …
2020-21 regular-season record: 9-11.
Waverly Lady Wolverines:
Waverly will return the best player in the IAC in junior Sidney Tomasso, and a slew of young and talented players, but the Lady Wolverines will need to replace their two best low-post players in seniors Paige Lewis and Morgan Adams.
The only other starter returning from a 15-5 team is freshman point guard Kennedy Westbrook, but sophomores Olivia Nittinger and Lourden Benjamin both saw a great deal of playing time.
Eighth-graders Paige Robinson and Peyton Shaw will likely make immediate impacts for the Lady Wolverines next season. They also have a few other players in the JV ranks, including 7th-grader Addison Westbrook, who could contribute next season.
Waverly will be smaller next year, but they'll also be more athletic and coach Bob Kelly may look to a return to pressure defense if he can cultivate more depth.
Prediction:
It will be interesting to see what approach Kelly takes in 2020-21. I don't think scoring will be an issue, but lack of size in the paint could pose a problem on the boards. If Kelly's not comfortable with his depth, it will be tough to play 32 minutes of pressure defense and up-tempo offense, which is his preferred style of play. Regardless, Kelly is a proven winner. …
2020-21 regular-season record: 15-5.