FROM THE PRESS BOX: BASKETBALL THROUGHOUT THE YEARS HAS TAUGHT ME LIFE LESSONS
(2020-04-23)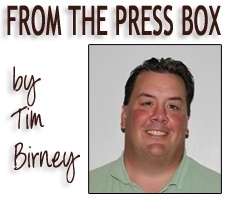 I've always been a sports nut.
I played basketball and football from youth sports through high school, but my favorite sport to play was always basketball.
I was big for my age when I was young, and dominated around the bucket, scoring about 20 points per game.
I was 5-foot, 8-inches tall in fifth grade, and could palm a basketball in sixth grade. Unfortunately, I'm still 5-foot-8, and I can still palm a basketball when my arthritis isn't acting up.
As everyone else caught up to me and passed in terms of height, I had to figure out ways to score.
Remember, we're talking late '70 and early '80s here, so opportunities to play was limited. When we did get on a court, it wasn't anything like the kids today are playing on.
If you ever played in the old Chemung gym, or the even older Muldoon School gym, you know exactly what I mean. I was fortunate, one of my best friends at the time was Pat Cary, whose father Dick owned the Muldoon Building. We played hoop about six nights a week for a few years in that old gym.
In the Chemung School, the ceiling was about 15 or 16 feet, unless you shot from the top-of-the-key and could shoot between the rafters, then it was about 17 or 18 feet. Everything had to be a line drive, so I became proficient at shooting line drives off the glass, and taking the ball to the bucket.
The Muldoon gym was better in terms of shooting, except at the far end, where the ceiling sloped downward near the top-of-the-key, and had a water pipe running across the width of the ceiling. Shooting from the top-of-the-key was not advised, unless, of course, it was a line drive.
Both courts had one major drawback — about 3 inches of out-of-bounds underneath the bucket. Fast breaks could be tricky.
Oddly enough, I once played pick-up ball on a court (Greenwood H.S.) where the bottom two feet of the wall were in-bounds. There was a line on the wall, if the ball or any part of your body touched below the line you were out-of-bounds. It didn't really matter what the dimensions of the court were as long as we had eight or 10 guys and a basketball.
I played a lot of ball in both those gyms, and none of it was organized, so defense was not something we emphasized.
Anyway, I averaged about 20 points per game on the freshman basketball team, and 17 or 18 as a sophomore on the Waverly JV team.
Once I got to the varsity, I was introduced to a part of the game that was foreign to me — defense.
You see, Al Geppert was a disciple of Bobby Knight. A perfect game to him would've been a 2-0 win.
Whereas, I liked to get out and run-and-gun. My philosophy was "run, gun, and outscore."
Since he was the coach, and I was a "stout" point guard, as the beloved Times sports editor Glenn Rolfe once called me, I, for the most part, sat the bench, while my counterparts who played defense, played.
During my junior year, we played a game at Canton (Waverly was in the NTL then). I was sitting in the third row of the bleacher during halftime, and a ball bounced up to me. I took a shot (sitting down) from the bleachers and hit nothing-but-net.
It drew quite a reaction from those paying attention, including coach Geppert. I said to him, "see coach I can shoot from anywhere." He was not amused.
That night, we put a whooping on the Warriors, and I saw quite a bit of time. I was 7-for-8 from the field and scored a career-high 14 points. It would have been 21, but there was no 3-point line at that time.
On the following Monday, Coach Geppert and I were in the hallway walking to practice. He walked alongside me and the conversation went something like this:
Gep: "Timmy, you know when I played, I liked to get up and down the court a few times, and work up a sweat before I took a shot. You just get out there and let 'em fly."
Me: "Coach, I never know how long I'm going to be out there. I'm shooting whenever possible."
Again, he was not amused.
Later that season, I was introduced to the high school newspaper. My first attempt at sportswriting was a column on sitting the bench, and how difficult it was for me and several of my teammates, who were accustom to getting a lot of playing time on our way to varsity.
I tried to be humorous, but once again, Coach Geppert did not find me funny.
I was starting to believe either I wasn't as witty as I thought, or Gep had no sense of humor.
To be honest, it's not that I didn't play defense, I just wasn't the most fleet of foot, and I didn't have the desire to play defense that you need to be a good defender.
Anyway, I thought my senior year would be different. Our team attended Golden Valley camp, and played summer league together at East Waverly. We were ready.
The season opened at Towanda. I knocked down long jumpers from the right wing on the first two possessions of the game. My teammate knew to get me the ball if I was hot, so on the third possession, I was fed the ball at the top-of-the-key.
I pump faked, and shot a 12-foot runner in the lane. It rolled around the rim, and off.
Turns out those first two shots were the highlight of my season. A few seconds later, a whistle blew, the horn went off, and I was on the bench. I didn't get back on the floor until late in the fourth quarter — mop-up duty.
That pretty much sums up my senior year.
Upon graduation, I was off to Morrisville State, where the intra-mural leagues matched my style of play. Again, I was scoring a ton of points and playing very little defense whatsoever, unless it was to get into a passing lane for a steal and an easy bucket, or pass to a teammate for a bucket.
My love of basketball, and my need to support my love of adult sports beverages, led me to the intra-mural director's office looking for employment.
Before you knew it, I was the student director of intra-murals. When I wasn't playing, I was handing out gear, setting up schedules, and also officiating flag football in the fall, basketball during the winter, and softball in the spring.
This led to some interesting times, especially on the basketball courts. You see, Morrisville had two basketball seasons — the one before Christmas break, and the one after.
After the break, the team's records were the same as when we left for Christmas, but many of the rosters were different. Some of the teams picked up kids from the city who had failed off the varsity team, and added them to their rosters.
Morrisville may have been a two-year school at the time, but these guys could really play. They played street ball, taking my philosophy on the game to the next level. Problem is, no one is blowing a whistle when you play street ball, and they didn't appreciate it when their peers (me and my cohorts) were making calls against them.
It led to some tense moments on the court. I called a few technicals, and even had one ejection.
To this day, I rarely criticize an official. I've walked a mile in their shoes.
After Morrisville, I spent one semester at Kent State University, then ended up at Utica College of Syracuse University for my final three semesters.
The first thing I did at Utica College, which was a Division I school at the time, was approach the intramural director (Greg something, I can't recall his last name) about officiating. After I told him about my experience, he hired me immediately.
Of course, he later told me he hated to officiate because the Division I athletes there were "prima donnas." That would have been good to know beforehand.
Unbeknownst to me, the first game I would officiate at Utica College would be between two factions of the varsity baseball team.
Let me backtrack for a moment. During my junior year in high school, we played Utica Notre Dame in football. They were ranked No. 1 in the state, in football, and their tailback was Byron Abraham, who went on to play at the University of Notre Dame, before transferring to Syracuse.
They throttled us 62-6, and it really wasn't even that close.
(Back to Utica College) On my fourth day on campus, I officiated my first game, and it was a nightmare. At the time, I had no idea why both teams were so fired up. Every call I made drew a remark. This was nothing like Morrisville.
I was letting them play, but I ended up calling a few more fouls, and more foolishness followed from both teams. I may have lost my composure on the inside, but I never flinched outwardly. I called four or five technical fouls, and all hell broke loose.
After the game, the intramural director called me into his office. I thought I was going to get fired.
The conversation went something like this:
Greg: "Good job out there."
Me: "Are you serious? That was a disaster."
Greg: (Laughing) No man, that was great. Better you than me.
Me: "Do you want me to come back tomorrow."
Greg: "Absolutely. They are playing again tomorrow, and you have the game."
Me: (Blank stare) "Excuse me?"
ID: "Just kidding. Those guys are all on the baseball team. The shirts were the local kids from around Utica, and the skins were the rest of the team.
"Tonight was mild. You should have seen their football game last fall. We almost called the SWAT team."
I was not amused.
Two nights later, I was sitting in one of the local establishments (Spilka's), not knowing a soul. The first person I see is one of the guys from the basketball game heading straight toward me. "Here we go," I thought.
As it turns out, after several drinks and a lengthy conversation, I discovered he was from Utica, was on the Utica College baseball team, and was also on the Utica Notre Dame football team that whacked us.
We were quickly joined by a couple more of his current UC baseball and former Utica Notre Dame football teammates. It was a long night, and I made some good friends.
Sports, but basketball in particular, taught me some valuable life lessons:
1. Make the best of what you have, and make yourself better for it;
2. Know that not everyone is going to appreciate your talents, but keep moving forward;
3. Believe in yourself because not everyone else will;
4. Sports can bridge any divide, and create lifelong friends;
5. And finally, not everyone appreciates my sense of humor.