LOCAL AAU BASKETBALL PROGRAM NAMES BOARD OF DIRECTORS, DISCUSSES TOURNAMENT
(2020-06-14)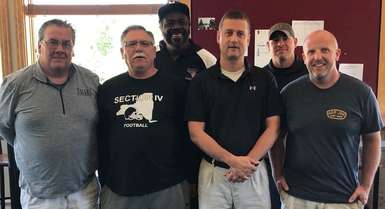 Valley Sports Report
THE VALLEY — The Waverly Rec. / Hemp Geek AAU Basketball program recently announced the formation of a board of directors for the 2020-21 season.
Joe Tomasso was named board president, while Matt Lambert was chosen as vice president, Reggie Hawkins was named the program director, Cory Robinson and Dave Shaw Sr. were selected as finance secretaries, and Tim Birney was named the Director of Public Relations.
The organization is still looking to host 12U and 14U double-elimination tournaments — The Lonnie Hawkins Memorial Tournament — concurrently here on the weekend of Aug. 7-9.
The uncertainty surrounding the Covid-19 regulations coming down from Governor Cuomo in regards to youth sports has left the tournament without a home to this point.
"Waverly is obviously our first choice, but we have other options," said program founder Keith Thomas. "We're looking at 40-plus teams, hopefully as many as 80 teams, at the tournament, so those athletes and their families will be spending money at restaurants, sub shops, pizza shops, and other businesses.
"I want to keep that business in Waverly and the Valley," added Thomas.
The tournaments will begin at noon on Friday, Aug. 7, and will conclude with the 12U championship game Sunday at 5 p.m., and the 14U title game at 7 p.m.
The cost for entry is $200 per team.
To register a team, or for further information, contact Waverly Rec. / Hemp Geek AAU program director Reggie Hawkins at (607) 240-6587, or Waverly Rec. director Dave Shaw at (607) 565-8641, or Keith Thomas at (607) 349-1519.
Or, you can e-mail Shaw at recreation@villageofwaverly.com.
——————
IN PHOTO FROM LEFT: Front row, from left: Tim Birney, Dave Shaw, Joe Tomasso, and Cory Robinson. Back row, from left: Reggie Hawkins and Matt Lambert.