FROM THE PRESS BOX: A GLIMPSE INTO THE CRYSTAL BALL AT THE 2021 BOYS, GIRLS SOCCER SEASONS
(2021-07-27)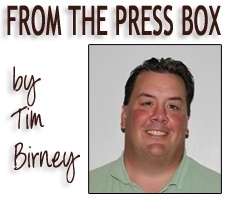 The 2020-21 soccer season resulted in strong seasons for the Athens programs, much-improved seasons for the Sayre boys, the Waverly boys and the Tioga girls programs, and a disastrous injury for the Sayre girls program.
The return to normal in the fall of 2021, may be anything but, with both Sayre programs struggling to find numbers to keep its teams on the field.
So, what are we looking at on the soccer pitch this fall?
Let's take a glimpse into the crystal ball:
BOYS
Athens Wildcats:
Athens finished the season at 11-3, culminating with a loss to Jersey Shore in Class AAAA semifinals.
The Wildcats lose the majority of its defense, including all-star keeper Asher Ellis, but longtime coach Jake Lezak has a deep roster returning, as well as grads from a strong junior high program at his disposal.
Athens should be strong up front with senior Nate Quinn, junior Jared Ammerman, and sophomore Ryan LaSusa, and more returning.
Prediction:
Lezak is one of the most-accomplished coaches in District 4. He's been through these types of defensive re-builds before. I expect Athens and Wellsboro to fight it out for an NTL title.
— 13-3.Sayre Redskins:
At last count, Sayre was well short of having enough for a team this fall. And, District 4 nixed their efforts to co-op with Northeast Bradford. (But it's all about the kids, right?)
There's still a slim chance the Redskins could convince a handful of student-athletes to play this fall.
It would be a shame if Mason Hughey was unable to play his senior season. Ditto for junior Brayden Post, sophomore Alex Campbell, and the rest wanting to play have to sit out a season.
Waverly Wolverines:
Waverly graduates a few key seniors, including Nate Ryck, but brings back a very strong junior class, and will get more help from the modified team.
The Wolverines return one of the best keepers in the area in senior Cameron McIsaac. Senior Brennan Traub finished the season strong, and looks to be the only player resembling a proven scorer on the roster.
Prediction:
Eric Ryck has done a nice job putting this program back together. The Wolverines, who are coming off a 3-5 season, will remain competitive, and could surprise a few teams in the Large School Division.
— 6-10.GIRLS
Athens Lady Wildcats:
The Lady Wildcats continue to graduate talented players each year, and continue to come back the following year and challenge for a District 4 title.
This fall, Athens will need to replace Division I commit Emma Roe, as well as four-year starter Hannah Blackman, but a strong sophomore class, led by Mya Thompson and Norah Reid should keep the 'Cats should be formidable once again.
There are also re-enforcements coming up from the junior high program, led by freshman Addison Wheeler.
Prediction
: Rich Pitts has a proven ability to forge winners. With Abby Champion back in the net, and Hannah Walker back to lead the defense, along with a group up front that should be able to put the ball in the net, I expect this Athens team to compete for an NTL title, and a District 4 title.
— 14-4.Sayre Lady Redskins:
At this point, Sayre is without a coach, and short on players for the 2021 season.
Senior Roz Haney, who scored 67 goals in her first two varsity season, blew out her knee in the third minute of the 2020 season. Now, she faces the very real prospect of not having a senior season due to a lack of numbers.
Waverly Lady Wolverines:
Like Athens, the Lady Wolverines have graduated a string of Division I athletes, with LaSalle-bound Gabby Picco being the latest.
The difference is that Athens has kept re-loading. To this point, Waverly has too, but there is some question if all of their talented young players will return in 2021, or play other sports.
Coach Tara Hogan will have to replace Picco in the midfield, and Kaitlyn Clark in net. A task that will be tougher if she doesn't have the full compliment of players she was expecting.
Prediction: If everyone plays, Waverly will compete for a division title, although Notre Dame has to be considered the clear-cut favorite. Even without a full compliment of player, the Lady Wolverines should have enough to play .500 in the IAC.
— 8-8.Tioga Lady Tigers:
The Lady Tigers lost a strong group of seniors, but bring back a good group in 2021 with their sights set on improving on a 3-3-1 record in the spring.
Sophomore Elyse Haney stepped in and directed the team from the midfield as a freshman. She should be even better this year.
Tioga will also have re-enforcements up from the modified team, led by freshman Sophia Haney — Elyse's younger sister.
Prediction:
Tioga will have to re-build its defense, but all-star keeper Gabby Foley returns. The Lady Tigers will also need to replace the scoring punch of Destini Sweet. Their numbers should be the best they've been in years. I expect Tioga to put together a solid season in a good division.
— 5-8-1.