VALLEY SPORTS REPORT: A GLIMPSE INTO THE CRYSTAL BALL AT 2021-22 BOYS BASKETBALL SEASON
(2021-08-05)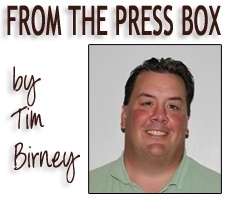 Like every other sport in 2020-21, the boys basketball season was nothing like we've seen before.
It was nearly normal in Pa., with Athens and Sayre qualifying for the postseason. Both the Redskins, who were 5-13 in the regular season, and the Wildcats won a playoff game before losing in their respective semi-final game.
In New York, where there was no postseason, Waverly posted an 8-4 record, with all four losses coming to Class AA schools, while Tioga struggled to a 2-6 mark.
What does the 2021-22 season have in store for us? Let's take a quick look into the crystal ball.
With the season still nearly four months away, the crystal ball is a bit murky, but here's what I see:

Athens Wildcats:
Coming off a 14-10 record and a trip to the District 4, Class 4A semifinals, the Wildcats return their top six scorers, led by NTL all-stars seniors J.J. Babcock, Tucker Brown, and Nalen Carling, and junior Mason Lister.
Athens also returns seniors Troy Pritchard and Shayne Reid, and junior Chris Mitchell. Junior Carson Smith and sophomore Korey Miller will likely see more minutes this season, and freshman Xavier Watson could contribute immediately.
Don't be surprised if Babcock becomes a dominant force in the NTL, Carling becomes an even bigger presence on both ends of the floor for the Wildcats, and Pritchard establishes himself as one of the best low-post players in the NTL.
The Wildcats are long and athletic, can get out in transition, and can crash the boards. The only thing they lack is a consistent perimeter scoring threat, although several of the Wildcats can knock down the 3-pointer.
Prediction:
The NTL Large School Division will be tough again in 2021-22, but Athens and Troy should battle it out for the top spot. I give the edge to the Wildcats. ... This is a talented group. If they can play together, and use their strengths on the defensive end of the floor, big things could be afoot for the Wildcats. ...
2021-22 record: 19-5
.

Sayre Redskins:
The Redskins graduated three key seniors, including point guard Matt Lane, but if everyone returns in 2021–22, they should improve on this year's 5-13 campaign.
Senior Dom Fabbri has the potential to score 20-plus points per night, and junior Jackson Hubbard has the skills to make them a formidable 1-2 scoring punch.
Junior Lucas Horton could be the wild card for the Redskins. He's long and athletic, can score in transition, and can knock down the 3-pointer.
Junior Zach Garrity, and seniors Josh Arnold and Kannon VanDuzer will see more minutes this season, and will need to contribute. JV grad junior Donovan Wynn should also see time in the low post.

Prediction:
The Redskins won't have the same depth next year, but those who return have experience, and big-game experience at that. ... The NTL Small School Division won't be quite as good as it was this year, and the Redskins could challenge for a division title. ...
2021-22 record: 11-13.Tioga Tigers:
The Tigers did not have a senior on its roster this spring, so could return virtually en tact for the 2021-22 season, led by sophomores Evan Sickler and Ethan Perry, and seniors Gavin Godfrey, Isaac Peterson, and Casey Stoughton.
Seniors Cobe Whitmore, Matt Watson, and Josh Reis also return, but may have to fight for minutes, with a number of players up from a good JV team, including junior Bryce Bailey, and sophomores Valentino Rossi, Gavin Fisher, and Karson Sindoni.
The Tigers struggled to score at times this year, but played a tough schedule, which included two games each against Waverly, Owego, Newark Valley, and Candor. Their normal IAC schedule in 2021-22 will be a little less challenging.
Veteran coach Brian Card will be tasked with getting a group of seniors, and a strong group of sophomores to mesh. If he can do it, Tioga could surprise people.

Prediction:
I expect Sickler and Perry to take the next step as sophomores, and the trio of Godfrey, Peterson, and Stoughton to put together solid senior seasons. ... The key will be how quickly the JV grads adjust to the varsity game. ... This is a team that will get better as the season progresses. ...
2021-22 record: 9-10
.
Waverly Wolverines:
The Wolverines are coming off a strong 8-4 season, with its losses coming to Horseheads, Elmira, and Corning; and they have the majority of their team returning.
They lose four seniors, but sophomore Joey Tomasso, who scored a freshman-record 15.3 points per game this spring, leads a strong group of returners that also includes seniors Davis Croft, Brennan Traub, Liam Traub, Brady Blauvelt, Thomas Hand, and Caden Hollywood.
Coach Lou Judson will also get re-enforcements from a solid JV team, led by Jay Pipher, Isaiah Bretz, Carter George, and Nate DeLill.
It appears the Wolverines will have plenty of depth to employ Judson's usual defensive tactics, and they are definitely athletic enough to convert turnovers into points in transition.
Prediction:
Watkins Glen appears to be the team to beat in the IAC South Large School Division, but Waverly will battle them for the division title. ... Joey Tomasso is a budding superstar, and could easily scored 20-plus points a night this season. The key for the Wolverines is someone stepping up to be the consistent No. 2 scorer each night, and Croft looks to be that guy. ...
2021-22 record: 16-5.