ON TAP TODAY: FOUR FOOTBALL GAMES, AND A RIVALRY SOCCER GAME HIGHLIGHT FRIDAY'S ACTION
(2021-09-10)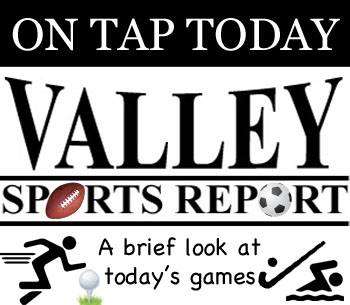 Valley Sports Report
THE VALLEY — All four Valley football teams face divisional opponents tonight, while the Waverly girls travel crosstown to face Athens in a marquee girls soccer match-up.
On the gridiron, Waverly and Sayre play at home, while Athens travels to Towanda, and Tioga opens its 2021 season at Sidney.
FOOTBALL
Owego at Waverly (1-0), 7 p.m. @ Memorial Stadium:
The Wolverines are coming off a 31-7 win over Class A East Syracuse Minoa of Section III, while the Indians open the 2021 season tonight.
Owego graduated 22 players from its 35-man spring roster, including seven two-way linemen.
Waverly's sophomore QB Joey Tomasso threw for 279 yards and two TDs, with sophomore Jay Pipher hauling in six receptions for 161 yards and one TD.
Tioga at Sidney, 7 p.m.:
The Tigers are coming off a 5-1 spring season, while the Warriors were 3-3.
Sidney scored 44.3 points per game in the spring, while allowing 47.2 points per game. The Warriors allowed 52 or more points in four of their six games, including 72 in a 72-54 loss to Delhi.
"Sidney runs a no-huddle spread offense," said Tioga coach Nick Aiello. "We've been conditioning with the expectation we'll run 40 or 50 more plays than in a normal high school football game."
CMVT (0-2 overall, 0-1 NTL Small) at Sayre (1-1, 0-1), 7 p.m. @ Lockhart Street Bowl:
The Redskins, playing without 14 players due to Covid quarantine, dropped a 26-19 decision at Cowanesque Valley Saturday night, while the Rams were throttled, 58-0, by state-ranked Muncy.
The Redskins are led by senior QB Brayden Horton, who has completed 71.1 percent of his passes for 355 yards and three TDs. He has also run for 163 yards and two TDs on just 21 carries.
Brayden Horton's favorite target has been his cousin, Lucas Horton, who has eight catches for 145 yards and one TD. Jackson Hubbard has seven receptions for 79 yards and one TD
CMVT has been outscored 119-6 in its two losses.

Athens (1-1, 0-1 NTL Large) at Towanda (0-2, 0-1), 7 p.m. @ Endless Mts. Sports Complex:
The Wildcats are coming off a hard-hitting, 13-0, loss to Troy in Week 2, while the Black Knights were thumped, 52-0, by Canton.
Athens has featured a balanced offense in the early-going.
Junior QB Mason Lister has completed 62 percent (18 of 29) of his passes for 192 yards and three TDs. His top targets have been senior Shayne Reid and junior J.J. Babcock with four catches apiece.
Wildcat senior Shayne Reid is among the leading rushers in the NTL with 196 yards and one TD
Towanda has been outscored 98-9 in its two losses.
(Click here for the
NTL FOOTBALL STANDINGS
.)
GIRLS SOCCER
Waverly (1-0) at Athens (0-1), 5:30 p.m.:
The Lady Wolverines are coming off a 7-1 win over O-M Wednesday, while the Lady Wildcats dropped a 5-0 decision at home to Vestal on Tuesday.
Watkins Glen (0-1) at Tioga (0-0-1), 4:30 p.m.:
The Lady Tigers are coming off a 2-2 tie at SVEC Wednesday, while the Lady Senecas dropped a 5-0 decision at Newark Valley.
VOLLEYBALL
Athens at NEB (1-0), 6 p.m. JV start:
The Lady Wildcats open the 2021 dual match season. The Panthers opened the season Wednesday with a sweep of Wellsboro.

FIELD HOCKEY
Tioga (0-1) at Owego (0-1), 5:30 p.m.:
The Lady Tigers dropped their season opener, 8-0, to SVEC Wednesday, while Owego has been off since a 3-2 loss to Afton / Harpursville on Sept. 2.