ON TAP TODAY: SOCCER TAKES CENTER STAGE THURSDAY
(2021-10-07)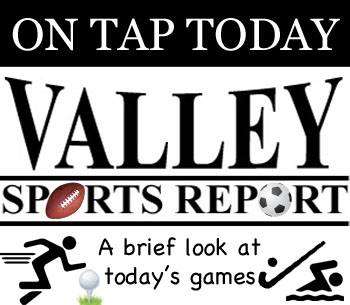 Valley Sports Report
THE VALLEY — Soccer takes center stage in the Valley Thursday, with a doubleheader at Waverly's Memorial Stadium, and the Athens girls hosting NEB in a pivotal NTL match.
GIRLS SOCCER
Horseheads at Waverly (7-1-2), 5 p.m.:
The Lady Wolverines are coming off a 0-0 tie with Notre Dame Monday, while the Lady Blue Raiders dropped a 2-0 decision to Horseheads Saturday night.
NEB at Athens, 7 p.m.:
The Lady Wildcats are coming off a 3-2 loss to Wyalusing — their first league setback of the season, while the Lady Panthers topped Wellsboro, 4-1.
BOYS SOCCER
O-M (2-8) at Waverly (6-4), 7 p.m.:
The Wolverines are coming off a 4-0 win over Newark Valley, while the Indians rallied to beat Watkins Glen, 3-1.
Tioga at Newark Valley, 5 p.m.

VOLLEYBALL
Sayre (1-9) at Cowanesque Valley (0-10), 5 p.m. JV start:
The Lady Redskins are coming off a home loss to NEB, while the Lady Indians lost to division-leading Canton.

GIRLS SWIMMING
Watkins Glen at Waverly (5-1), 5:30 p.m.:
The Lady Wolverines are coming off a 101-47 win over Notre Dame Tuesday, while the Lady Senecas