ON TAP TODAY: SAYRE, WAVERLY FOOTBALL HEADLINES SATURDAY'S SLATE
(2021-10-09)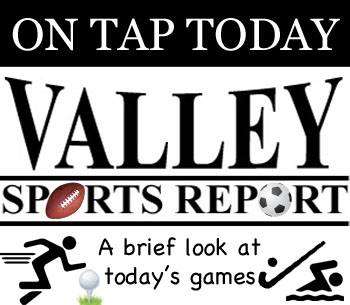 Valley Sports Report
THE VALLEY — There are two more Saturday football games on the docket, with Waverly on the road at Dryden, and Sayre hosting Troy in its annual Homecoming game.
FOOTBALL
Troy (5-1) at Sayre (4-2), 7 p.m. @ The Lockhart Street Bowl:
The Redskins are coming off a non-league, 39-6, win over Huntingdon Saturday, while the Trojans dismantled Loyalsock, 42-14.
Troy has allowed just 21 points in five wins, since a season-opening loss to Bald Eagle Area,while scoring 29 points per game.
Sayre has scored 46 points per game in its wins. In its loss at CV, Sayre was playing without 14 players due to Covid protocols, but the Redskins were healthy in a 42-8 at Muncy two weeks ago.
Waverly (5-0, 1-0 Div. V) at Dryden (0-4, 0-2), 7 p.m.:
The Wolverines, ranked 11th in the state in Class C, are coming off a dominant 27-8 win over 7th-ranked Livonia last Saturday, while the Purple Lions dropped a 35-7 decision to Newark Valley.
A win for Waverly would make next week's game at Watkins Glen / O-M a winner-take-all for the Division V title.
Waverly has outscored its opponents 156-28 this season. Its defense has allowed just two TDs this season, with a kick return and a pick-six accounting for the other two scores.
Conversely, Dryden has been outscored 182-28 on the season. Prior to last week, the fewest points the Lions had allowed was 43.
Sophomore QB Joey Tomasso has completed 55.3 percent of his passes (83 of 150) for 1,114 yards and nine TDs, while being intercepted five times.
His main targets have been senior Brady Blauvelt (28 receptions for 352 yards and four TDs), sophomore Jay Pipher (22-445-3), and senior Tyler Talada (16-202-3).
The Wolverines have averaged 112 yards per game on the ground. Sophomore Gage Tedesco is the leading ground-gainer with 212 yards and three TDs, while Tomasso has gained 143 yards and scored six TDs.
GIRLS SOCCER
Athens (8-5, 6-1 NTL Large) at Troy (8-2, 6-1), 10 a.m.:
The Lady Wildcats are coming off a 5-1 win over NEB Thursday, while the Lady Trojans blanked Williamson, 3-0.
Earlier this season, Athens edged Troy, 3-2.
BOYS SOCCER
Williamsport (6-4-1) at Athens (7-6), 11 a.m.