THE WEEK AHEAD: FALL SEASONS WINDING DOWN; POSTSEASON DRIVES HEATING UP
(2021-10-10)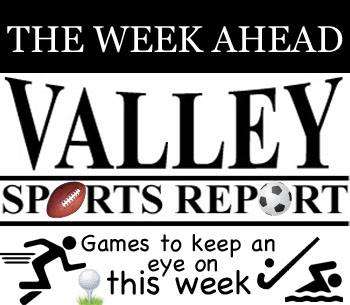 Valley Sports Report
THE VALLEY — The fall season is winding down, and a few Valley teams will wrap up the 2021 campaign, but most are starting their drives toward the postseason.
There are 30 varsity events on the docket this week, including 11 on Tuesday.
It's an odd week for Waverly athletics. It has nine varsity events on this week's schedule, but only one — volleyball match on Friday — at home. Likewise, all five of Sayre's varsity events this week are on the road. Only six of the 29 varsity events this week are here in the Valley.
The following are some, not all, of the week's events:

MONDAY (1)
• Waverly volleyball travels to Candor.
• The Waverly JV football team hosts Tioga.
TUESDAY (11)
• Four Waverly teams on the road, including volleyball team at Edison, girls swim team at watkins Glen, and girls soccer at Dryden.
• The Tioga girls soccer team wraps up its season at home against Moravia, while the Lady Tiger field hockey team is at Moravia for its season finale.
WEDNESDAY (3)
• The Waverly girls travel to Notre Dame for a IAC South Large School Divisional soccer playoff game. The team have played twice already, with both games ending in 0-0 double-OT draws.
• Waverly volleyball is at Newark Valley for its third consecutive road game in as many days.
THURSDAY (5)
• The Athens boys host Galeton on the soccer pitch at Alumni Stadium.
• Tioga volleyball hosts O-M.
FRIDAY (4)
• Waverly travels to O-M High School to take on Watkins Glen / O-M in a key Section IV, Division V football contest.
• Athens hosts Canton in an NTL Large School football match-up.
• Tioga hosts Harpursville in a battle for first place in Section IV, Division VI football standings.
• Waverly volleyball hosts Newfield.
SATURDAY (6)
• Sayre football is on the road at Northwest Area.
• Sayre and Athens are in action at the NTL Coaches Cross Country Invite.
• The Athens girls host Bloomsburg in a non-league soccer tilt.