ON TAP TODAY: ROUND III — WAVERLY-ND GIRLS SQUARE OFF AGAIN FOR BERTH IN IAC LARGE SCHOOL TITLE GAME
(2021-10-14)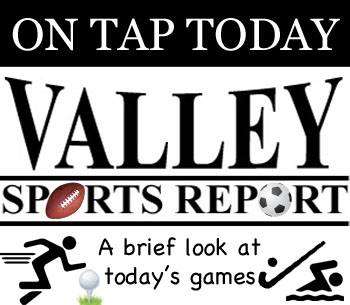 Valley Sports Report
THE VALLEY — Round III of the Waverly-Notre Dame girls soccer rivalry is set for this afternoon at Notre Dame's Brewer Stadium, and a bid tot the IAC Large School Championship game is on the line.
The only action in the Valley has the Athens boys host Galeton, and Tioga volleyball hosting winless O-M.
GIRLS SOCCER
IAC South Large School Divisional Playoffs
Waverly (9-1-3) at Notre Dame (10-0-2), 4 p.m.:
The Lady Wolverines and Lady Crusaders have played twice this season. Both games went through double-overtime, and ended in scoreless ties; that's 200 minutes of scoreless soccer.
The winner will advance to the overall IAC Large School championship game.
Notre Dame is coming off a 2-0 win over Union Springs, and has recorded seven consecutive shutouts, while Waverly blanked Dryden, 2-0 Tuesday.


BOYS SOCCER
Galeton (2-13) at Athens (9-6), 5:30 p.m.:
The Wildcats jumped into first place with a 2-1 win at Wellsboro Tuesday, while Galeton dropped a 7-2 decision at Coudersport.
Tioga at O-M, 5 p.m.
VOLLEYBALL
O-M (0-12) at Tioga (9-1), 5 p.m. JV start:
The Lady Tigers are coming off a five-set loss at Candor Friday, while the Lady Indians were swept by Candor Wednesday.
Sayre (1-10) at Canton (8-1), 6 p.m. JV start:
The Lady Redskins are coming off a 3-0 loss at Williamson, while the Lady Warriors swept arch-rival Troy.
Athens at North Penn-Liberty (9-1), 6 p.m. JV start:
The Lady Mountaineers are coming off a 3-1 win over Northeast Bradford Tuesday, while the Lady Wildcats swept Towanda.