NYSPHSAA CROSS COUNTRY: WAVERLY'S MINAKER GETS FIRST TASTE OF STATES (7 PHOTOS)
(2021-11-13)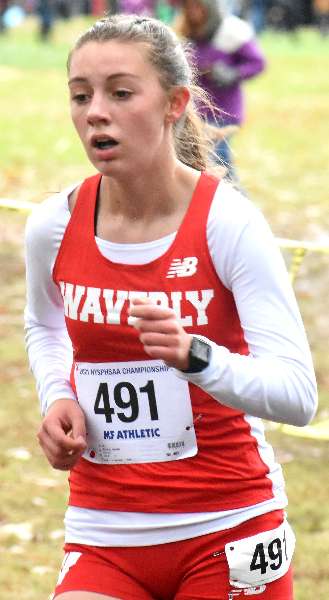 By Brian Fees
Valley Sports Report
CHENANGO VALLEY — A year ago Harper Minaker would have been a state qualifier, but Covid wiped out the chance at a cross country postseason.
On Saturday the freshman got her first taste of running at states, and she got to do it on a course she's familiar with, running at Chenango Valley State Park.
"Very proud of her," Waverly coach Nate Culver said. "During Covid, she would have made it to states, lost the chance because there wasn't a states last year. But, just the fact that she's been working, made it, having our home course.
"As young as she is, she's a year young for her grade level, to have that kind of opportunity and to have it on your own course, it was a nice ease into state meet competition where she wasn't traveling hours and hours away."
The Waverly freshman finished 87th out of 130 runners in 22:31 in the Class C race.
For Minaker it was a new experience running at the state meet.
It was crazy, there was a lot going on," Minaker said. "With more people the start line is bigger and everyone is pushing toward the front."
Minaker stayed with a pack of runners, eight runners were within 11 seconds of each other, and she was able to stay out in front of that pack and not get stuck between other runners.
"I tried to stay with the pack and kept trying to push myself to the front," Minaker said. "It would be way harder to get up in front of them if you are on the inside."
Culver was happy with how Minaker stayed with the runners she planned to run with.
"Her goal was to pace with the Lansing girl and some of the Forks team there, that's exactly what she did," Culver said. "I think there were like two Forks girls in front of her. For her first time here, I am very proud of her, hopefully she just keeps coming back and building that confidence up."
——
IN PHOTO: Waverly's Harper Minaker runs at the New York State Cross Country Championships. . . PHOTOS BY BRIAN FEES