IAC WRESTLING: BUSINESS AS USUAL FOR TIOGA'S HARRINGTON; PRACTICE BEGINS AS FOOTBALL TEAM PLAYS DEEP INTO POSTSEASON (8 PHOTOS)
(2021-11-17)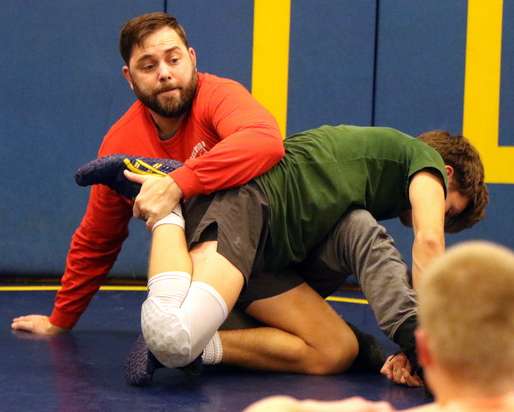 BY TIM BIRNEY
Valley Sports Report
TIOGA CENTER — Tioga wrestling coach Kris Harrington is excited to be back in the room for the 2021-22 season, a season he knows won't be perfect, but hopes is closer to normal than last year's truncated spring season.
"It's always nice to be in the room. The nice thing about it is, we really haven't left, but to have a real season, and to have some goals, and have a real schedule, that's really nice.
"It's exciting," said Harrington.
One thing is certain, numbers won't be an issue for the Tigers.
"Our numbers are great, we have 32 kids," said Harrington. "What's nice is we have a good mix — every class is well-represented.
"We're growing in each grade level,' he added.
Of course, the Tioga football is making a run at a state title, which means the majority of the team is still on the gridiron.
"Depending on the day, we have 10 or 12 in the room right now," said Harrington. "We have a few guys who don't play football, and some young guys."
When will the Tigers be at full strength?
"The Saturday after the state finals," laughed Harrington. "We're all Tigers, we want (the football team) to win everything.
"This is nothing we're not use to.
"We'll get them back, when we get them back," added Harrington. "We have a plan in place, this is not our first time doing this."
Harrington believes the Tigers will build on a strong summer.
"Our offseason was excellent," he said. "I think we jumped major levels as far as top to bottom in our program. Normally, you have a traveling party of 10, and this year we had 20.
"When you have that going, it makes the angst (of preseason practices) a little less," added Harrington.
Another thing you can count on is Harrington testing his team with a tough schedule. This year, the Tigers will open at the Webster Tournament Dec. 4, will host the Sgt. Justin Rodgers Memorial Tournament Dec. 11, and will compete at the Windsor Christmas Tournament They may also wrestle at the STWOA Tournament if they find a venue.
Tioga will also wrestle a pair of New York State Division I powerhouses — Spencerport and Fulton — in duals.
"I think our schedule will be in flux for the entire year — events getting canceled, duals getting moved, etc.," said Harrington. "I think it's the nature of the beast with indoor sports this year."
——————
IN PHOTO 1: Tioga coach Kris Harrington. … PHOTOS BY TIM BIRNEY.