IAC GIRLS BASKETBALL: FIRST-YEAR COACH EXCITED TO BE AT THE HELM IN TIOGA (7 PHOTOS)
(2021-11-18)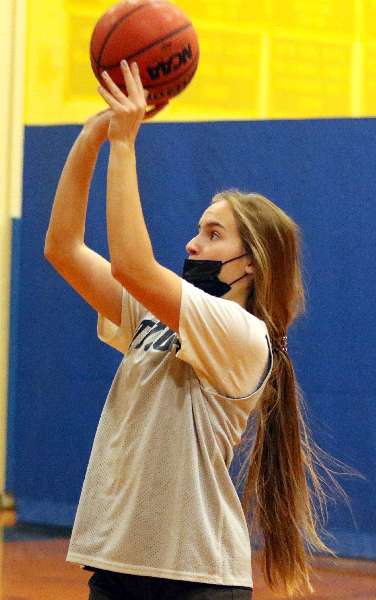 BY TIM BIRNEY
Valley Sports Report
TIOGA CENTER — Stephanie Hills is excited to be on the floor in her first season as the head coach of the Tioga Lady Tigers.
"I am excited," she said. "I'm hoping we have a really good year.
"The girls are really into it, and they are buying into it this year," added Hills. "I think it's going to be a good season."
A former Tioga players, Hills is a SUNY Cortland graduate, and was the JV coach at Tioga for the last several years.
"I've coached all these girls, I know what they can do," said Hills.
"I'm hoping our speed will help us. We're working on our conditioning to keep us up and in the opponent's face.
"I would like to play more man than zone, but we'll see how that pans out," she added.
Hills takes over a program that is a bit low in numbers.
"We have nine total on varsity, so we're working on getting as conditioned as possible.
"We have a few girls who like to get in foul trouble, so getting conditioned to have those subs go in when we need them is going to be important.
"We have eight on the JV, so our numbers are pretty low," noted Hills. "Numbers are even lower for our 7th- & 8th-grade team, we're really struggling with numbers there."
Hills intends to get to work with the next generation of Tioga players.
"I'm hoping to work with the youth program to build it as much as possible, or it's going to be scary for us in the future.
"My goal is to build something from the bottom to the top because without a youth program, we won't be a program for long," said Hills.
Tioga's only scrimmage is against Newfield on Tuesday.
The Lady Tigers open the season Dec. 7 against Waverly.
——————
IN PHOTO 1: Tioga's Reese Howey. … PHOTOS BY TIM BIRNEY