IAC BOYS BASKETBALL: TIOGA'S CARD LOOKING FORWARD TO FULL PRESEASON, 2021-22 SEASON (8 PHOTOS)
(2021-11-18)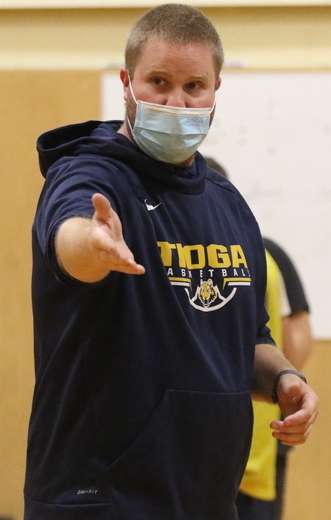 By TIM BIRNEY
Valley Sports Report
TIOGA CENTER — Tioga boys basketball coach Brian Card is glad to be back preparing for a full 2021-22 season.
"It is good to be back," he said. "Last season didn't really feel like a season because we only had eight games, and the season was literally six weeks long.
"Now, we have a November to February season again, and it's totally different," noted Card. "The kids are excited to be back, I'm excited to be back, and it's a good feeling knowing we're going to have more than six or eight games, and travel more than 12 miles down the road.
"It's nice to have a full schedule," added Card.
Card, who had 11 players on the floor Wednesday afternoon, says his numbers are good, but as usual he's beginning preparation for the season without half his roster.
"Once I get everybody back from football, we're looking to have around 10 or 11 for varsity and 10 for JV," he said. "There are a couple kids from football that I don't know if they're playing … so once football is over, I'll know more."
Card said the Tigers had a solid offseason.
"Our offseason was pretty good," he said. "We played in the Waverly Summer League, and we got our butts handed to us a few times … most of my team was this sophomore class playing against varsity.
"It was good competition for them, and I think it was a good experience for them," noted Card. "We gained a lot of experience.
"We drew some good numbers to our open gyms over the summer," added Card. "And, with our new weight room, it helped out with kids showing up over the summer."
The Tigers have two scrimmages set up — varsity against Deposit-Hancock, and JV against Athens.
Tioga open the season Dec. 4-5 at Owego's Charlie Sibley Tournament.
——————
IN PHOTO: Tioga coach Brian Card. … PHOTOS BY TIM BIRNEY.