IAC BOWLING: TIOGA'S POND HAS HIGH HOPES, BIG NUMBERS IN 2021-22
(2021-11-23)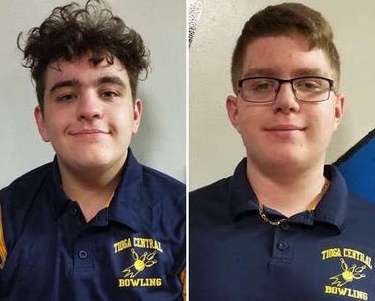 BY TIM BIRNEY

Valley Sports Report
TIOGA CENTER — Tioga bowling coach Kathy Pond begins the 2021-22 season with high hopes and big numbers for both the boys and girls teams.
"The numbers are awesome for both teams," she said. "We have 14 boys and 13 girls. Both teams have a lot of kids returning and a good mix of new bowlers.
After a truncated season in the spring that had the IAC split into South and North, and teams bowling virtually at their own lanes, the league will return to the Large School / Small School format, and will once again travel for matches.
BOYS
"We only lost Kolton (Pond), so we're very strong with five of our top six boys returning, and the boys are very confident," said Pond.
The Tigers return seniors Rocco Fariello and Dylan Slater, who finished third and fourth, respectively, at last year's IAC Championships, as well as junior Gage Cain, who was 12th, 8th-grader Nick Slater, who finished 17th, and senior Frank Chapman.
Also back for Tioga are seniors Reed Cook and Alex Middendorf.
The Tigers also feature a number of newcomers in 2021-22 in senior Aidan Smith, sophomores Mason Green and Damian Forsyth, and freshmen Robbie Toomey, and Landon Takas.
"Some of the new boys coming in have very good potential," said Pond.
"I'm feeling very good about the season," she added.
GIRLS
"We have some good strong bowlers coming back," said Pond.
Tioga returns juniors Bobbi Jo Tar Box, Caroline Chapman, and Jamie Card, and sophomore Chloe Gillette from its starting line-up, and sophomore Alex Creller, who also saw some time in the starting six.
Senior Rachel Feeko, juniors Zoe Marshall, Hailey Morris and August Wood, sophomore Brenda Guiles, freshmen Arianna Hawley, Alicia Bennett and Paige Hicks, and 8th-grader Kelsey Helmich comprises the list of newcomers for the Lady Tigers in 2021-22.
"We have a lot of new faces, and some good potential," said Pond.
"I'm not sure if any of them will really help us this year," she added. "We've only had three practices, to I'm still sorting things out with the new girls.
"Overall, I think the girls will be very competitive, and could surprise some people," added Pond.
Tioga opens the 2021-22 season at home against O-M at the Valley Bowling Center.
——————
IN PHOTO: Tioga's Rocco Fariello (left) and Dylan Slater.