WOMEN'S COLLEGE TRACK & FIELD: TIOGA'S WALSH SIGNS LETTER-OF-INTENT TO COMPETE AT D-II WALSH UNIVERSITY
(2021-12-13)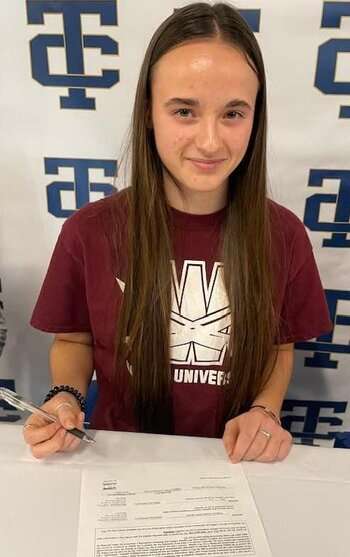 By TIM BIRNEY
Valley Sports Report
TIOGA CENTER "" Tioga senior Julia Walsh signed a National Letter-of-Intent to compete on the Division II Walsh University track & field team Monday afternoon in a brief ceremony in the high school foyer.
Walsh said the main reason she chose Walsh University was for her major.
"I really want to study physical therapy, and (Walsh University) has an exercise science track, and that's what I'm interested in," she said. "That's the main reason I chose Walsh."
Walsh University, which is located in North Canton, Ohio, seemed like a good fit for the Tioga senior.
"I visited the campus over the summer," she said. "I felt like it would be a good place for me."
The fact she shares a name with the university is not lost on Walsh.
"It's a little bit ironic.
"My Dad found (Walsh) ... when I looked at it two years ago, I said, "˜no way,'" laughed Walsh. "And then when I actually looked into it, and visited this year, I said, "˜this is the one for me.'"
Walsh is coming off hip surgery following the field hockey season, but hopes to be clearing hurdles this spring for her senior season.
"The hip is getting there," she said. "It's going to take a while to get back to normal.
"I'm working hard at it ... the goal is run track this spring."
Walsh is one the top hurdlers and pole vaulters in the IAC, and in Section IV.
"Once I get to Walsh, I'm going to focus on the 400-meter hurdles at first, then we'll see for the pole vault and the 100-meter hurdles."
Walsh knows she has some work to do in order to be ready to compete at the Division II level.
"I need to get in a lot better shape, work to get into 400 shape," she said. "And. my technique needs some work. I'm excited for my coach to help me with that."
Tioga track & field coach Eric Gutierrez is on the same page with Walsh when it comes to what she needs to work on.
"She needs to work on getting back down to the ground as quick as she can to use her speed," he said. "Her hurdle form has gotten so much better as we've been working on getting over the hurdles quick, and taking off.
"As she continues with that, she'll be flying.
"As long as her conditioning is up for the 400, she'll be pretty fast," Gutierrez added.
Gutierrez is looking forward to her senior season, and believes it will be a launching pad for her.
"Having her hip cleaned up is going to do wonders for her," he said. "She's been running for four years (with a bad hip), I'm excited to see what she can do.
"I think she's going to be stronger than ever.
"She works hard. She's seen increases every year," noted Gutierrez. "Right now, she's the third-fastest hurdler we've ever had.
"I don't think it's going to make much for her to hit the next level," he added.
Gutierrez believes Walsh could end up as a collegiate pole vaulter as well.
"She's a good vaulter," he said. "She may have only hit 8-(feet), 6 (inches), but she was starting to put it together at the end of the season.
"When that starts to happen, you start hitting new heights, and it can come quickly," added Gutierrez.
Walsh will major in Physical Therapy, but is undecided where she'll concentrate her talents.
"I go back-and-forth between wanting to work with athletes, and doing pediatrics, or geriatrics," she said. "I'm not exactly sure which way I'll go, but I have time to figure it out."
""""""""""""
IN PHOTO 1: Tioga senior Julia Walsh. IN PHOTO 2: From left: Jim Walsh (father), Julia Walsh, Amy Walsh (mother), and Chris Walsh (twin brother). IN PHOTO 3: Julia Walsh is surrounded by classmates and friends. ... PHOTOS BY TIM BIRNEY.