NTL BOYS BASKETBALL: BIG SECOND HALF PROPELS NP-M TO 67-35 WIN OVER SAYRE (22 PHOTOS)
(2022-01-10)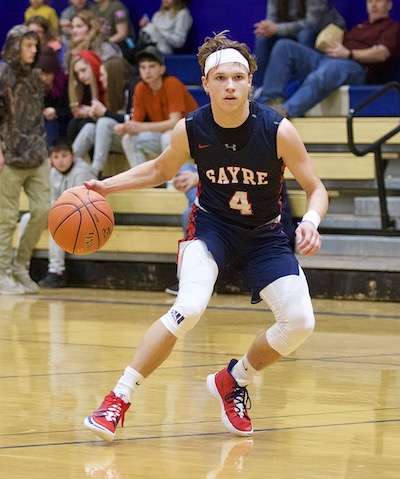 Valley Sports Report
MANSFIELD — North Penn-Mansfield blew the game open with a big second quarter en route to a 67-35 win over Sayre here Monday night in NTL boys basketball action.
Sayre senior Dom Fabbri scored nine points in the first quarter, but the Tigers had six different players put their name in the scoring column, led by Sam Lawrence's six points, four by Brody Burleigh, and 3-pinters by Eli Shaw and Joe Sember, to take a 20-13 lead after the first eight minutes.
Burleigh scored seven points in the second quarter, and Shaw added in a 22-5 run that gave NP-M a 42-18 lead at the half.
Sayre senior Josh Arnold knocked down a pair of 3-pointers and scored 10 points in the third quarter, but the Tigers again had six players in the scoring column to extend their lead to 57-30 entering the final eight minutes.
The Redskins, playing without junior Jackson Hubbard, were led by 16 points from Fabbri, and 14 by Arnold.
Sam Lawrence and Brody Burleigh scored 14 points apiece to lead NP-M, while Shaw scored 13, Karson Dominick added 10 points, and Sember chipped in with nine — all on 3-pointers.
Sayre, now 2-7, travels to Cowanesque Valley Wednesday night.
——————
IN PHOTO 1: Sayre's Josh Arnold. ... PHOTOS BY LANCE LARCOM.