NTL WRESTLING: CANTON PINS ITS WAY PAST ATHENS, 51-21 (24 PHOTOS)
(2022-01-11)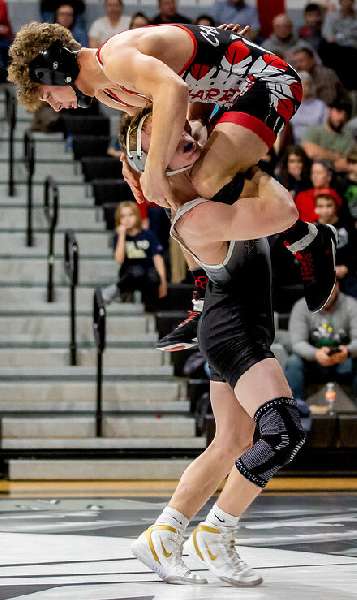 Valley Sports Report
ATHENS — Canton turned three close bouts into falls, and won five in a row by pin early en route to a 51-21 win over Athens here Tuesday night in NTL wrestling action.
"There's no other way to put it, we got out-hearted today," said Athens coach Shawn Bradley. "There were four matches we could have won, and (Canton) won them all.
"Hats off to Canton, their kids wanted it more than ours," added Bradley. "We have to learn how to gut some things out, that's part of the process."
The match started quickly with Canton's Hayden Ward scoring an 18-second fall at 152 pounds, and Athens senior Karter Rude answering with a 59-second pin of Levi Pepper at 160 pounds to tie the match at 6-6.
The 172-pound bout was a pivotal match in the early-going.
Canton's Brenen Taylor scored the first takedown of the bout, but senior Cameron Whitmarsh escaped, and countered with a double-leg takedown for a 3-2 lead.
After Taylor scored an escape late in the first period to tie the bout at 3-3, Whitmarsh cut him loose to start the second period. The duo remained on their feet the entire two minutes, and Taylor led 4-3 heading into the final two minutes.
Taylor rode top to start the second period, but was penalized about 30 seconds in for a stiff forearm to the back of Whitmarsh's head to tie the score at 4-4. Moments later, Whitmarsh escaped for a 5-4 lead, but just 20 seconds later, Taylor scored a takedown, and ran a quick arm bar for the fall at 5:28 to give the Warriors a 12-6 lead.
At 189 pounds, Canton's Riley Parker built a 7-0 lead before turning senior Collin Rosh for the fall at 3:16 to make it 18-6.
The 215-pound match-up proved to be another tough loss for the Wildcats.
Canton's Connor Davis scored an early takedown and had freshman Caleb Nason on his back for more than 30 seconds, but Nason reversed Davis and had him on his back at the first-period buzzer to trim the deficit to 5-4.
Davis was on top to start the second period, and quickly locked in an arm bar for a fall at 2:22 to give the Warriors a 24-6 lead.
The Warriors turned another 1-point lead into a fall at 285 pounds.
After a scoreless first period, Mason Nelson scored an escape in the second period for a 1-0 lead, and the heavyweights spent the remainder of the period on their feet.
Nelson rode top for more than a minute before locking in an arm bar and turning Nittinger for the fall at 5:22 to up the Warrior lead to 30-6.
At 106, Lyle Vermilya built a 9-0 lead before finishing off freshman Keaton Sinsabaugh at 3:26 to give the Warriors a 36-6 lead.
Canton's Cohen Landis received a forfeit at 113 pounds to extend Canton's lead to an insurmountable 42-6 lead.
Sophomore Mason Vanderpool put the Wildcats back on the board again at 120 pounds. He led 5-0 after the first period, then scored a reversal early in the second period, into a headlock for a fall at 2:25.
Senior Gavin Bradley, wrestling up two weight classes, scored an impressive 19-3 technical fall over freshman Holden Ward at 126 pounds.
Bradley scored an early takedown, then racked up two sets of near-fall points to take an 8-0 lead after the first period.
Bradley scored three takedowns to build a 14-3 lead midway through the second period, then closed out the match with a takedown directly to Ward's back for the 19-3 win.
In what may have been the "match of the night," Canton's Brayden Wesneski scored a 10-7 decision over senior Gavin McGrath.
McGrath scored a first-period takedown for a 2-0 lead. Wesneski started on top in the second period, and with 40 seconds remaining sat out in arm bar for three near-fall points and a 3-2 lead entering the final two minutes.
The duo started neutral, and McGrath came out on top in a scramble for a takedown, and three near-fall points to take a 7-3 lead early in the third period.
McGrath tried to turn his advantage into a cradle, but Wesneski was able to reverse and put McGrath on his back briefly to tie the bout at 7-7 with 40 seconds remaining.
About 30 seconds later, Wesneski scored three near-fall points on a tilt for the 10-7 win.
At 138 pounds, Athens senior Kaden Setzer took down Hudson Ward on a throw and picked up a pair of near-fall points in the process for a 4-0 lead, which he carried into the second period.
Ward escaped early in the second period, and Setzer recorded another takedown to take a 6-2 lead into he final two minutes.
After Ward registered another escape, a Setzer throw resulted in five points and an 11-3 lead. Ward escaped again, but Setzer closed out the 13- 4 major decision with another takedown in the closing seconds.
Canton's Bailey Ferguson closed out the match with a fall late in the second period at 145 pounds.
Athens, now 3-2, returns to action Thursday at North Penn-Liberty.
——————
IN PHOTO 1: Athens senior Kaden Setzer. … PHOTOS BY DAVID ALLIGER — TRAVELING PORTRAITS.
——————
CANTON 51, ATHENS 21152
: Hayden Ward (C) by fall over Keegan Congdon (A), 0:18;
160
: Karter Rude (A) by fall over Levi Pepper (C), 0:59;
172
: Brenen Taylor (C) by fall over Cameron Whitmarsh (A), 5:28;
189
: Riley Parker (C) by fall over Colin Rosh (A), 3:16;
215
: Conner Davis (C) by fall over Caleb Nason (A), 2:22;
285
: Mason Nelson (C) by fall over Joshua Nittinger (A), 5:23;
106
: Lyle Vermilya (C) by fall over Keaton Sinsabaugh (A), 3:26;
113
: Cohen Landis (C) by forfeit;
120
: Mason Vanderpool (A) by fall over Cayden Miller (C), 2:25;
126
: Gavin Bradley (A) tech. fall Holden Ward (C), 19-3;
132
: Brayden Wesneski (C) dec. Gavin McGrath (A), 10-7;
138
: Kaden Setzer (A) major dec. Hudson Ward (C), 13-4;
145
: Bailey Ferguson (C) by fall over Lucas Forbes (A), 3:48.