ON TAP TODAY: KEY IAC WRESTLING MATCH, NTL BOYS HOOP GAME HIGHLIGHT WEDNESDAY'S SLATE
(2022-01-12)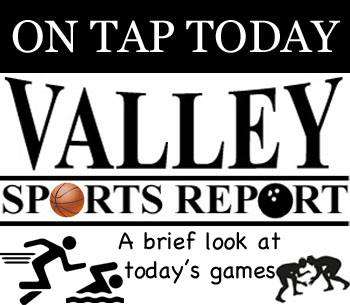 Valley Sports Report
THE VALLEY — Tioga hosts Newark Valley in a key IAC wrestling match, while Athens is on the road at North Penn-Mansfield in a key NTL boys hoop contest in Wednesday's marquee match-ups of the night.
The Tioga wrestlers are the only Valley team in action at home today.
WRESTLING
Newark Valley (4-3 overall, 1-0 IAC) at Tioga (7-0, 1-0), 6 p.m.:
The Tigers, ranked No. 1 in the state in Division 2, are coming off a first-place finish at the rugged Saratoga Invitational, while the Cardinals finished ninth in the 15-team at the Stan Elinsky Tournament at D-H.
In their last duals, TIoga topped SVEC, 68-6, while Newark Valley edged Waverly, 39-36.
You never know what you'll get at duals with the way coaches juggle line-ups, but here's an educated guess at some of tonight's top match-ups:
(The number prior to a wrestler's name is their rank in Section IV, according to cnywrestling.com)
138
: 1-Caden Beill vs. NV's 5-Mark Vosburgh (8-1)
102
: 4-Logan Bellis (17-7) vs. NV's Logan Woodin (13-6)
110
: 3-Deakon Bailey (12-4) vs. NV's Trevor Middendorf (13-5)
126
: 1-Mason Welch vs. NV's Caden Creeley (10-8)
132
: 3-Tyler Roe vs. NV's Dylan Iversen (9-8)
215
: Josh Snell (5-9) vs. NV's Nate Dammer (4-2)
Sayre at Canton, 5 p.m. junior high start: The Warriors are coming off a 51-21 win over Athens Tuesday, while the Redskins dropped a 66-3 decision at Towanda
last Wednesday.

BOYS BASKETBALL
Athens (7-2) at North Penn-Mansfield (7-1), 6 p.m. JV start:
The Wildcats are coming off a 70-60 home win over Towanda Thursday, while the Tigers rolled to a 67-35 win over Sayre Tuesday.

Sayre (2-7) at Cowanesque Valley (4-6), 6 p.m. JV start:
The Redskins are coming off a 67-35 loss at North Penn-Mansfield Tuesday, while the Indians dropped a 67-51 decision to Canton.

BOYS SWIMMING
Waverly at Southern Cayuga, 4:30 p.m.

BOYS & GIRLS BOWLING
Tioga at Groton, 4 p.m. @ Memory Lanes.