NTL BOYS BASKETBALL: ATHENS PICKS UP BIG ROAD WIN AT NP-MANSFIELD, 55-39 (22 PHOTOS)
(2022-01-12)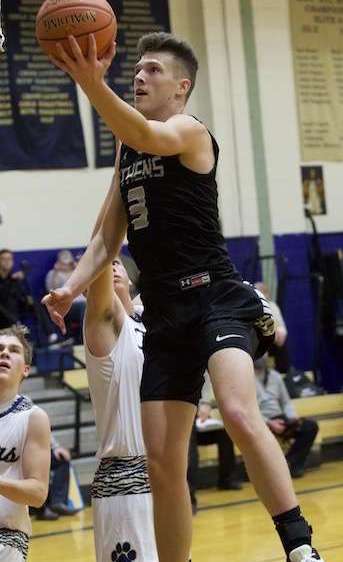 Valley Sports Report
MANSFIELD — Athens built a 20-point second-quarter lead, then used a fourth-quarter run to fend off North Penn-Mansfield's second-half comeback efforts in a 55-39 win here Wednesday night in NTL Large School boys basketball action.
Senior Nalen Carling hit an early 3-pointer, and scored six points in the first quarter, while senior Tucker Brown hit a 3-pointer late in the opening stanza and scored five points, and junior Mason Lister added four points to help the Wildcats to a 17-6 lead after the first eight minutes.
"I thought we played really good defense tonight," said Athens coach Jim Lister. "We made it really difficult for them to run their offense, and get good looks at the basket.
"We held them to 14 points in the first half, and when you do that, good things are going to happen."
Lister acknowledged that NP-M seemed to struggle with his team's size, especially in the first half.
"That court is a little smaller," he said. "Honestly, with our length and size, that kind of gives us a little bit of an advantage.
"It just made it really difficult for them to generate any type of offense," Lister added.
The first quarter ended in dramatic fashion as Lister poked the ball away from NP-M's Andrew Green from behind. Carling corralled the loose ball and heave up court to Lister, who threw up a runner from behind the 3-point arc at the buzzer.
The shot went in off the glass, but was ruled a 2-pointer to give the Wildcats a 17-6 lead.
The Athens defense limited NP-M to a pair of free throws over the first 5 1/2 minutes of the second quarter.
Meanwhile, Lister drained a 3-pointer to make it 22-7 with 6:42 remaining in the first half, and senior J.J. Babcock scored on a putback a little more than a minute later to make it 24-8.
A pair of free throws by Carling, and a lay-up by senior Troy Pritchard, off a beautiful feed from junior Lucas Kraft, gave the Wildcats their biggest lead of the game, at 28-8, with 3:10 remaining in the first half.
NP-M closed out the first half with a 6-0 spurt, triggered by a short jumper by Karsen Dominick with 2:35 left in the half, to close the gap to 28-14 at the half.
Lister scored off a nice feed from Babcock in the opening moments of the third quarter, then Babcock knocked down a short jumper to make it 32-14 with 6:19 remaining in the third quarter.
Over the next eight-plus minutes, the Tigers reeled off a 20-6 run, featuring a pair of 3-pointers by Andrew Green, and capped by a Sam Lawrence 3-pointer, to close the gap to 38-34 with 6:15 remaining in the game.
"I think we got a little sloppy, a little lackadaisical in the third quarter, and let them claw their way back into the game," said Lister.
The Wildcats would answer with a 13-0 blitz to re-gain control.
Babcock ignited the run with a spin move into the lane for a short jumper to make it 40-34. After a pair of free throws by Carling, resulting from a Lister steal, Lister followed his own miss in transition to make it 44-34 with 5:05 remaining.
Babcock kept the momentum going with a big blocked shot on the defensive end, and capped the run by shredding NP-M full-court press for a coast-to-coast lay-up to make it 47-34 with 3:46 remaining.
"I was real pleased with our effort in the fourth quarter," said Lister.
"We keep talking about handling adversity. When you play four quarters of basketball against good teams, you're going to have to face adversity," noted Lister. "It's going to happen, you have to deal with it, and you have to bounce back from it, and I think we did a really good job of doing that tonight.
"This is a really good win for us on the road," he added.
Lister led Athens with 14 points, while Babcock scored 13 points, Carling added 10 points, and Pritchard and Brown chipped in with nine points apiece.
Brody Burleigh led NP-M with 10 points, while Eli Shaw had nine, Lawrence added seven, and Green chipped in with six.
Athens, now 7-2, returns to action Friday at Wellsboro.
——————
IN PHOTO: Athens senior J.J. Babcock. … PHOTOS BY LANCE LARCOM.