NTL BOYS BASKETBALL: COWANESQUE VALLEY RALLIES TO WIN SHOOTOUT OVER SAYRE, 80-75
(2022-01-12)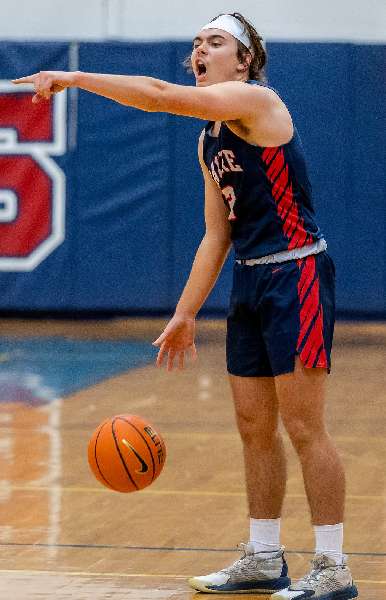 Valley Sports Report
WESTFIELD — It was a tale of two halves.
Sayre built an 11-point halftime lead, but Cowanesque Valley scored 57 points after the intermission to rally for an 85-79 win here Wednesday night in NTL Small School boys basketball action.
Senior Dom Fabbri knocked down a pair of 3-pointers and scored 10 points in the first quarter, while seniors Josh Arnold, who connected on a pair of 3-pointers, and Kannon VanDuzer scored six points apiece to give Sayre a 22-14 advantage after the first eight minutes.
Arnold scored six more points in the second quarter, and VanDuzer and Fabbri scored four points apiece as Sayre used a 17-14 advantage to extend its lead to 39-28 at the half.
Tucker St. Peter caught fire in the third quarter for CV, knocking down five 3-pointers, and scoring 20 points to fuel a 29-20 spurt to close the gap to 59-57 entering the final eight minutes.
McGwire Painter and Gage Tilton scored nine points apiece for the Indians in the fourth quarter, and St. Peter added seven points in a 28-19 run that lifted CV to the win.
St. Peter poured in 40 points, including 8 of CV's 11 3-pointers, while Painter, who had 59 points in a a game earlier this season, had 23 points, and Tilton added 14 points.
Fabbri led Sayre with a season-high 31 points, including four 3-pointers, and Arnold scored a career-high 24 points, including five 3-pointers.
VanDuzer added a career-high 17 points for the Redskins, and junior Zach Garrity chipped in with five points.
The Redskins (2-8), who were playing their second game in a row without one of their leading scorers Jackson Hubbard, return to action Friday at Wyalusing.
——————
IN PHOTO: Sayre's Dom Fabbri.