NTL GIRLS BASKETBALL: SHORT-HANDED ATHENS FALLS AT TROY, 35-28 (9 PHOTOS)
(2022-01-13)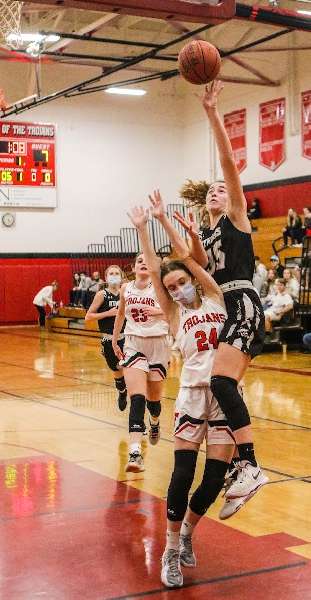 Valley Sports Report
TROY — Troy held Athens without a field goal in the fourth quarter, and used a 9-2 run to pull out a 35-28 win Thursday night in NTL Large School girls basketball action here at the Commons Building.
The Lady Wildcats, now 7-3, were playing without one of their leading scorers Karlee Bartlow.
"We missed Karlee Bartlow on offense," said Athens coach Brian Miller. "We played well at times, but shot the ball poorly from the floor.
"At times, we executed very well, but we didn't finish around the basket.
"And, we had way too many turnovers in a game like that," added Miller.
Senior Caydence Macik had seven points, including an old-fashioned three-point play, in the first quarter, and freshman Addy Wheeler canned a 3-pointer to help Athens to a 12-5 lead after the first eight minutes.
Rachel Kinsley scored eight points in the second quarter, and Sydney Taylor added four as Troy used a 15-5 run to rally for a 20-17 lead at the halftime intermission.
Wheeler knocked down another 3-pointe and scored five points in the third quarter in a 9-6 spurt that tied the game at 26-26 entering the final eight minutes.
Kinsley scored eight more points in the fourth quarter to fuel the game-closing 9-2 run. The Lady Trojans mad just 1 of 6 free-throw attempts in the final eight minutes, but held Athens to just two free throws.
Macik led Athens with 14 points, three rebounds, and six steals, while Wheeler had eight points and six boards, and junior Emma Bronson added six points, three rebounds, and three assists.
Senior Olivia Bartlow hauled down nine rebounds and blocked three shots for the Lady Wildcats, while sophomore Mya Thompson had six rebounds and three assists, and junior Natalie Watson chipped in with four rebounds.
Kinsley led Troy with 16 points, and Taylor added six.
Athens travels to North Penn-Mansfield Tuesday.
——————
IN PHOTO 1: Athens senior Caydence Macik. … PHOTOS BY JOE CARREON.