NTL WRESTLING: RUDE LIFTS ATHENS TO 38-36 WIN OVER NORTH PENN-LIBERTY (18 PHOTOS)
(2022-01-13)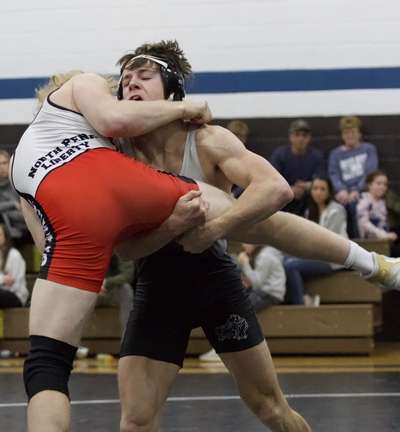 Valley Sports Report
BLOSSBURG — Senior Karter Rude moved up two weight classes, and upended state-ranked Kohen Lehman to secure Athens' 38-36 win over North Penn-Liberty here Thursday night in NTL wrestling action.
There were just six contested weight classes, with both teams winning three.
The Wildcats, wrestling without four starters due to illness, fell behind right off the bat as NP-L's George Valentine pinned freshman Caleb Nason in 3:42 at 215 pounds.
After a forfeit to Athens sophomore Josh Nittinger at 285 pounds tied the match, NP-L received a forfeit at 106 pounds, and Brayden Pequingot scored a fall at 113 pounds to to give the Mountaineers an 18-6 lead.
At 120 pounds, sophomore Mason Vanderpool built an 8-4 lead in the second period, and eventually won via injury default over Riley Oakes.
Senior Gavin Bradley, also wrestling up two weight classes, put on a takedown clinic in a 20-4 technical fall over Cole Wagner.
Bradley scored three takedowns and three near-fall points to take a 9-2 lead after the first two minutes. He added three takedowns and two near-fall points in the second period to extend the lead to 17-4 entering the final two minutes.
Bradley closed out the bout with an escape and quick takedown to finish off the technical fall at 4:38 to trim the Athens deficit to 18-17.
The next five weight classes were decided by forfeits, with Athens receiving three to take a 35-30 lead.
In the decisive 172-pound weight class, Rude scored an early takedown and led 2-0 after the first period. The duo spent the entire two minutes on their feet in the second period.
Lehman scored an escape in the third period, but Rude was able to fend off takedown attempts to preserve the 2-1 win, giving the Wildcats an insurmountable 38-30 lead.
NP-L's Gavin Sexauer's built a 9-3 lead on his way to a fall over Cameron Whitmarsh in 3:46 to prove the final margin.
Athens returns to action Friday and Saturday at the New Oxford Tournament.
——————
IN PHOTO 1: Athens senior Karter Rude. … PHOTOS BY LANCE LARCOM.
——————
ATHENS 38, NP-LIBERTY 36
215
: George Valentine (NP) by fall over Caleb Nason (A), 3:42;
285
: Joshua Nittinger (A) by forfeit;
106
: Sophia Domenech (NP) by forfeit;
113
: Brayden Pequignot (NP) by fall over Keaton Sinsabaugh (A), 1:00;
120
: Mason Vanderpool (A) injury def. Riley Oakes (NP);
126
: Gavin Bradley (A) tech. fall Cale Wagner (NP), 20-4 @ 4:38;
132
: Trinity Robinson (NP) by forfeit;
138
: Lilly Galasso (A) by forfeit;
145
: Lucas Forbes (A) by forfeit;
152
: Keegan Congdon (A) by forfeit;
160
: Ryan Mayall (NP) by forfeit;
172
: Karter Rude (A) dec. Kohen Lehman (NP), 2-1;
189
: Gaven Sexauer (NP) by fall over Cameron Whitmarsh (A), 3:39.