IAC WRESTLING: TIOGA CLOSES STRONG IN 57-17 WIN OVER WAVERLY (24 PHOTOS)
(2022-01-13)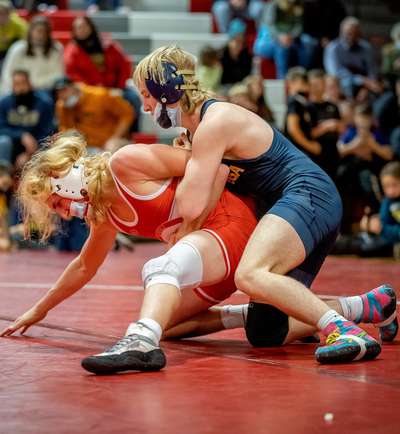 Valley Sports Report
WAVERLY — Waverly kept it close early, but Tioga, the state's top-ranked team in Division 2, won the final six weight classes for a 57-17 win here Thursday night in IAC wrestling action.
The Tigers, now 10-0, opened with three quick falls to take an 18-0 lead.
Junior Donovan Smith scored a pair of quick takedowns to take a 4-2 lead over sophomore Braedon Nichols in their 145-pound bout. The third takedown was straight to the back for a fall at 1:05.
Sophomore Ousmane Duncanson scored a double-leg blast to score a 31-second fall at 152 pounds to make it 12-0.
At 160 pounds, senior Emmett Wood scored a quick takedown and two sets of near-fall points to take a 7-0 lead over junior Braeden Hills, before registering the fall at 1:08.
Junior Gage Tedesco put Waverly on the board with a pin of sophomore Trent Browne in 5:21.
After a scoreless first period, Browne scored a quick escape. Midway through the period, Tedesco scored a takedown for a 2-1 lead, but Browne quickly escaped again to tie it at 2-2.
Tedesco recorded another takedown with 22 seconds left in the second period, and took a 4-2 lead into the final two minutes.
Tedesco started on the bottom in the third period. He scored a reversal 15 seconds in, and turned Browne for a fall at 5:21 to close the gap to 18-6.
After Tioga junior Thomas Hurd received a forfeit at 189 pounds, junior Ty Beeman and freshman Kam Hills registered first-period falls to pull Waverly with six points, at 24-18.
At 215 pounds, Beeman tripped senior Josh Snell to his back, slid in a half and scored a fall in 39 seconds.
At 285 pounds, Hills scored a mat return takedown, and turned freshman Tate Macauley at 27 seconds.
Eighth-grader Logan Bellis built a 10-0 lead, before locking in an arm bar for a fall at 3:52 in his 102-pound match-up with 7th-grade Nico Rae to give Tioga a 30-18 lead.
After sophomore Deakon Bailey received a forfeit at 110 pounds, sophomore Levi Bellis pinned junior Landon McCarty in 2:56 to make it 42-18.
Levi Bellis scored a takedown and two near-fall points to make it 4-0. Bellis added three near-fall points in a scramble that ended with McCarty on his back, then added a two-point tilt to make it 9-0 after the first two minutes.
Bellis started the second period on the bottom, and scored a quick reversal, which he turned into a fall at 2:56 to make it 48-18.
At 126 pounds, sophomore Gianni Silvestri pinned senior Austin Ingham in 61 seconds to extend the lead to 54-18.
In the match of the night, Tioga senior Mason Welch edged junior Connor Stotler, 10-7, at 132 pounds.
Stotler scored the initial takedown, but Welch reversed Stotler, and locked him in a "mouse trap" for three near-fall points. The bout was stopped after Stotler signaled for a stoppage, which cost him a point and gave Welch a 6-2 lead.
Welch added a tilt late in the first period, and led 8-2.
Stotler started the second period on top, and was able to lock in a half-nelson and turn Welch for three near-fall points to close the gap to 8-5 heading into the final two minutes.
Stotler scored a reversal 15 seconds into the third period to pull within one point, at 8-7, but Welch countered with a reversal, and rode Stotler for the final 50 seconds to preserve the 10-7 decision and give Tioga a 51-17 lead.
At 138 points, sophomore Caden Bellis used a series of takedown and near-fall points to build a 16-4 lead before turning freshman Seth Noto for a fall at 1:21 to provide the final margin.
Tioga returns to action Friday in Day 1 of the Webster Tournament, while Waverly hosts the Jim McCloe Memorial Tournament Saturday.
——————
IN PHOTO 1: Tioga's Mason Welch and Waverly's Connor Stotler. ... PHOTOS BY DAVID ALLIGER — TRAVELING PORTRAITS.
——————
TIOGA 57, WAVERLY 17
145
: Donavan Smith (T) by fall by fall over Braeden Nichols (W), 1:05;
152
: Ousmane Duncanson (T) by fall by fall over Dustyn Gingerich (W), 0:31;
160
: Emmett Wood (T) by fall by fall over Braeden Hills (W), 1:10;
172
: Gage Tedesco (W) by fall by fall over Trent Browne (T), 5:24;
189
: Thomas Hurd (T) by forfeit;
215
: Ty Beeman (W) by fall by fall over Josh Snell (T), 0:39;
285
: Kam Hills (W) by fall by fall over Tate McCauley (T), 0:29;
102
: Logan Bellis (T) by fall by fall over Nico Rae (W), 3:52;
110
: Deakon Bailey (T) by forfeit;
118
: Levi Bellis (T) by fall by fall over Landon McCarty (W), 2:58;
126
: Gianni Silvestri (T) by fall by fall over Austin Ingham (W), 1:03;
132
: Mason Welch (T) dec. Connor Stotler (W), 10-7;
138
: Caden Bellis (T) by fall by fall over Seth Noto (W), 1:21.
(Waverly penalized team point for unsportsmanlike conduct.)