ON TAP TODAY: WRESTLING, BASKETBALL HEADLINE FRIDAY'S DOCKET
(2022-01-14)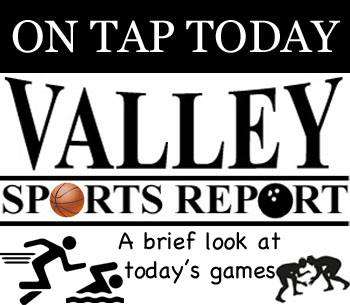 Valley Sports Report
THE VALLEY — Wrestling and basketball take center stage Friday, with Athens and Tioga grapplers in action at Day 1 of rugged two-day tournament, and five of the eight Valley hoop teams playing, with the Tioga girls the only home game on the docket.
WRESTLING
Tioga at Bradshaw Tournament, 4 p.m.:
The top-ranked Division 2 Tigers will see some stiff competition this weekend at the rugged two-day tournament.
The field is scheduled to include: Brighton, Chenango Forks, Fairport, Hilton, Horseheads, Ithaca, Midlakes, O-M / WG, Pal-Mac, Penfield, Spencerport, Victor, Webster-Schroeder, and Webster-Thomas … and many more.
Athens at New Oxford Tournament, 4 p.m.:
The Wildcats will wrestle in another rugged two-day tournament in a field that includes Biglerville, Bishop McDevitt, Canton, Carlisle, Greencastle Antim, Harry S. Truman, Milton Hershey, Troy, and York Suburban.
BOYS BASKETBALL
Athens (7-2) at Wellsboro (8-3), 6 p.m. JV start:
The Wildcats are coming off a 55-39 win at NP-M Wednesday, while the Hornets rolled over Williamson, 87-31.
Sayre (2-8) at Wyalusing (7-5), 6 p.m. JV start:
The Redskins are coming off an 85-79 loss at Cowanesque Valley Wednesday, while the Rams dropped a 54-49 decision at Canton.
Tioga (5-6) at Union Springs, 6 p.m. JV start:
The Tigers are coming off a 63-47 win over Southern Cayuga last Friday, while the Wolves dropped a 63-56 decision at Moravia Monday.
GIRLS BASKETBALL
Waverly (6-3) at Dryden (3-6), 6 p.m. JV start:
The Lady Wolverines are coming off a 71-29 win over Lansing Monday, while the Lady Purple Lions dropped a 37-34 decision to Groton.

Union Springs (8-0) at Tioga (1-9), 6 p.m. JV start:
The Lady Tigers are coming off a 49-45 loss to Southern Cayuga Friday. The Lady Wolves are ranked sixth in the state.