COLLEGE SOFTBALL / BASKETBALL: ATHENS' MACIK SIGNS LETTER-OF-INTENT TO PLAY TWO SPORTS AT MANSFIELD
(2022-05-10)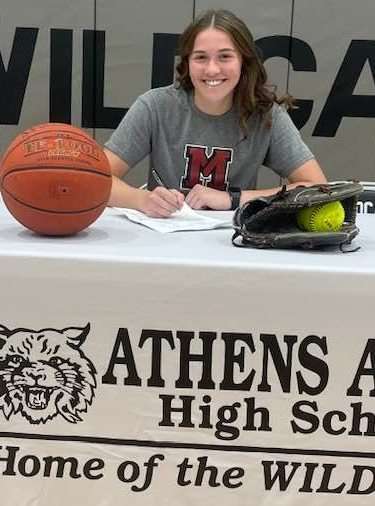 TIM BIRNEY
Valley Sports Report
ATHENS — Athens senior Caydence Macik will stay close to home to play softball and basketball at Division II Mansfield University after signing a National Letter-of-Intent here Tuesday afternoon during a brief ceremony in the high school gymnasium.
"I was really looking to play two sports in college because I couldn't really give up either one, and Mansfield is a place I could play both," said Macik.
"It's close to home, which I think will be super helpful academically and athletically — being able to have my family there," she added.
On the softball diamond, Macik became the school's all-time career leader in home runs with 21, including a single-season record of 10 this year. On the hardwoods, Macik leaves Athens third on its all-time scoring list, and also near the top of rebounding charts with more than 600 caroms.
Despite her accomplishments, Macik knows playing two sports at the next level will be a challenge.
"It will be definitely be a challenge," she said. "I've talked to girls who have done both, and they say you definitely have to sacrifice some things, but I don't think I could give up either sport."
Macik knows she has work to do to be ready to play at the next level.
"I definitely need to work on my outside shot," she said. "I don't take a lot of them. I'm not super-confident with it yet, so I definitely need to work on that and my jump shot.
"And, I need to work on my quickness, the speed of the game is going to be a lot faster," added Macik.
As for softball?
"The pitching is definitely going to be a whole different environment for me to be around, so I definitely need to prepare for that, but I'm looking forward to it."
Macik also knows she needs to get "bigger, faster, and stronger."
"I need to get in the weight room and work out, and get stronger," she said.
Macik said balancing two sports and academics could be a challenge at first.
"I'm definitely concerned in terms of time management, but I think once I get in the groove and figure everything out, it will be something I can handle."
Macik's father, Rich, said there was some interest in Caydence to play Division I softball (Furman University, Robert Morris, Coastal Carolina, Villanova), but that evaporated once she decided she wanted to play basketball, too.
"Her recruiting was softball and it was mainly D-I, but once we should decided she wanted to play basketball, too, it 180-degreed the entire recruiting process.
"All the D-I programs said it was softball only," said Rich Macik.
"Some of the D-Is were walk-on offers, which is nice, but she didn't want to wait two years to play," added Macik. "And many of the coaches were telling her it would be a year or two before she would be ready to play there."
A common problem since Covid has been rosters flooded with athletes taking advantage of the extra year of eligibility created by the pandemic, as well as the invention of the transfer portal, which allows athletes to transfer schools instantly without repercussion.
"The whole system was plugged up by Covid seniors," he said. "We ran into so many 2022 girls because they didn't get that junior year of recruiting.
"And, the transfer portal has made a major impact," added Rich Macik. "As soon as the College World Series was over, there were 1,200 girls in the portal, so recruiting basically came to a stop."
Rich Macik said recruitment "was a process."
"We put in 4,000 miles up-and-down the East Coast, back-and-forth for multiple weeks. At one point, we were home for 17 hours over a three-week span.
"(Caydence) will say it was stressful at times, but the time we spent on the road meeting phenomenal coaches and seeing campuses was all worth it," he said.
The elder Macik is pleased to see his daughter land close to home.
"To come back home and see that her place is here, that we don't have to go someplace else is wonderful.
"Coach (Edith) Gallagher (softball) and Coach Amy (Senefelder - basketball) are both wonderful coaches and have stable programs," he said. "You don't have to worry about the portal (at Mansfield) as much as you do at some of the other programs."
He's also pleased she'll have an opportunity to play quickly.
"She wanted to play right from start if she could," he said. "We know there is no guaranteed playing time (at Mansfield), but she the opportunity to get on the field, or on the court as fast as possible."
Caydence Macik is excited about being a student-athlete at Mansfield.
"I've been on campus a lot," she said. "I've spoken with both coaches on two separate occasions .. I've played in their facilities during high school, so I'm pretty familiar with it.
"I'm excited, but I'm nervous, it's college," laughed Macik. "But I'll figure it out."
Macik will be majoring in Education.
——————
IN PHOTO 1: Athens senior Caydence Macik. IN PHOTO 2: From left: Stacey Macik (mother), Caydence Macik, Rich Macik (father), and Hayleigh Macik (sister). … PHOTOS BY TIM BIRNEY.